The Japanese Embassy is hosting a one-off exhibition in the UK to celebrate the stunning Edo Kiriko Japanese cut glass. It strikes a unique collaboration between a master craftsman from Tokyo and a leading Japanese chef to showcase the true beauty of Edo Kiriko. The exhibition is curated by London-based designer Takehiro Ikeda (Seymourpowell Ltd.), and designed by architectural practice JaK Studio.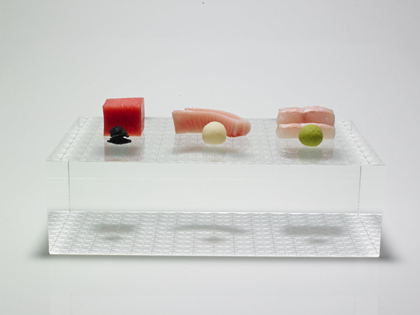 The exhibition's curator, designer and Seymourpowell's creative business director for Japan, Takehiro Ikeda explains, "Cut-glass production already existed in Japan but significantly evolved with the introduction of British techniques in the 19th century. Through an interaction with Japanese sensibilities, this created a foundation for the Edo Kiriko – or Edo Cut Glass – we see today. This exhibition documents dialogues between Japanese cut-glass craftsmen, devoted to ensuring the utmost quality in their craft, and to those who may use their pieces both in Japan and abroad."
As the basis for the exhibition, Takehiro has brought together master Edo Kiriko craftsman Toru Horiguchi, and double Michelin star chef Ryosuke Uemura from Japan to explore their interconnected dialogue by creating a number of unique vessels for display which have been especially designed to enhance the beauty of Japanese cuisine – the creation of the perfect dish for the perfect dish.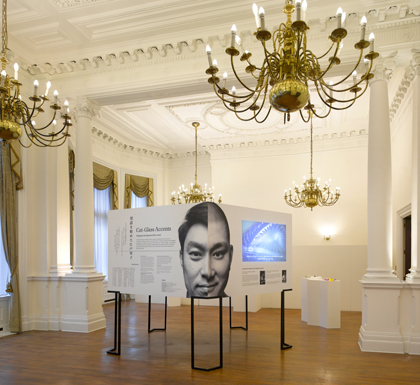 Takehiro commented, "An element of the exhibition is to explore how cut-glass technology introduced by a British craftsman has been successfully used as an expression of Japanese culture. Toru Horiguchi and Ryosuke Uemura have jointly devised three dishes in three themes: Fresh, Growth and Colour. From the outset, these Edo Kiriko dishes have been made with the aim of achieving these two masters' artistic vision in the presentation of Japanese cuisine."
Another major goal of the exhibition is to highlight how Edo Kiriko create wondrous plays of light and shade, so careful attention has been given to displaying drinking vessels at their dazzling best. Master craftsman Toru Horiguchi explains, "A major concern for Edo Kiriko craftsmen is how to create the most beautiful designs that can be shown off to great effect when held in someone's hand. Visitors to this exhibition will be encouraged to take an Edo Kiriko glass in their hands and enjoy the beautiful patterns and play of light and shade."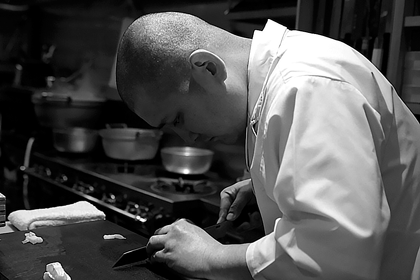 To ensure the best possible display environment, London-based architectural practice JaK Studio was commissioned to design a special exhibition booth. Jacob Low, founder and principal architect at JaK Studio explains: "To really bring out the best of the Edo Kiriko on display it was important to create an exhibition environment that allowed visitors to get up close to the objects, but at the same time to house them in a space with a strong focus on their interplay with light.
We designed a waist height blacked-out booth in the shape of a hexagon – a shape closely associated with traditional Japanese culture. Visitors will walk into the booth four or five at a time. The objects on display in the booth are lit by focused beams of light, ensuring that unadulterated attention is given to the Edo Kiriko, and that each produces the best eye-catching effects with the light."
'Cut-Glass Accents: Dialogues for Japanese Edo Crystal'
The Embassy of Japan in the UK, 101-104 Piccadilly, London W1J 7JT
Monday 26 January to Friday 6 February
Opening hours: 09:30-17:30
{jcomments on}