The Interiors Group have fitted out new offices for Artillery, an international architecture and interior design firm relocating to a new regional office situated in the DMC Building 9, Dubai Media City.
The practice predominantly required and briefed The Interiors Group for an open plan office to accommodate staff along with reception, meeting rooms, breakout space, and stationary: a print and copy point and a kitchen.
Reception and visitors waiting area is made up of oak wood panelling. The company logo which is inset into the wood panelled wall is illuminated with Fibre optic lights. Fixed spotlights sits overhead and are specifically positioned to light up the picture wall which shows various projects completed by the design group.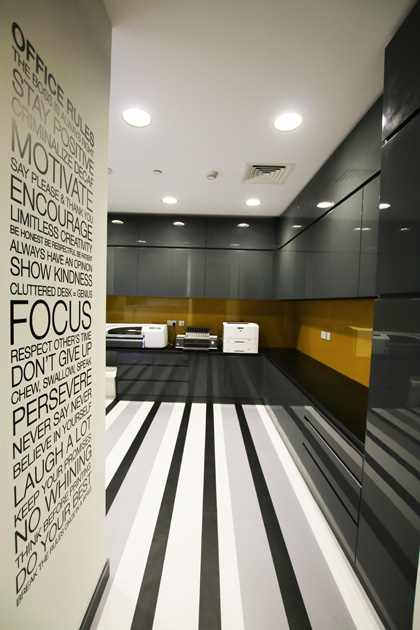 The mainly open plan office has work benches in white with contrasting smart mesh back office chairs. There are built in storage units and shelves to the far end of the office. The director's office, located off the main office floor, has been installed with glazed partitions so as not to lose the much needed light and still provide privacy for one to one meetings with staff or visitors.
An eight person Boardroom features a board room table with cream seating, custom oak panelled ceiling and a media wall. The subdued tones are somewhat lifted by the orange carpeting, suspended rectangle strip lighting and spotlights. Fashionable deep orange carpeting and yellow upholstered chairs provide an injection of striking colour into the otherwise neutral colour scheme of the office. Glossy black colour in the form of units, partition frames, striped flooring and bold typography on the walls is utilised to create a sleek, streamlined finish.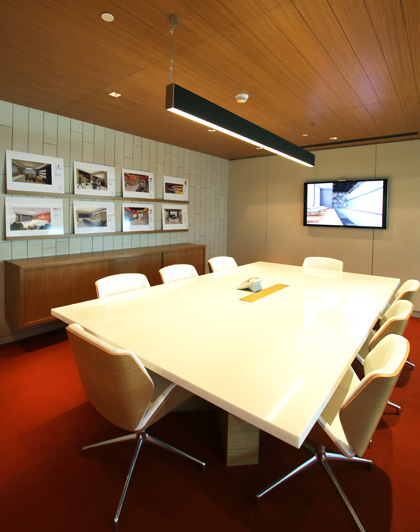 A stationary point has been created for staff use and is connected to via the corridor and then through to the kitchen/staff room. An "Office rules" feature wall containing motivational words and phrases, and a dose of tongue in cheek humour with phrases such as "Criminalize decaf" and "The boss is always right", connects these spaces together.
There is also a break out space for informal meetings as well as a space for designers to step away from their desks and go to for a spot of "inspiration". A creative gallery of images displaying different textures, materials, spaces and projects sits on one wall, demonstrating an ever evolving and larger than life mood wall, which is in keeping with up-to-date trends and classic styles. The back wall features a bespoke built in book shelves, which holds samples and reference materials.
{jcomments on}