Having created stylish and innovative work spaces for their clients for over 30 years, Orms have now designed their very own studio in Oliver's Yard, Old Street.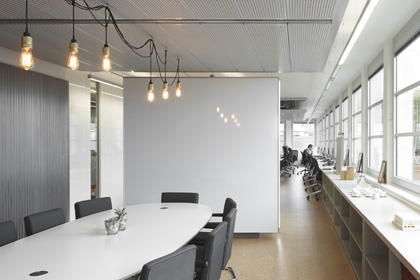 One of the main aims of the brief was to design a studio that was harnessed and created by the collective. Research was carried out through extensive cooperation between clients, collaborators, and Orms' own team and included interviews, online surveys, and internal studio workshops which were launched to pinpoint all the important aspects of a modern architectural practice. Different questions were raised and discussed during the project and ranged from the perception of Orms through to thoughts on daylight, function, and operation of their previous studio.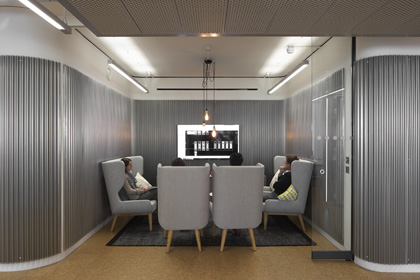 Co-owner of Orms John McRae said "The aim was to transform how we worked, create a studio environment and demonstrate the importance of collective thinking and working"

The new studio is an entirely open plan space with only one internal door which leads to the server room. There are no dedicated meeting rooms, however two sections of the space can be sectioned off with the use of sliding walls to provide both privacy and formality if required. This open and collaborative design is lined with a milled aluminium corrugated wall that is insulated with acoustic foam.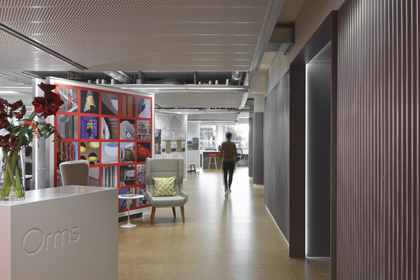 A number of 'pin up' areas in the studio encourages discussion and debate amongst teams while also providing display areas for design development. Team break-out areas are placed between the studio's linoleum clad benches along with model making benches, storage, and sample display stands.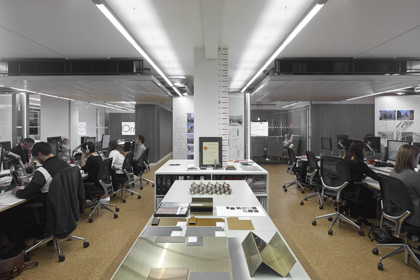 The entire studio is finished in a cork floor tile (which has anti-microbial properties) to provide warmth but also to define the accessibility of all the studio's spaces to the members of the team. The studio has its own private terrace that runs along the length of the City Road facade. This provides a great social space as well as the opportunity to have meetings outside.
The project, named 'Our House' is the culmination of 5 years of repositioning and branding that reflects Orms' ambition to create 'an architecture that listens'.