Aiveen Daly, once a savvy marketer who turned her creative hand to luxury furniture upholstery, now celebrates 10 years in the industry and has become the go to name amongst the world's finest interior designers.
Her bespoke tailoring and signature style quickly made a name for her, full of haute couture inspiration and subtle glamour. Now 10 years on, the studio has discreetly become the little black book favourite, designing and making for the world's most exclusive interiors projects.
Aiveen Daly demonstrates British innovation at its best. The dynamic team of highly skilled artisans are meticulous in all they do, whether it's expertly fusing laser cutting techniques with hand pleating or skilfully mixing hard metal and finest embroidery on silk and leather.
Working with the top suppliers to the couture industry the team adapt their products to suit their own manufacturing needs, from hand dyed feather suppliers that work with Alexander McQueen and Givenchy to using metal chains, clasps and buckles from suppliers to Burberry, Louis Vuitton and Bottega Veneta.
?Working largely to commission from their London atelier, the studio uses luxurious embellishment and fabric manipulation techniques to adorn furniture and surfaces. From the very decorative dining chairs which incorporate multiple elements such as metal work, hand embroidery, pleating and pearls to the more simple architectural details such as hand stitched leather satchels incorporated into leather panels. The rich palette of details they've developed create truly stand out pieces.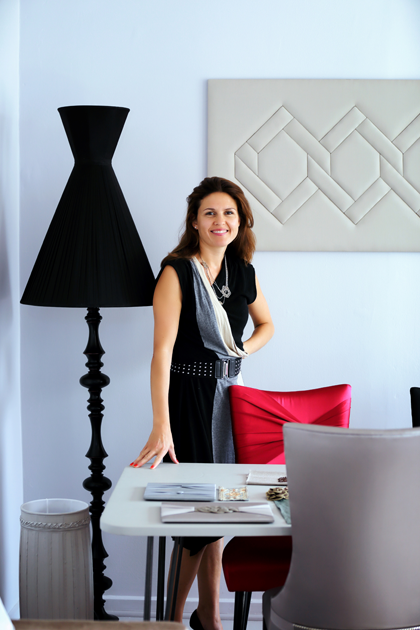 Aiveen Daly works with the best, regularly collaborating with top interior and fashion designers, architects and design studios from across the globe. Projects range from luxury hotels and superyachts to residential properties and commercial boutique shopping suites. Supporters include everyone from Katharine Pooley, 1508 and Martin Kemp Designs to Hill Robinson Yachts and Carlisle Design Studio. The team's intricate high-end tailoring and design talent also attracts the attention from Hollywood A-listers and many of the Forbes and Sunday Times rich list.
In addition to taking bespoke commissions, Aiveen Daly also offers an edited collection of made-to-order furniture and accessories.
Visit Aiveen Daly (By appointment only): 2 Letchford Gardens? | London | NW10 6AS