Manchester interior design and branding studio NoChintz has added a further two bar design projects to its portfolio, the Blue Pig in the Northern Quarter and The Oddest Bar in Chorlton. The award winning business was appointed on behalf of its client, bar owner Cleo Farman.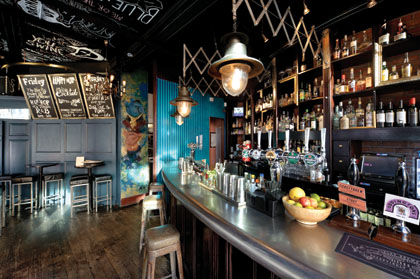 NoChintz was selected to transform the 'restaurant atmosphere' of the Blue Pig into more of a bar-style venue with a specific objective to make the space more current to attract a younger market. The team provided design consultancy on wall finishes, furniture modifications and bespoke ceiling graphics. The project involved fly-postering some of the existing walls and the DJ booth using uniquely designed posters featuring in-house hand illustrations. The design also included running the Blue Pig name on to the ceiling illustrations, which were hand applied onto blackboard paint by local artist, Chris Dorning. The posters have also been taken through to the existing tabletops introducing 'pops' of colour.
NoChintz was asked to redesign the Oddest bar to transform the individuality of the space and highlight its offering within Chorlton, which is renowned for its unique atmosphere. NoChintz highlighted the existing features of the bar as well as replanting and furnishing the outdoor space to transform the first impression and create a communal inviting area to enjoy the summer weather in. The project saw the team use reclaimed materials to create fixed seating outside and brought splashes of colour through to both the interior and exterior through soft furnishings and a multi-coloured bar finish. Redecoration and a treatment of the existing floor transformed the space into a contemporary and inviting space, keeping the intimacy of the bar while lightening the overall aesthetic.
Cleo Farman commented: "I instructed NoChintz after a recommendation and was also inspired by some of the existing work the team had in its bar portfolio. The team has delivered on every objective we set out, in terms of individual design, transforming the overall feel of the venues and making them stand out from the crowd."
NoChintz's associate director, Amy Brown added: "These projects demonstrate how different designs can really transform a space. The internal graphics we used at Blue Pig have proved to be an effective yet simple way of changing the environment and overall feel of the pub. Being in our immediate location it's great to be involved in the reinvigoration of key leisure spaces on our doorstep and provide a different offering to the other bars in the Northern Quarter."
Amy concluded: "The Oddest Bar project shows how principles we usually apply to indoor design can easily be applied to outdoor spaces. Oddest has a really prominent presence on a busy road in Chorlton so it was important to make a strong impact to passers by, something we have definitely achieved."