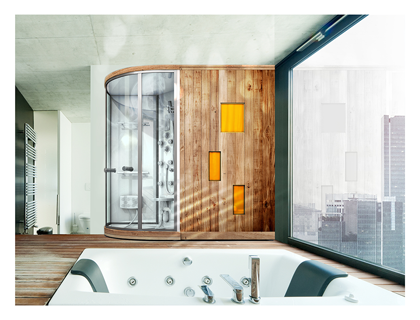 A new study conducted by an online bathroom retailer has revealed that the majority of Brits would like to recreate an at home spa experience in their bathroom with whirlpool baths and saunas/steam showers as the must have features of a dream bathroom.
Whether it's due to the current economic condition, or just a lifestyle shift, at home spa experiences seem to be growing in popularity; with men and women regularly choosing to pamper themselves within the walls of their own homes.
As the at home Spa industry continues to boom, leading bathroom retailer ukbathrooms.com commissioned independent research to find out what the must have item in the dream bathroom would be. Over 1000 residents aged 18 and over were asked: "Would like to recreate the spa experience in their own home?"
Those who answered yes were then asked: "If money was no object, what at home spa features would you have in your dream bathroom?" Respondents then chose from an extensive list of bathroom spa features, with the following chosen as the most popular:
1. Hydrotherapy/whirlpool bath – 65 per cent
2. Sauna/Steam shower – 55 per cent
3. Sensory shower – lights/aromatherapy – 38 per cent
4. Massaging showers – 46 per cent
5. Foot spa – 28 per cent
With prices ranging from £200 – £5,000 hydro-therapy/whirlpool baths are perhaps not the most unobtainable option on the list but they were by far the most popular choice by respondents. Over 27 per cent of woman and 25 per cent of men selected to add this feature to their dream bathroom.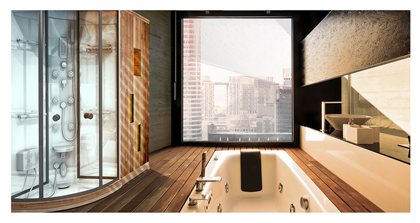 Ranked in second place was the sauna/steam shower with 20 per cent of the female's votes and a slightly higher 25 per cent of men's votes. A steam shower does attract a higher price tag but features an enclosed shower cubicle that includes a steam generator to produce heated water vapours to fill the cubicle.
The respondents for this survey really seemed to appreciate the benefits of a good shower as the third most popular feature was a massage shower. These showers feature a range of jets, which as the name suggests, massage the user to provide an invigorating shower experience.
Peter Gregg, Director of ukBathrooms.com, commented on the results of the research: "Visits to a spa can be pricy, especially if you like to visit frequently, so it's no surprise that people would love to recreate this experience themselves at home. Initially the outlay would be expensive, however over time the cost benefits would out way this and of course the availability of spa features such as a whirlpool bath or sauna or steam room whenever you want without leaving the house."
He added, "When you consider relaxing after a long day, listening to the fizz of bubbles as water jets help massage away your stress and strains from that day it is easy to understand why whirlpool baths came top of the list. And then also having the convenience of a sauna or steam shower at home would save you a trip to the spa or gym, you can see why these would be top of any dream wish list."