Tendence welcomes trade buyers to Frankfurt am Main from 29th August to 1st September 2015. With the exhibition halls holding over 1,212 international exhibitors and seven different product groups, Tendence is certainly not for the faint hearted.
For the 2015 edition, online campaigns have been designed and launched to help visitors stay connected and learn more about the show. 'Talk about Tendence' is effectively the fountain of all knowledge for visitors attending Frankfurt in August! Talk about Tendence is an online blog, discussions page, trend tracker and provides answers to just about any question you might have regarding the show. Discover more at talk-about-tendence.com.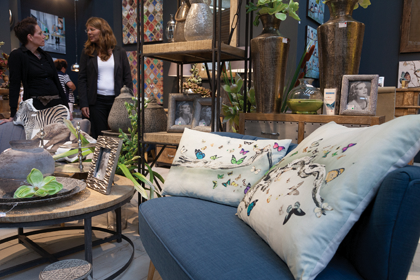 For when you get to the fair, visitors can utilise the free Tendence app available for iOS and android smartphones. The Tendence app provides organisation tools where virtual business cards can be swapped, business contacts can be logged and a constant reminder of your location within the Messe can be seen on a map of the exhibition halls. As well as these utilities, visitors can see a full programme of events with location and timings, a full list of exhibitors and product groups at a glance.
The level of interactivity, connection and ability to do more online has led Tendence to keep visitors up to date with what's new at the trade fair. These premium assets to a trade buyer's visit can only increase productivity and take a lot more away from the annual industry event.
www.tendence.messefrankfurt.com