Resonate Interiors were recently appointed by Mark Bailey, previously of Bene and Senator, to design his new By Bailey showroom in Clerkenwell.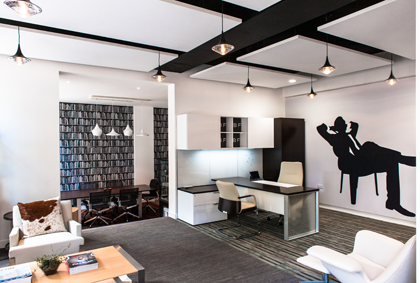 After obtaining planning for the exterior, Resonate set about pulling the three units together. By designing and painting the façade a gunmetal grey and overlaying new signage and graphics. The "by Bailey" logo positioned on the new grey façade, makes a striking contrast and boldly stands out against its back-ground colour.
Formerly a jewellery store, this was a small space full of character and a wide shop frontage. The juxtaposition of the exposed brickwork and feature windows worked really well. The modern clean lines of the American furniture from Gunlocke complement the windows and is a beautiful contrast with the Tom Dixon lighting pieces.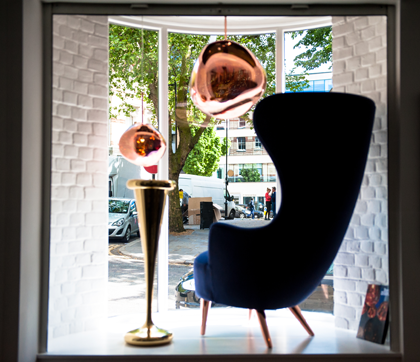 The showroom interior was a backdrop for the furniture, but very much aimed at the American television series, Mad Men. Resonate designed a vinyl Mad Men feature wall of the popular TV series so as to reflect the best of the US and UK in one space. Flexibility was key for the design, so that Mark could select and change the pieces to suit his clients and as ranges change.
The slightly industrial feel of the original jewellery showroom is maintained in the showroom. With partially exposed ceilings, painted brickwork and new ceiling rafts including the Tom Dixon lighting, which adds a touch of eclectic chic. The colour palette is modern and simple; it is very much black and white, with just a touch of orange, allowing some bursts of colour.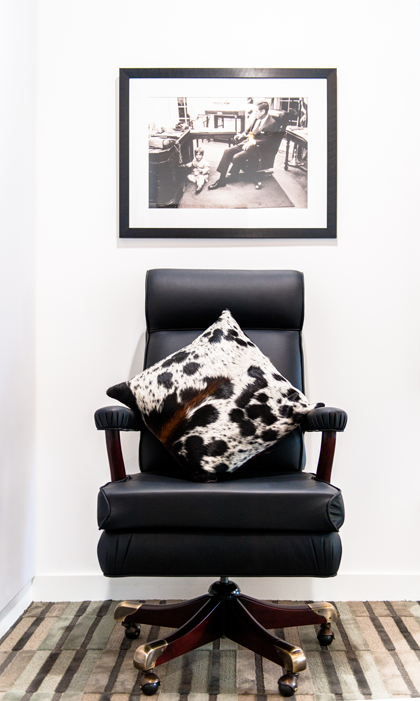 Pernille Stafford Director of Resonate Interiors commented: "This is a real gem of a space that has been enhanced and broadened to create an eclectic and interesting backdrop to furniture sat on by the American presidents."