French artist Charles Pétillon presents his first public art installation and his first ever live work outside of France, in Covent Garden.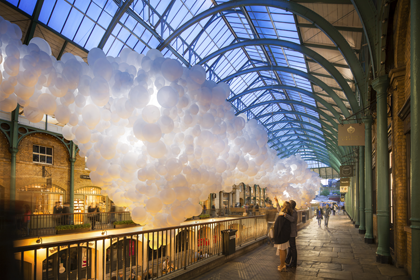 100,000 giant white balloons are currently filling the grand interior of the 19th Century Market Building in Covent Garden.
Uniting the world of art with world-class architecture, the installation is being unveiled ahead of the London Design Festival and was inspired by Covent Garden's heritage as London's first public square and the West End's reputation as the beating heart of the city.
Weaving its way through the South Hall of the Grade II listed Market Building, Heartbeat stretches 54 metres in length and 12 metres in width, and incorporates gentle pulsating white light to symbolise the beating of a heart and reflect the history, energy and dynamism of the district.
Charles Pétillon said: "The balloon invasions I create are metaphors. Their goal is to change the way in which we see the things we live alongside each day without really noticing them. With Heartbeat I wanted to represent the Market Building as the beating heart of this area – connecting its past with the present day to allow visitors to re-examine its role at the heart of London's life.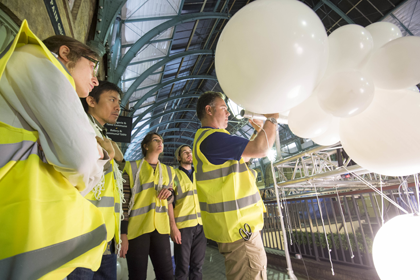 "Each balloon has its own dimensions and yet is part of a giant but fragile composition that creates a floating cloud above the energy of the market below. This fragility is represented by contrasting materials and also the whiteness of the balloons that move and pulse appearing as alive and vibrant as the area itself."
A pop-up gallery on the Piazza at Unit 5, Royal Opera House Arcade, showcases Charles' series of Invasions photographs as well as some of his other work.
Beverley Churchill, Creative Director of Capco Covent Garden, said: "Culture today is live and all around us and art has been freed from inside museums for everyone to enjoy. Art and performance are in Covent Garden's DNA and our annual commissions honour that tradition, I believe our visitors will love experiencing and exploring Heartbeat."
The complex yet fragile composition represents Charles' largest and most ambitious project to date and will run until 27th September.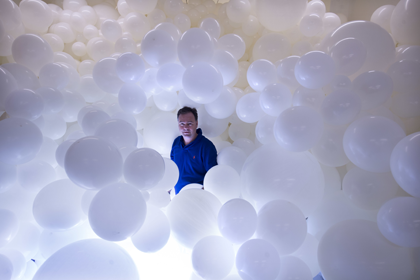 Charles is best known for Invasions, a series of arresting sculptures which challenge perceptions of everyday scenes by filling the likes of derelict houses, basketball courts and even cars with hundreds of white balloons.
Heartbeat forms part of Covent Garden's ongoing cultural programme, which transforms the district into an ever-changing, open-air art gallery. Last November, British artist Alex Chinneck added a touch of magic to the Piazza when a section of the 185-year old Market Building appeared to break free from its foundations and float into the air. Other artists that have created pieces for the area include Jeff Koons, Damien Hirst, Paul Cocksedge, Banksy, Sam Taylor-Johnson and Martha Fiennes as well as previous partnerships with the London Design Festival and Tate Modern.
Over the past few years Covent Garden has been transformed into a vibrant world-class destination, welcoming over 40 million customer visits a year. The estate's energy and global appeal has attracted a strong tenant line up of retailers and restaurants. Luxury brands including Burberry, Chanel, and Dior, sit alongside some of the capital's most popular restaurants including LIMA Floral, Ladurée and Balthazar.
@CoventGardenLDN
#CoventGardenBalloons