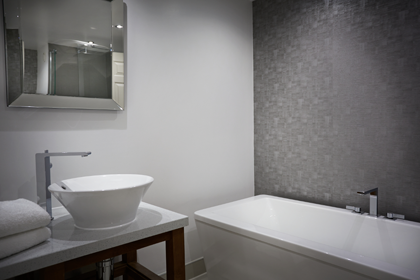 specialist Max-Top has announced that the Alexander Hotel group has installed Max-Top Quartz surfaces at its boutique hotel, Rowhill Grange Hotel and Utopia Spa, in Kent.
The luxury four-star hotel has fitted eight of its Luxury rooms and bathrooms, and 12 of its Classic rooms with Max-Top's unique Pearl White Sparkle surfaces.
Stephen Moss, Managing Director of Max-Top commented: "We are delighted that Rowhill Grange has selected Max-Top Quartz to complete the finish of their stylish rooms. The exclusive hotel prides itself on its attention to details and high-end furnishings, so it is fantastic to be featured throughout."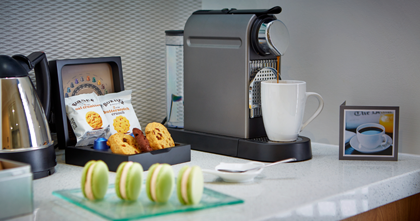 The modular quartz product, which launched in the UK in 2014, features a patented interior honeycomb structure, offering the aesthetic benefits of a solid stone surface, with the advantage of a deeper 40mm profile.
Peter Hinchcliffe, founder of the Alexander Hotel chain added: "We first installed Max-Top Quartz surfaces late last year in our 5* Alexander House Hotel and Utopia Spa in Sussex, and we were extremely impressed with the product.
Deborah Hinchcliffe, co-found of the Alexander Hotel chain continued: "The finish of the surfaces perfectly complement our carefully selected interiors and contribute to the luxurious look and feel we aspire to create for our guests."
Stephen concluded: "Max-Top Quartz is a unique, lightweight surface that is both stronger than traditional stone and easier to install, providing a simple and cost-effective way of adding significant value to the look and feel of a room.
"The product sits flawlessly in the bedrooms and bathrooms at Rowhill Grange and it is a privilege to continue our partnership with the Alexander Hotel group."
0161 224 0333 | www.maxtopquartz.co.uk