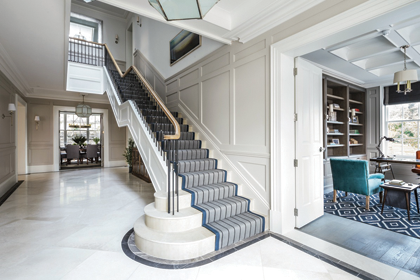 When Georgina Turvey from PEEK Architecture + Design was faced with this empty site near Richmond, she was given a brief to create a classic and traditional new house, undertaking the planning permissions to the construction, interiors and furnishing.
The strategy for the interiors of the house 'Wildcroft' was integral to the scheme, and the layout was formulated with the more formal spaces to the front of the house, and the open plan kitchen in an additional wing to the rear. The objective was to create a home inspired by perfect Georgian proportions, symmetry and space, but to house modern living and to be as energy efficient as possible. It was paramount that light and circulation were considered in all aspects of the design.
The vertical axis of the house is also key, and when entering through the front door, the eyes are drawn up the large stone, staircase leading to the landings above. A triple height space is created from the void between stairs and landings, with a large glazed lantern rooflight over. The hallway is tiled in White Emperdor marble with a 2 tone trim consisting of Grey Marquina and Fumed Emperador to the perimeter, following the curve of the stairs (from Mandarin Stone). The stair balustrade is made from raw metal spindles and a natural oak handrail, by Crafted Handrails.
For the furnishing of the project and the artworks selected, Georgian motifs and style were an inspiration. The pineapple motif is featured several times, harking back to the times of Joseph Paxton and the pineapple as a symbol of hospitality. Botanical pictures adorn walls framed by paneling and architectural details, and contemporary artwork from James Cooper is featured in the cinema room and master bedroom.
Wildcroft achieves a classic and period inspired new build, without the pastiche nature of many others. The layout and interior principles, stay true to the Georgian ideals, and the end result is a timeless piece of architecture and interior design.

georgina@peekarchitecture.co.uk | www.peekarchitecture.co.uk