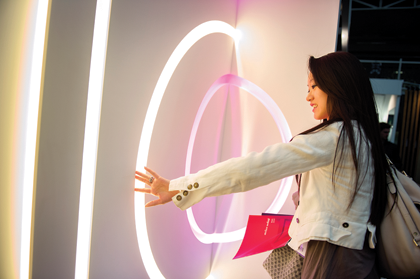 2016 will see the biggest and best Surface Design Show to date as design professionals flock to the Business Design Centre between 9 and 11 February.
Surface Design Show is the event in the UK that focuses solely on interior and exterior surfaces, connecting innovative and exciting materials with a specifying audience of architects and designers.
Returning to London's Business Design Centre between 9-11 February, the 2016 show will be the largest and most exciting show occupying both the ground floor and all of the mezzanine level for the first time.
Since its inception in 2005 the show has become the destination for industry people to see, touch and explore the latest materials for the built environment, gain new insights and network with like-minded designers, architects and suppliers.
In 2016 there will be over 150 exhibitors, already confirmed are RAK Ceramics, James Latham, Grestec Tiles and Concreate all of whom are returning from last year. New exhibitors for 2016 include Velstone, Soundtect, Lumiscopic, Green Interiors and Bokart.
Surface Design Show 2016 will be full of new ideas and firm favourites, refreshed to provide our specifying audience with a unique visiting experience. The packed programme of events and entertainment will include the Preview Evening Live Debate and the ever popular PechaKucha Evening – an informal and fun presentation of inspirational slides.
Future Thinking is Surface Design Show's annual look at the future of materials, highlighting colours, topics and surface trends for 2017, new for 2016 will be Surface Spotlight Live curated by Sally Angharad. The two sector spotlights highlighted will be Health + Wellbeing and Retail Design sponsored by Concord featuring materials that make a significant contribution to both areas.
New for 2016 is Stone Gallery, which has been introduced to reflect the importance of the rapidly growing stone market in the UK. Hosted on the mezzanine level, the gallery will focus on natural stone from across the world.
First introduced to Surface Design Show in 2014 Light School has established itself as the UK's main event for architectural lighting. Light School is presented by Light Collective and supported by the Institution of Lighting Professionals and consists of three parts: The School Room, Product School and the School Newspaper sponsored by Xicato. The School Room, sponsored by iGuzzini and with mondo*arc as its media partner will provide architects and designers with education and knowledge about lighting design and lighting products.
Since 2013 the Surface Design Awards have been recognising and celebrating outstanding examples of progressive design and the use of innovative surfaces in projects both in the UK and internationally. The awards presentation will take place on Thursday 11th February during Surface Design Show.
As Health + Wellbeing is one of the focuses at Surface Design Show 2016, the organisers have adopted Maggie's as this year's chosen Charity Partner. Maggie's provides free practical, emotional and social support to people with cancer and their family and friends. Surface Design Show will be helping to raise funds for the new Maggie's Centre in Leeds designed by Heatherwick Studio.
Registration for professionals to attend is now live.
T: @surfacethinking?
F: surfacedesignshow.co.uk/facebook?
P:surfacedesignshow.co.uk/pinterest?
I: surfacedesignshow.co.uk/instagram
?L:surfacedesignshow.co.uk/linkedin?
H: surfacedesignshow.co.uk/sdshouzz
#SDS16 #LightSchool