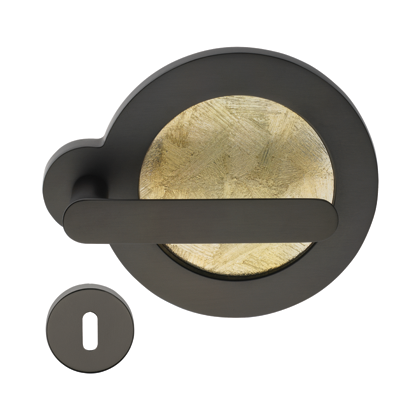 After a successful exhibition last year, I Tesori returns to 100% Design, partnering with G Johns to demonstrate their range of exquisite door handles for the interior design market.
Door handles have moved on from being just a functional item that operates a very large and stylish draft excluder. In many cases it needs to be completely invisible but sometimes it can be used as a bold and magnificent statement. Designers should have choice and time when selecting the door handles finishes, to ensure each door is complimented by the perfect handle accompaniment.
Learning from these experiences, Tesori offer designer clients a service that encompasses everything. I Tesori work with experienced and qualified members of the Guild of Architectural Ironmongers, ensuring that the products designers choose not only wow clients but also meet the current specifications and standards.
This year I Tesori is working in conjunction with G Johns at 100% Design. A fifth generation family run business, founded in 1888, G Johns was originally based in Islington, London and now work from their showroom in Winchmore Hill. The I Tesori display will comprise of hand forged solid bronze products, art deco and period style handles, bespoke crafted leather, a range covered door closers from custom styling, items in various Ral colours and plated finishes, a bit of bling of those magpies amongst the visitors and a cost effective stylish range for those on a budget.
A year down the line from last yearís 100% Design, I Tesori has reflected on the successes the show has brought. The company has provided various sites for Berkeley Homes, has been specified on 37 sites of Pegasus Life retirement living, completed several luxurious homes, countless apartments, rescued many bars by supplying them with last minute pull handles and delivered on a new build church, to name but a few.
Whatís next for I Tesori? The new website has been launched, offering more product ranges, showing versatility, custom styling and offering the standard I Tesori adaptability that they have become known for. I Tesori have recruited up and coming illustrators and designers to work on their product range and portfolio, incorporating the arts with design and architecture, exploring new concepts and pushing boundaries to challenge emotional connections. I Tesori want to share their story with designers and their clients; itís not just a door handle, itís the first thing you touch when entering a building, it builds up expectations that you have visualised beyond the door, itís the lasting impression, all from the first touch of a handle.
0207 4818070 | enquiries@itesori.co.uk†| www.itesori.co.uk | 100% Design stand E272
†