Multi award-winning design studio, Graven, has a long history of collaborations with Carlson Rezidor Hotel Group, most recently with the new Radisson RED that recently opened in Brussels, the first location for the brand.
†
In addition, Graven is working on Radisson RED projects with Carlson Rezidor in the USA, Europe, Middle East and Africa. Radisson RED is a new hotel philosophy and lifestyle brand that reflects the ageless millennial mind-set. Inspired by art, music and fashion, the brand is driven by bold design and breaks the traditional hotel model. Radisson RED recognises that today's guests seek a DIY, customisable experience driven by technology.
In Brussels, the design studio responded to Belgiumís history of comic art and illustration, and collaborated with local artists Wauter, Mannaert and Max de Radigues. The art throughout the very first Radisson RED is a massive collection of pieces produced by Wauter and Max including some live in-situ illustration pieces produced days before the hotel opened.
In Cape Town, Graven worked with artist Cameron Platter, who created a mix of large-scale pieces that will feature in the guestrooms and public areas. The nature of the brand strategy connects the guest with the location.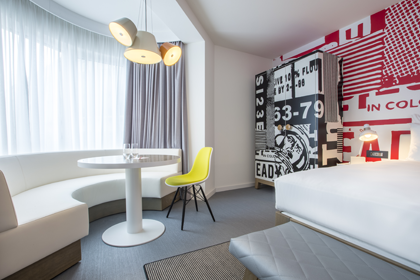 While many hotels clearly delineate between lobby, reception and bar spaces, Radisson RED doesnít obey any of these fussy conventions, instead reacting against them and opting for seamless, social and multifunctional spaces. This is a fresh take on the often tired traditional reception spaces. The areas are delineated by a variety of bespoke screens and furniture elements that work together to create an inviting, lively and informal atmosphere.
Instead of meeting rooms there are events and games studios, where a daytime board room can be transformed into an entertainment suite with cinema screen and table tennis. The events studios actively engage with the adjacent streetscape and where possible are highly visible to the outside world.
Panoramic windows where possible are key to the atmosphere within the studios with good natural daylight a must.
†