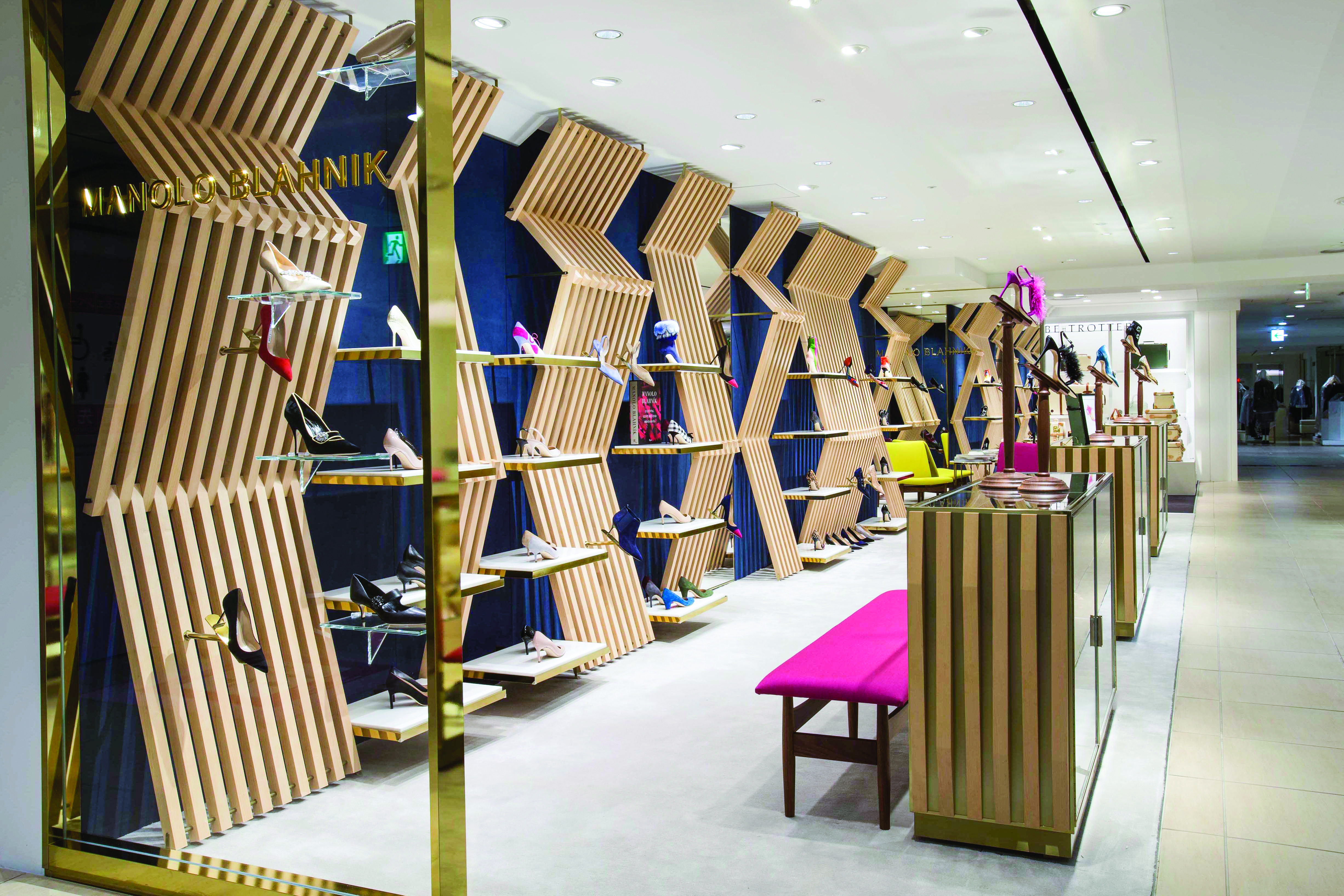 Nick Leith-Smith and Manolo Blahnik recently unveiled a new portfolio of retail spaces in Japan as part of their successful collaboration.
The practice specialises in high quality, bespoke contemporary design. The studio has extensive experience in luxury retail design as well as high-end residential work, delivering detailed, highly crafted projects with strong elements personalisation and individual taste.
Nick has strong connections to the fashion world, together with a thorough understanding of bespoke design, resulting in a playful yet distinguished approach that marries a sound understanding of historic and contemporary design with contemporary craft, materials and form.
Continuing Manolo Blahnik's success in Asia, the designer is launching three new retail spaces in Japan in partnership with local luxury specialist Bluebell Group and designed by architect Nick Leith-Smith.
The first two locations opened this August. A 50 m. space in Matsuya Ginza department store, Tokyo, and a second space in Umeda Hankyu department store, Osaka. A further stand-alone store is planned for the brand in 2017.
The space is contextualised in deference to Japanese mastery for interpreting traditional cultural forms in exciting new ways. The breadth and quality of material, craftsmanship and architectural influences are unrivalled by any other culture.
The focal element is an impressive installation, typical of timber and bamboo scaffold structures but realised here in crisscrossed folded wooden slats. Interlacing the connecting walls and ceilings, imperceptibly supporting shelves and acting as hangers. It is at first sight both primitive yet considered; functionally dynamic and playful much like the brand itself. Cleverly fusing the industrial with the ornate, opposing walls are cast concrete reliefs with an undulating curve pattern inspired by the gingko leaf. Dramatic contrast comes in a back wall in a painterly blue, inspired by traditional Japanese indigo plant dye.
This vibrancy is picked out through the careful curation of seating, mid century Finn Juhnl 137 collection, inspired by the iconic Miyajima Watergate, low armchairs and seating with hand sewn upholstery in brightly coloured hues.
The shoes cascade out across marble in-laid shelves supported by the wooden sculpture. Marble flooring and pared back brass and glass display cabinets give a contemplative feel, a space to reflect, shop and appreciate the artistry of the shoes.