Immersion, the developer of advanced applications, experiences, 360 videos and games for VR, and Vive Studios™, the virtual reality (VR) content development and publishing initiative from HTC VIVE™, have launched TrueScale.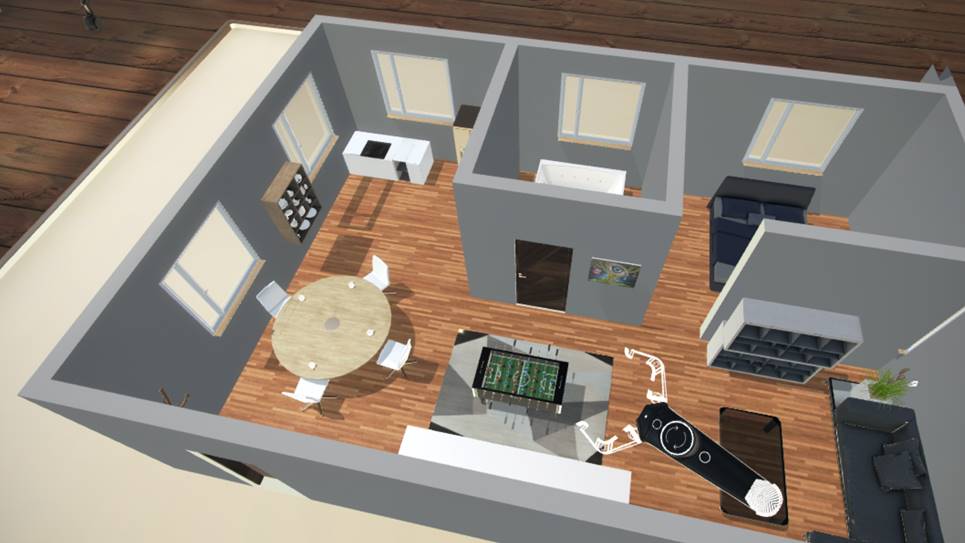 Developed by Immersion, TrueScale is a groundbreaking interior design tool that simultaneously creates 2D floor plans, 3D mockups, and full room-scale environments in VR.
With TrueScale, anyone can design a house, office or apartment in minutes and then virtually experience it first-hand in real scale. In addition, TrueScale leverages Wayfair's 3D model API, enabling users to furnish designs from a robust catalog of actual furniture and décor.
TrueScale allows users to seamlessly create, edit and explore designed spaces in 2D, 3D, and in real scale for the ultimate design experience. As the user creates a floor plan, the app automatically generates a replicated 3D environment as a dollhouse-type model.
Users can instantly transport themselves into their designs to gain a sense of scale and depth that cannot be achieved through traditional paper or graphics renders. HTC VIVE's room-scale technology enables the freedom to walk around and explore a design space while making changes in real time. Using VR in this stage of the design process allows the user to gain a full picture of the final design as opposed to relying on imagination and blueprints.
"TrueScale takes the promise of VR into the realm of interior design," commented Chris Chin, Executive Director of Content for Vive Studios. "The experience showcases how Vive's immersive environments will revolutionize the interior design industry. By working closely with Immersion, we've created an app that enables designers, their clients, and even the average homeowner to conceptualize the perfect room setup for living and work spaces."
"VR is transforming how brands can engage their customers with new immersive experiences.  With global revenue from VR content forecast to be worth up to $14 billion by 2020, it is clear that more and more brands are now looking at VR as a way to bring their offering to life," said Piotr Baczy?ski, CEO of Immersion. "Vive Studios is at the forefront of driving this VR content development and publishing globally and we're excited to be working together with major brands such as Wayfair to create a room-scale virtual reality experience for their customers."
TrueScale comes equipped with intuitive tools that are easy for anyone to use, from professional designers and architects to DIYers looking to renovate their homes.
Users can build walls and rooms, customize floor patterns and paint colors, configure windows and doors, and even furnish their designs.
To make TrueScale even more advantageous, the VR interior design app leverages Wayfair's 3D furniture models to access actual furniture and décor models that can be placed virtually to perfectly recreate the user's virtual design in their physical space. With Wayfair's vast 3D model library, designs can be furnished with real products.
TrueScale brings real-time interior design to VR for designers and home owners alike. Vive Studios and Immersion are planning to release a pro version of TrueScale as a follow on, adding additional features and tools for design and architecture professionals.
TrueScale is available now on Viveport (www.viveport.com) and Steam for $19.99.