MyChelsea Boutique Hotel, set in the heart of Chelsea, London, has been designed by the team at DH Liberty, including, Sofia Hagen, Dara Huang and Ivana Linderova.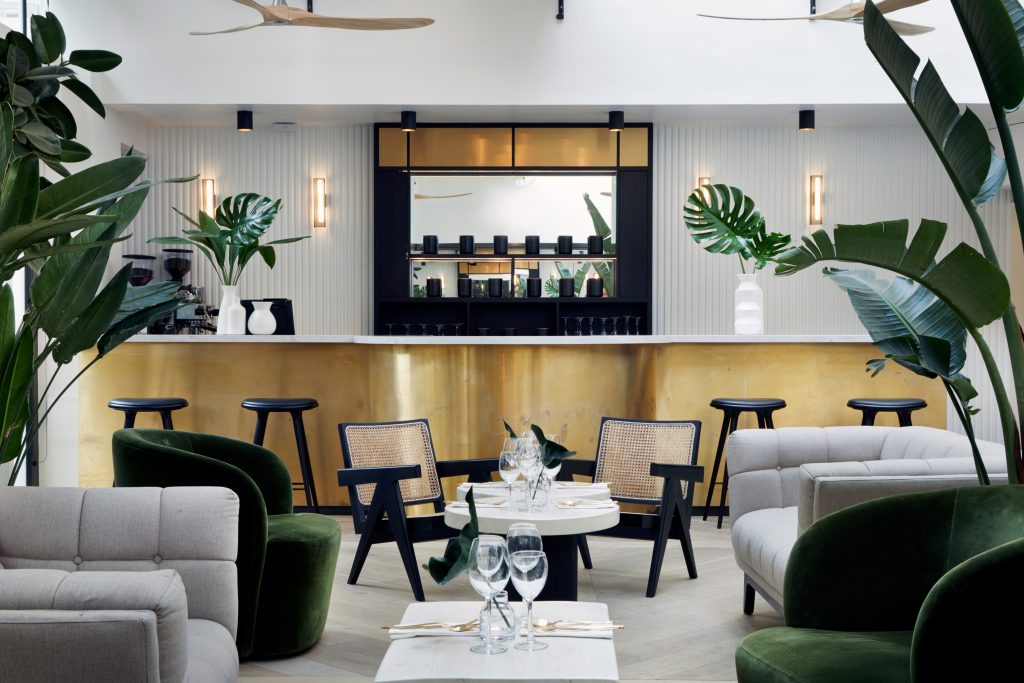 MyChelsea is a niche boutique hotel, part of the brand of MyHotels set in unique locations that complement their surroundings.
Drawing on the beautiful gardens and annual flower shows of Chelsea, the hotel design creates an experience where botany and nature come together to provide a serene environment for hotel guests and visitors alike.
Upon entering, the lobby space draws focus to the bespoke light feature surrounded by walls painted in raven black. In the main conservatory, the monochromatic backdrop of the design allows the greenery of the tropical array of plants to stand out. This is supplemented with DH Liberty Lux Pear lights, which provide an organic counterpart to the existing structural framework of the greenhouse. These organic layers are juxtaposed with carefully sourced geometric furniture inclusive a distressed bar with stone top and white oak floors laid in an angled geometry.
In the bedrooms, delicate dewdrops from the DH Liberty Lux collection drip from the ceiling as hexagonal concrete tiles wrap the walls of the bathrooms and honeycomb mesh integrates into the bespoke joinery. DH Liberty has also created a raw delicatessen, which serves guilt free and healthy desserts, raw juices and salads from Tanya's Kitchen.
The consistent juxtaposition of organic and geometric forms create a series of spaces that feel effortless in their totality and provide an aligned brand identity for the MyHotel Chelsea and its future guests.
www.dhliberty.com
@DHLiberty
Images courtesy of Jack Hobhouse.