Leading London residential developer Meyer Homes has launched its latest development, Bishops Gate, in one of West London's most desirable and sought after enclaves, boasting interior design by WISH London.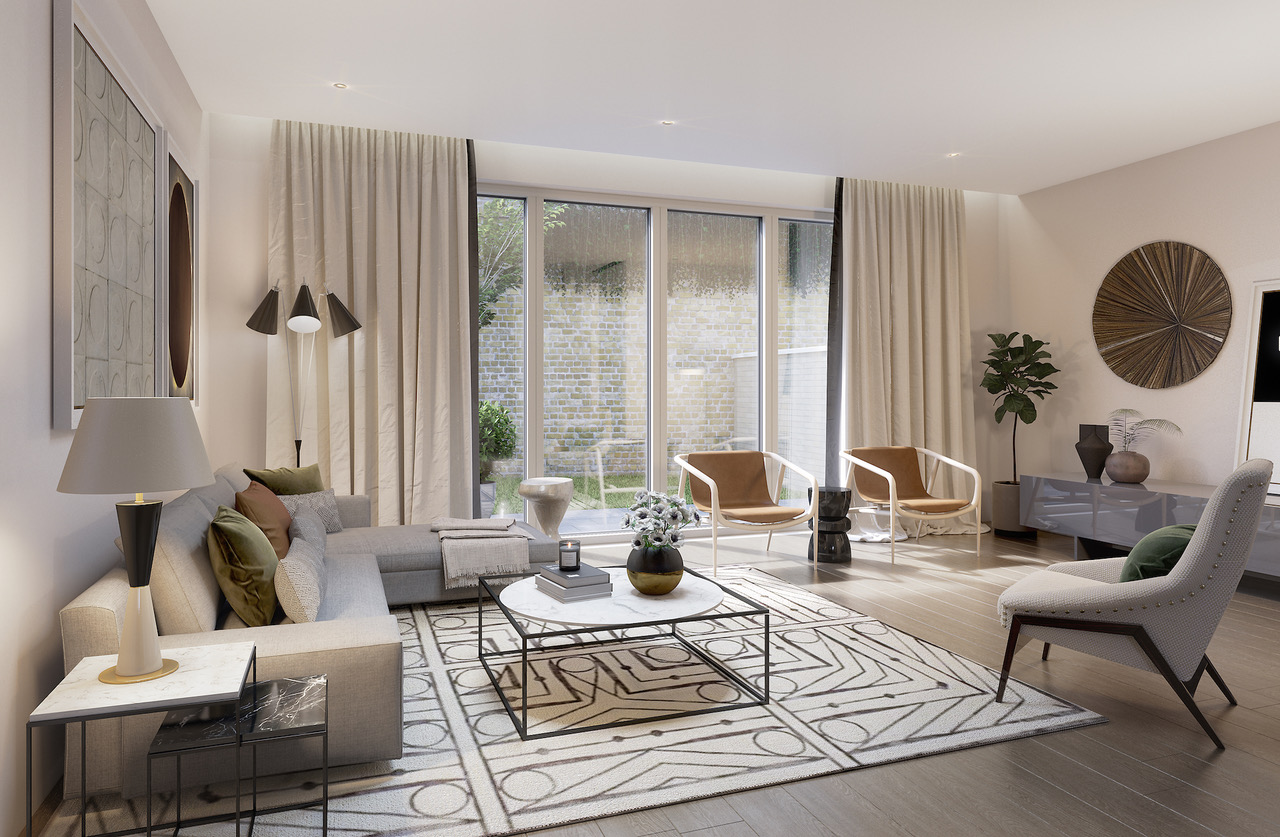 Designed to reflect the demands and needs of today's modern family living Bishops Gate is set to become SW6's most coveted address. This 'homely' oasis comprises an exclusive and architecturally striking collection of 42 high specification, stylish apartments and four bedroom townhouses, punctuated by two magnificent historic gatehouses enclosed around a private, gated landscaped courtyard – situated in a prime position just moments from historic Bishop's Park in Fulham.
Behind the meticulously restored historic gatehouses, Bishops Gate seamlessly integrates the upmost levels of design and finish with its striking architecture combined with beautifully crafted and well considered interiors, by critically acclaimed London-based interiors designers, WISH London. The site sits scenically adjacent to Bishop's Park which spans over nine hectares and features sprawling gardens, riverside walks, family play areas and tennis courts as well as the setting of Fulham Palace, housing 1,300 years of British history.
Comprising one, two and three bedrooms, the apartments at Bishops Gate are meticulously designed by WISH London, merging tailored and luxurious materials with an outstanding finish to provide the perfect 'homely' oasis.
The ten contemporary-styled townhouses at Bishops Gate have been inspired by the traditional London townhouse that has been revered for centuries, and reflects the demands and needs of today's modern family living; spacious, thoughtfully designed with usability in mind and specifically designed for family living.
Interior Designers, WISH London, commented: "We wanted the interiors at Bishopsgate to feel welcoming, understated and authentic. Our layered approach began with a modern, purist backdrop; paired with intelligent, crisp detailing. This acted as a platform on which to showcase a carefully curated mix of quality materials. The shapes and forms were kept minimal to draw attention to the luxurious finishes and a further layer of contrasting, darker elements was added to give depth and richness to the spaces.
"The tailored palette is a celebration of materials in their simplest form. Subtle changes in tactile tones ensure the spaces feel homely whilst retaining a sense of elegance. Personality and character was introduced through quirky touches, such as the herringbone tiles, bronze ironmongery and the use of classical details interpreted in a modern way. This gives the design relevance and thoughtfully links the contemporary interiors with the heritage architectural elements of the site, connecting old and new."
The juxtaposition of the apartments, punctuating the front of the development, with the carefully staggered townhouses to the rear creates an exclusive, gated community feel, the attractive landscaping and paving seamlessly links the different elements of the development. Both residents
of the apartments and townhouses will also benefit from a bespoke concierge service located in one of the gatehouses.
The Meyer Homes team, led by several leading industry veterans, has a wealth of experience and expertise in the successful development of high quality and design-led properties, creating new, vibrant environments and local communities that will leave a lasting legacy and showcases Meyer Homes' intent to partner with award-winning designers and builders to create stylish homes of distinction whilst ensuring sustainable and considered developments.
James Moody, Managing Director of Meyer Homes commented, "we are delighted to bring our expertise and development vision to such a iconic location in Central London, creating stylish, family focused new homes of distinction whilst embracing the local area and community."