Renowned architect Nick Leith-Smith has again paired up with hospitality strategists, Forward Associates, to open a new dining destination within the heart of Liberty of London, Arthur's.
Arthur's is a 100-cover restaurant serving contemporary British cuisine. It replaces the existing café and is situated on the second floor of one of London's most iconic retail institution.
It is named after the store's founder, Arthur Lazenby Liberty, as Roy Westwood of Forward Associates explains: "Arthur Liberty broke the mould and this restaurant is an extension of his spirit. Arthur's is as much about great cocktails, as it is about a three-course lunch, or an afternoon tea. With no set dining times and multiple seating styles, we put the guest in control and capture the freedom offered by Liberty."
Design Inspiration
For the 170 square metre restaurant, architect Nick Leith-Smith took inspiration from the store's artistic beginnings during the Arts and Crafts movement, as characterised by William Morris and Philip Webb.
Once inside the restaurant, guests are greeted by an inviting row of scalloped shaped banquette seating, picked out in alternating blue and green upholstered velvet and semi-circular tables of dark timber trimmed in brass. Feature globe pendant lighting hangs overhead.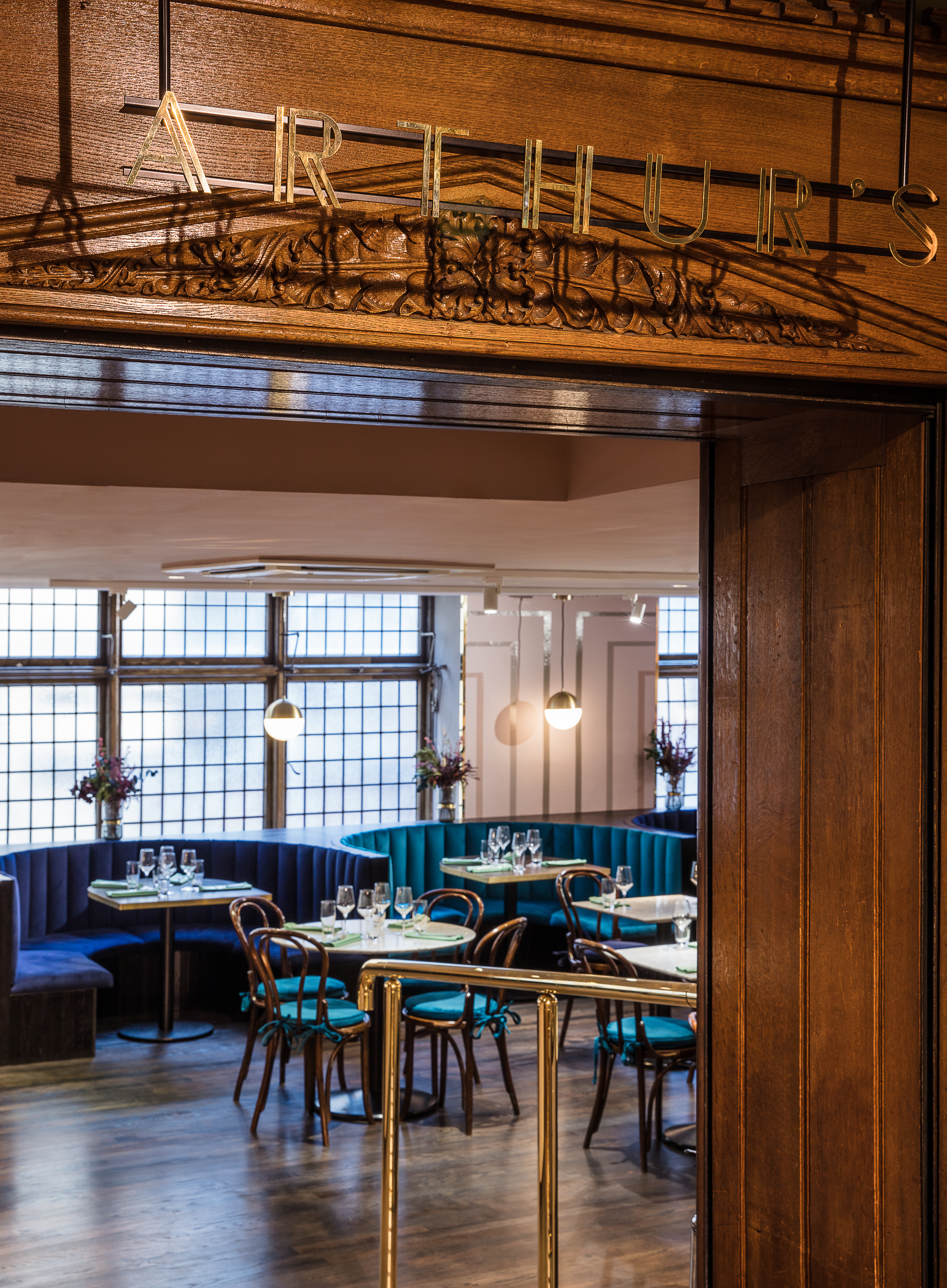 Circular Italian marble-topped tables and Thonet coffee house chairs are a classic nod to the era. A striped geometric wall design, in vintage pinks, adds drama to the space. Warm metal hues with brass and copper details are used to harmonise with the dark timber and velvet upholstery in midnight blue, teal green and dusty pink.
The centrepiece of the room is a standout marble-topped bar with brass detailing. The bar wraps around the restaurant, providing a contemplative focal point from the seated areas. The bar is deliberately oversized as Roy Westwood explains: "The bar plays on the idea of placing the exaggerated within the confined. It changes the dynamic between front and back of house and brings the preparation of food and drink centre stage. The bar is a celebration of craftsmanship and everything that is good about Liberty of London."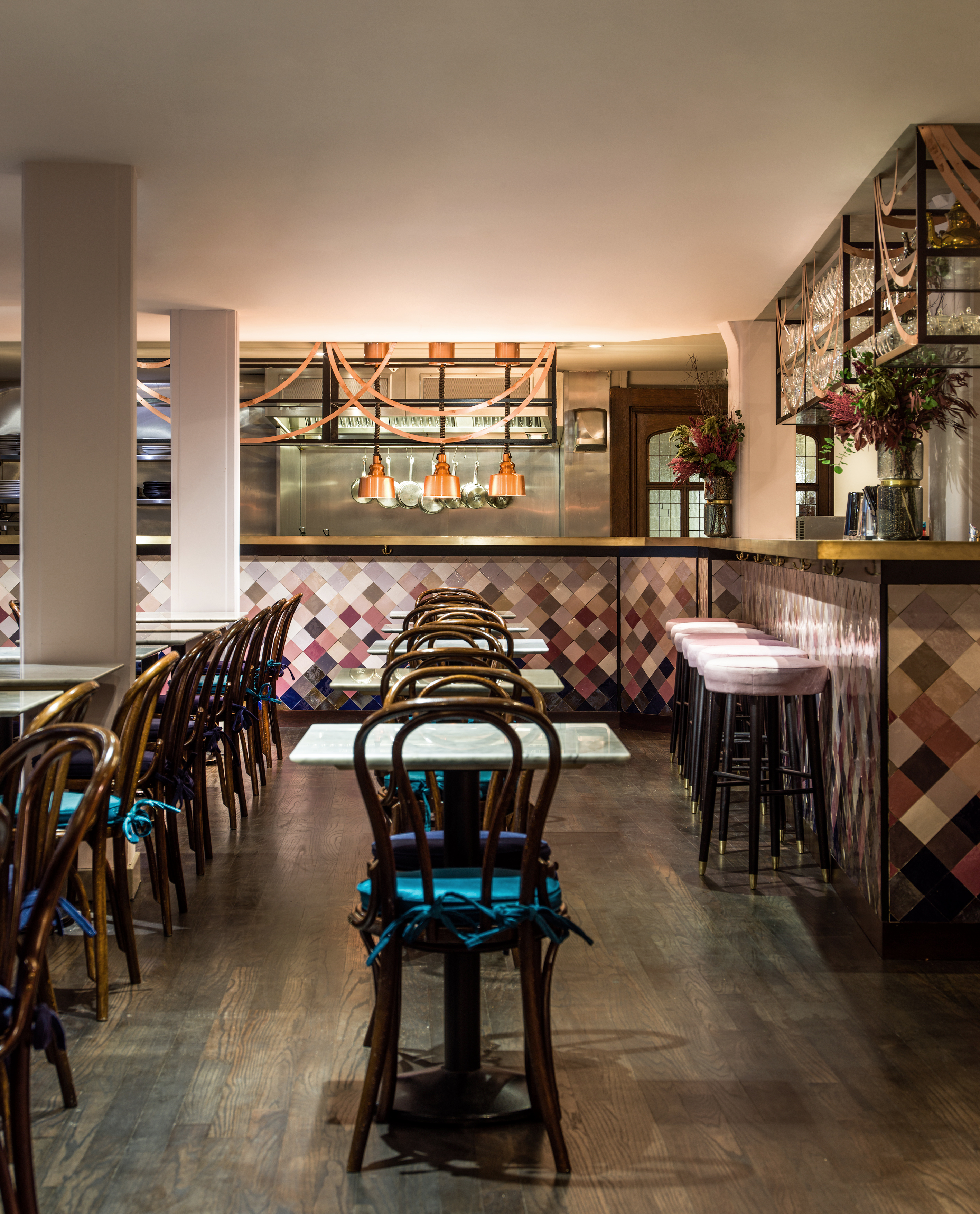 The front of the bar is adorned in handmade glazed tiles arranged diagonally which graduate in colour from dark blues, burgundy and metallics to a softer palette of pinks and greys. It extends through the dining room and is complemented by elegant bar stools upholstered in cameo pink. The dark metal gantry overhead is delicately draped with ribbons of copper.
Nick Leith-Smith explains the thinking behind the design:"Given the store's storied heritage, re-imagining the new Arthur's restaurant at Liberty is a huge privilege. The space is welcoming and elegant – an evocative way to experience Liberty – and in keeping with its esteemed relationship with craftsmanship and design."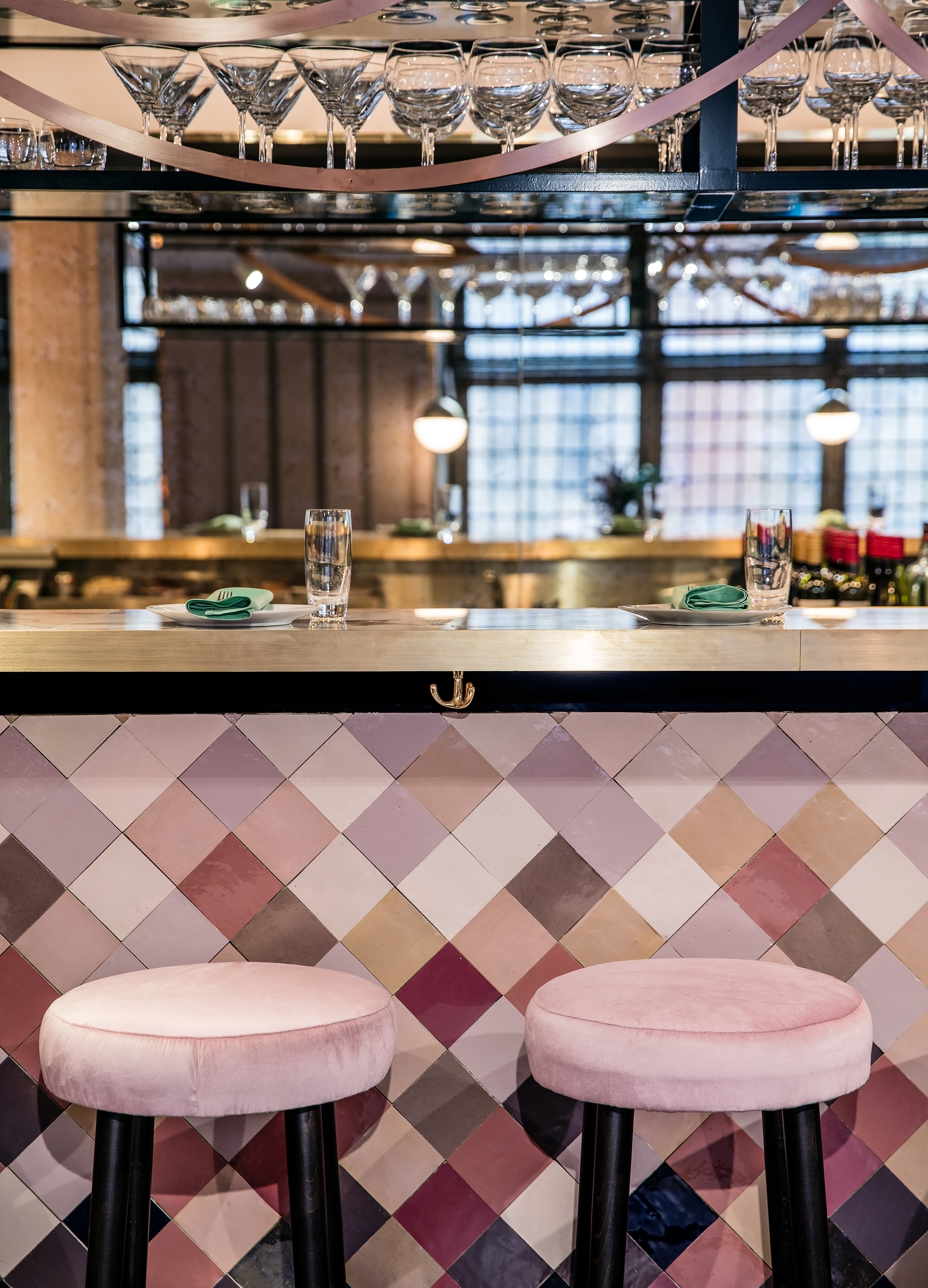 The team
The project was led by Nick Leith-Smith and Forward Associates, in conjunction with hospitality specialists Levy Restaurants and fit-out specialists Portview.