Kvadrat's new Copenhagen showroom opened at the end of 2017. Designed by Ronan and Erwan Bouroullec, the Kvadrat showroom reflects the respect for materiality that characterises the company's textiles and rugs.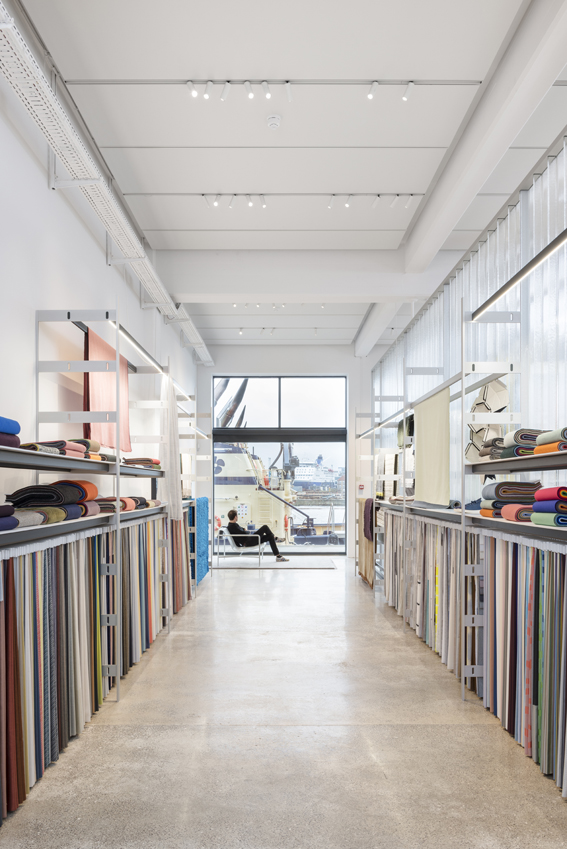 The new Copenhagen flagship showroom marks the latest chapter in a long collaboration between Kvadrat and Bouroullec Studio. Ronan and Erwan Bouroullec have previously designed visionary products for Kvadrat such as Clouds, Ready Made Curtain, Roller Blinds, several textiles and a rug, as well as showrooms in Stockholm and the firm's first showroom in Copenhagen.
Erwan Bouroullec: "The concept we developed is focused on materiality, which is at the heart of the Kvadrat brand. For instance, the showroom aims to deliver total flexibility to create scenes with large pieces of textiles and rugs. Doing so provides a deep insight into the weave, weight, transparency and quality of each design."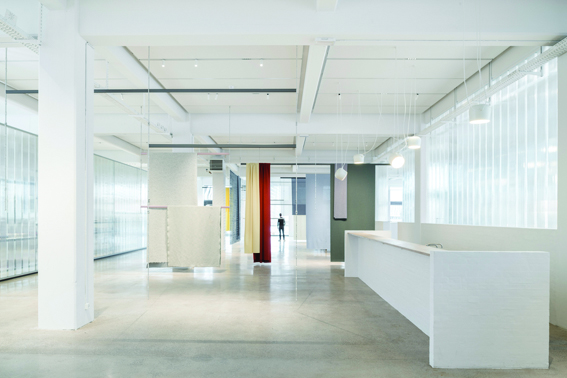 Large windows flank three sides of the showroom, which provides panoramic views over an industrial harbour towards the centre of Copenhagen. Inside, two opposing rows of brick walls, topped by transparent glass screens, run parallel through the heart of the space.
This layout creates a bright, airy gallery area, with the office desks on one side and shelving for textiles and rugs on the other. A conference room, kitchen, reception, bathrooms and IT room are also integrated into the space.
For the showroom, Ronan and Erwan Bouroullec have designed a heavy-duty shelving and hanging system, which fits into a specially designed gridded track-ceiling. Made from anodised aluminium, the system enables Kvadrat to display large pieces of textiles and rugs.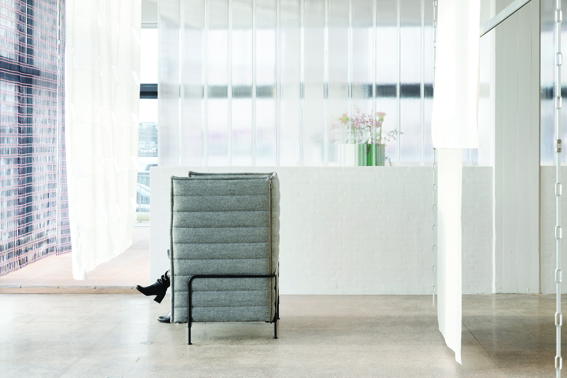 The bespoke system offers the freedom to transform the experience of the showroom. Large areas of the space can be completely cleared or, alternatively, populated with textiles, rugs and installations. Mirroring the Kvadrat collection, the materials in the showroom project a strong sense of materiality, volume and tactility. In addition to the glass and brick walls, there are natural oak floors and surfaces, a concrete floor, and desks made from Really Solid Textile Boards*.
To stay true to the idea of 'no colours, just materials', white is the dominant colour in the showroom. It is used when the natural finish of the material is not shown: the track-ceiling, which comprises rows of Soft Cells acoustic textile panels, the desks and all the walls of the showroom are white. Black is also used throughout the new showroom, as the opposite to the white.
Much of the furniture inside the showroom is custom-made. A large proportion is designed by Bouroullec Studio for Vitra, such as the Alcove Plume sofas, Belleville armchairs, Tyde tables and Cyl high tables. Tiles designed by Bouroullec Studio for Mutina are utilised in the bathrooms.
Kvadrat showroom
Pakhus 48,
Klubiensvej 22
2150 Nordhavn
Denmark