An Armstrong suspension grid for plasterboard ceilings, which is up to 40 per cent quicker to install than traditional systems, has been used as the foundation for a completely bespoke, visually stunning day care centre ceiling that was created at a fraction of the cost of a specialist solution.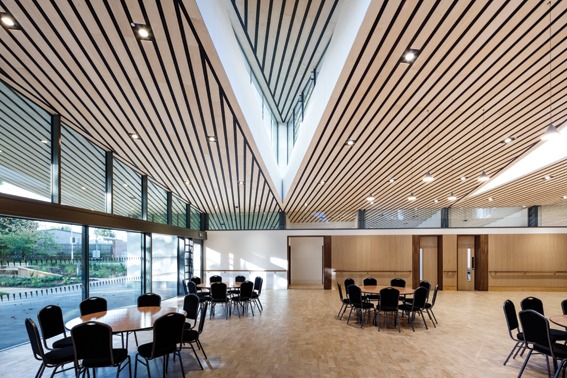 Armstrong's Drywall Grid System (DGS) was used to form a curved ceiling at Scottish War Blinded's new Hawkhead Centre for visually impaired veterans in Paisley, Scotland. Other Armstrong systems have been used in a different new building on the same former garden centre site, the Jenny's Well care home for older people with sight loss, run by Scottish War Blinded's sister charity Royal Blind.
The Hawkhead Centre designed by Page\Park Architects features 1,500m2 of Armstrong's DGS facetted system in the atrium/foyer, formed to a radius and using acoustic insulation above, a black acoustic fabric and finished with birch-faced plywood planks 165mm and 225mm wide.
The Jenny's well care home designed by the Unum Partnership features Armstrong Ceiling Solutions in the main entrance, reception and manager's offices, all the corridors, back of house staff areas, kitchens and toilets. These included 1,000m2 of Armstrong's Perla and 250m2 of Ultima + dB Cradle to Cradle certified tiles, as well as 350m2 of Dune Max, all mineral with Tegular edges installed on an Armstrong 24mm exposed grid.
In addition, it featured Clean Room rated Parafon Hygien tiles to the main kitchen and humidity-resistant Hydroboard tiles to laundry areas and toilets. The use of a 200mm high Axiom profile also provided a solution for ceiling level changes with a pre-finished bespoke upstand.
Page\Park Architect's Martin Flett said: "The Armstrong system forms the frame for the decorative ceiling linings and building services integration. It dovetailed well with the aesthetic and performance requirements and is clever in how it allows you to form a curve from a facetted framing system."
Armstrong DGS installation specialist (north) Martin Dalby said: "The advantage of using the DGS on this project was that a very expensive bespoke system to provide the finish was not required."
0800 371849
sales-support@armstrong.com
www.armstrongceilings.co.uk