Bringing fresh inspiration to hospitality interiors, Tim Armitt, Managing Director, Lyndon by Boss Design, discusses the flexibility in Lyndon seating and furniture.
Creating the perfect interior for hospitality venues can be challenging, especially when it comes to choosing seating and furniture. As designers, you are tasked with specifying pieces that not only complement the overall design scheme in terms of their visual aesthetics, but are also comfortable and make the best use of the space available. Pieces that are practical and offer a robust warranty must also be considered.
Whether it's for a hotel or leisure venue, conference centre, bar or restaurant, it's all about creating spaces that evoke feelings of comfort and relaxation, so that individuals will want to spend more time there. From soft seating collections that include armchairs, wing chairs and dining chairs, and luxurious sofa options, to complimentary coffee and occasional tables, and private high-backed booths, there's an endless choice of products to grace your design scheme.
If you're looking for fresh inspiration, Lyndon's seating and furniture offers something special for timeless style and endless quality.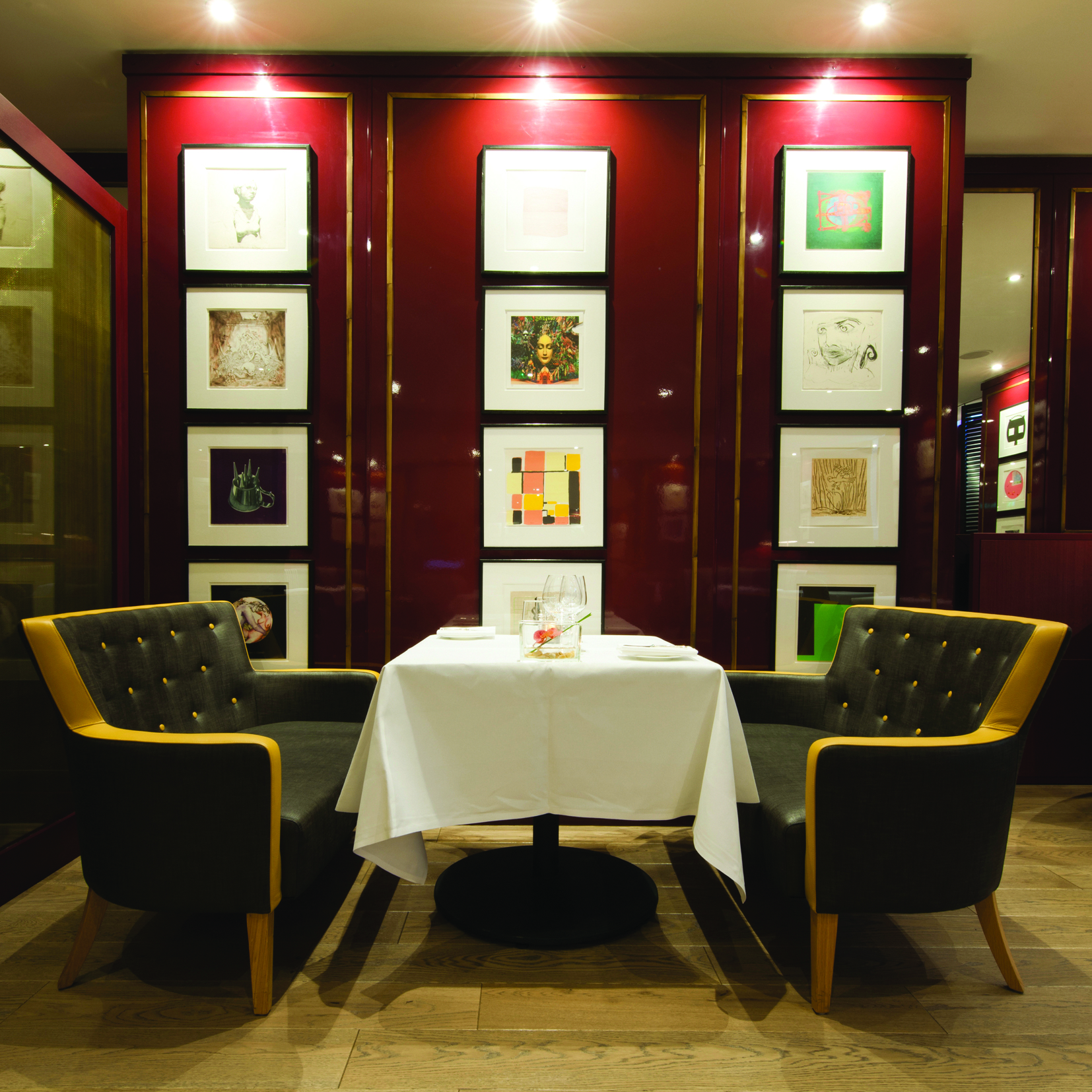 Dining Spaces
Over the years, our handcrafted seating and furniture has become first choice for many high profile restaurants like the Michelin starred Number One restaurant in Edinburgh's prestigious The Balmoral hotel. There our classic two-seater Albany sofas bring a soft and intimate feel to the elegant dining area. Specified in a striking fabric to blend beautifully with the Scottish warmth and charm of the restaurant's red-lacquered walls, the sofas also feature distinctive gold coloured back buttons in leather and luxurious gold coloured leather arms and border detail. Handcrafted solid oak legs finished with a clear lacquer perfectly reflect the elegance and history of this revered establishment.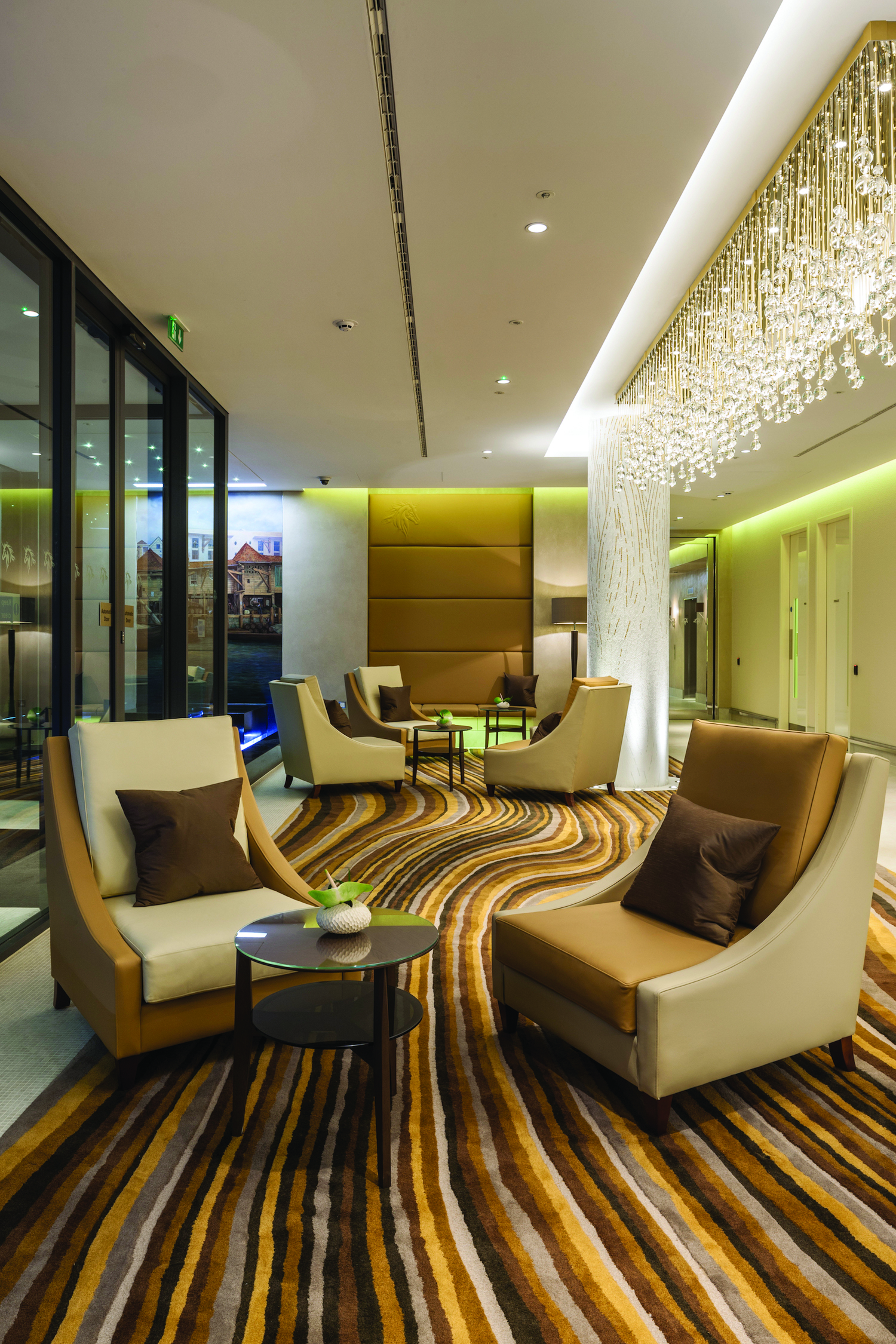 Foyers and Lobbies
If you're looking to make guests feel immediately welcome, our extensive seating and furniture collections offer the perfect solution to make the right first-time impression in any foyer or lobby. London's award-winning five star apartment development, Cheval Three Quays, expertly showcases how luxurious seating solutions can help create a striking entrance. Armchairs from the Vernon collection help create an air of decadence and help soften the overall ambiance of this prestigious building.
Lounges
Sometimes the need to stand out from the crowd and provide the wow factor is vital to your design scheme. At the Cheval Three Quays apartments in London, luxurious armchairs upholstered in a high-quality fabric from the Albany collection exude elegance in the lounge areas. Co-ordinating ottomans bring added comfort.
Cinema rooms
For projects that require upholstery to provide extreme decadence, combined with comfort and practicality, bespoke handcrafted furniture is the answer. Throughout the network of impressive Everyman cinemas, our bespoke two-seater sofas and armchairs are made from a variety of coloured fabrics including velvet with fully upholstered timber frame, and come complete with foam and feather deluxe seat cushions. Handcrafted footrests and tables also help make the Everyman cinema experience truly unique.
01242 584897
www.lyndondesign.co.uk