Pigsty, a new neighbourhood restaurant and bar on Bristol's Gloucester Road, has opened for business, with all interior design and graphics on the scheme created by Bristol-based hospitality and retail specialists Phoenix Wharf.
The 100-cover space, aimed at families, couples and group diners, offers high-quality dishes based around good quality, local produce and the company's own pork products from The Jolly Hog – all prepared with taste, flair and heart and served in a fun, stylish and contemporary environment. Pigsty also includes a bar with a takeaway area, offering cooked and fresh Jolly Hog sausages and bacon.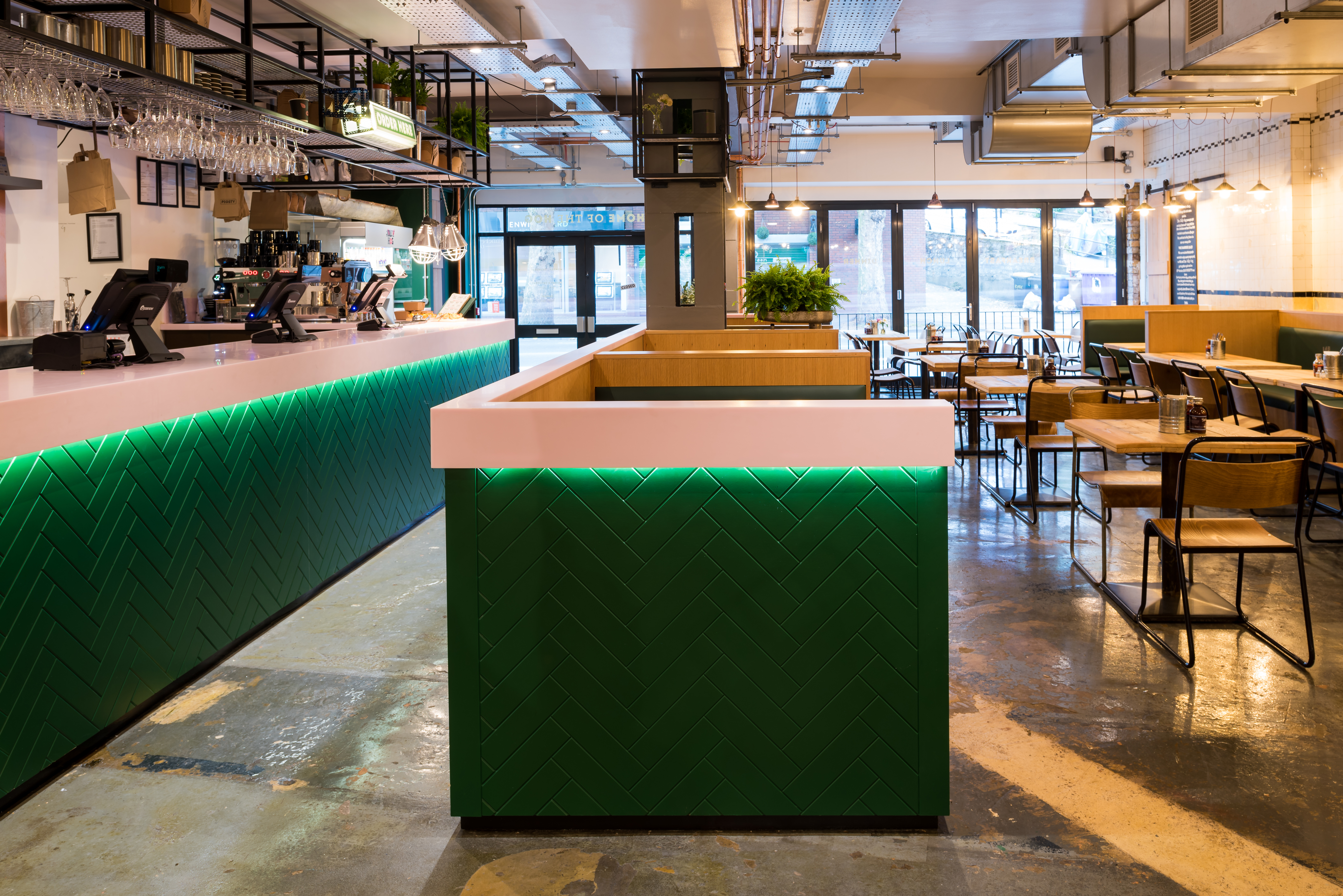 The interior concept mixes town-and-country via old and new industrial elements, butcher's shop tiling (some dating from around 1920, from an original pork butcher on the site), plus warm green herringbone timber and playful pink-grouted green ceramic tiling and graphic slogans.
The Jolly Hog, begun by entrepreneur and ex-Harlequins rugby union player Olly Kohn, together with brothers Max and Josh, offers an array of pork products, with outdoor-bred meat, ethically-sourced from RSPCA-assured farms.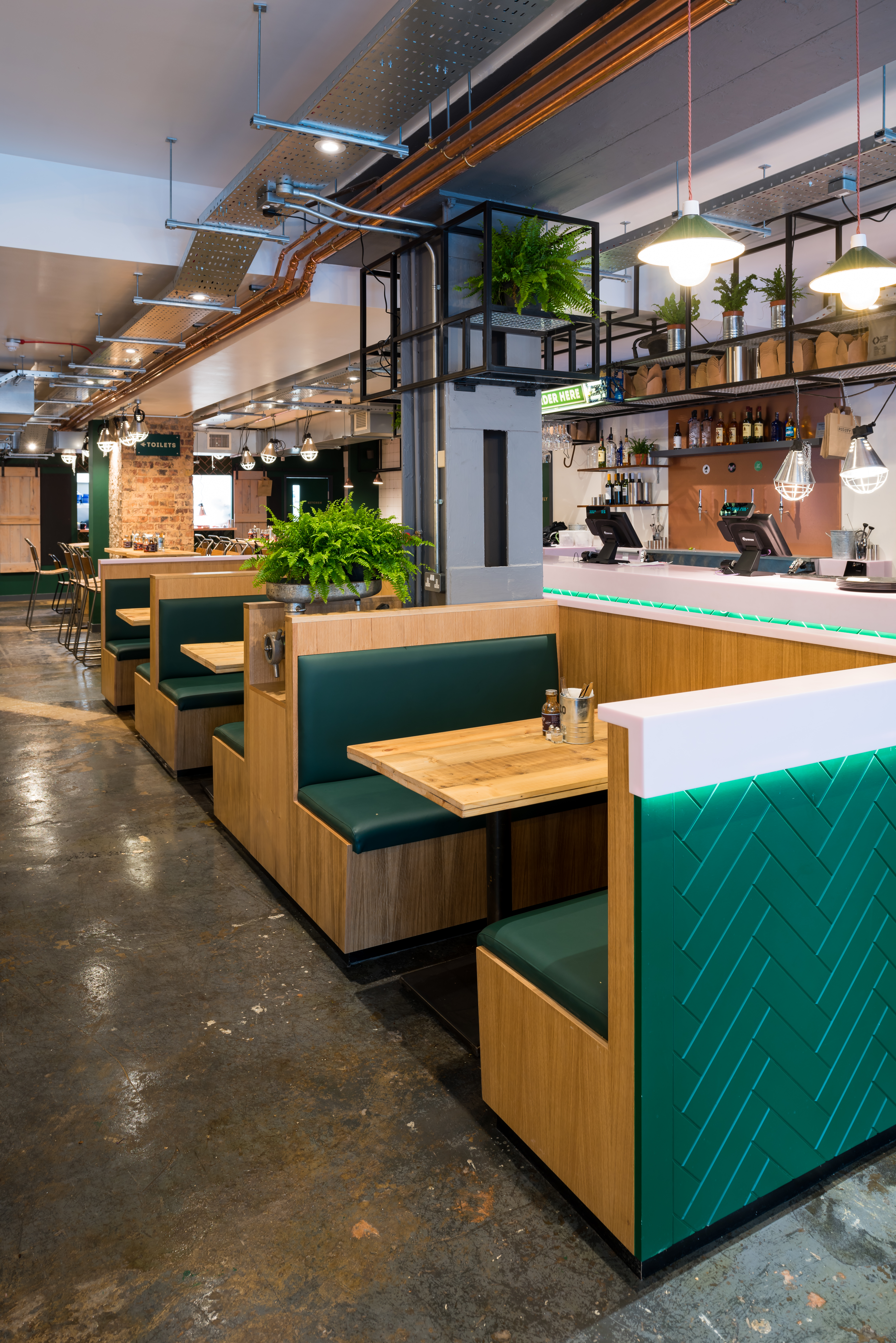 Designers Phoenix Wharf first came on board on the new project in autumn 2017, not long after the business owners secured the property, but in fact the two parties had already met – thanks to Instagram.
"Our initial involvement started with an Instagram post from The Jolly Hog, which we picked up on, asking for design ideas for a menu stand for the original Wapping Wharf outlet – in exchange for sausages and bacon" Emma Gullick, Senior Designer at Phoenix Wharf explained.
"Tom, on our team, was one of hundreds who responded to the shout-out, but, once Pigsty's owners took a longer look at us – particularly liking our work at the Ensemble café-restaurant in Wells, for example, which was shortlisted for a Restaurant & Bar Design Award – they selected us for the project. It was certainly worth it, because not only did it turn out to be the beginning of a great working relationship, but the sausages and bacon were absolutely brilliant too!"
The 'Pigsty' Brief
The design brief for the first permanent Pigsty site was to evolve the look and feel first expressed in the Wapping Wharf shipping container outlet, but to raise the bar by creating a more grown-up, premium feel and catering for customers who want to sit and linger. The design also reflected the location, as Gloucester Road is an up-and-coming area of Bristol, which has a young and edgy feel at one end and a more traditional, pubs and retail-focused focus at the other end. When the site turned out to have housed a pork butcher (James Brown Butchers, 1890-1950), a further strand of inspiration was added, with trace elements of that shop and era going on to become an organic part of the new concept, including original tiling and areas of exposed concrete flooring, complete with historic marks and scuffs.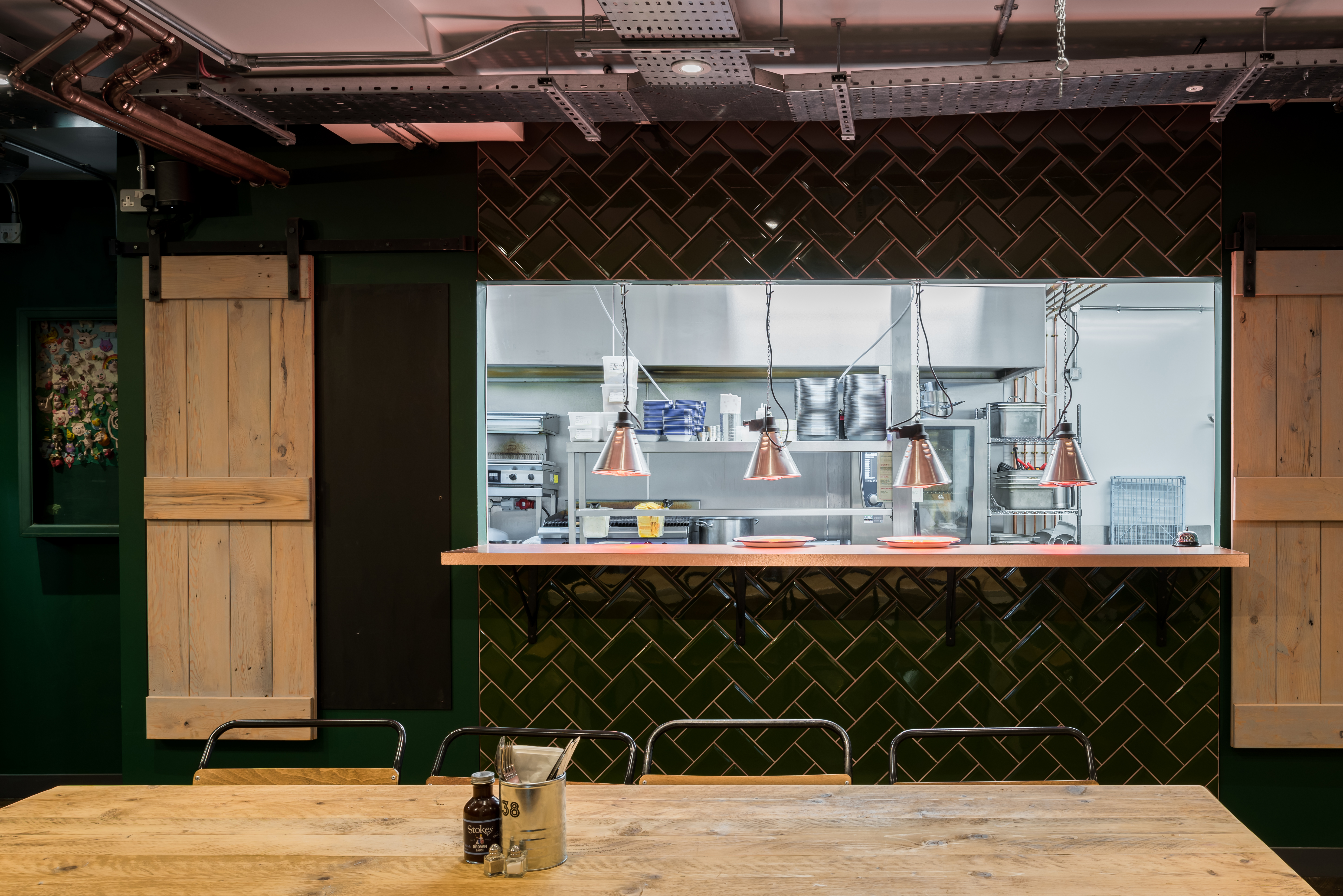 Design Concept & Walk-through
Pigsty has a large, glazed shopfront with five tall fold-back windows, set with a green herringbone timber surround. The logo, in white, plus the snout-and-ears brand mark sit over the door and are also used for the projecting sign, whilst gold-painted lettering directly over the entrance doors introduces key brand messaging – 'Home of the Hog'.
Inside, the layout includes an open kitchen to the rear, underlining a feeling of transparency and adding theatre, with the surround to the kitchen pass clad in a green ceramic tile with striking pink grouting. To the right of the space is the bar area, where people can drink and also grab a quick burger, whilst the main restaurant houses various seating zones to cater for all-comers, including two rows of booths and smaller freestanding tables down the centre and in the window area, which seat two of three people and can be combined as needed, offering the operator maximum flexibility. The rear seating area by the kitchen features a number of taller, group-dining tables, as well as bar-height stool seating and further free-standing tables.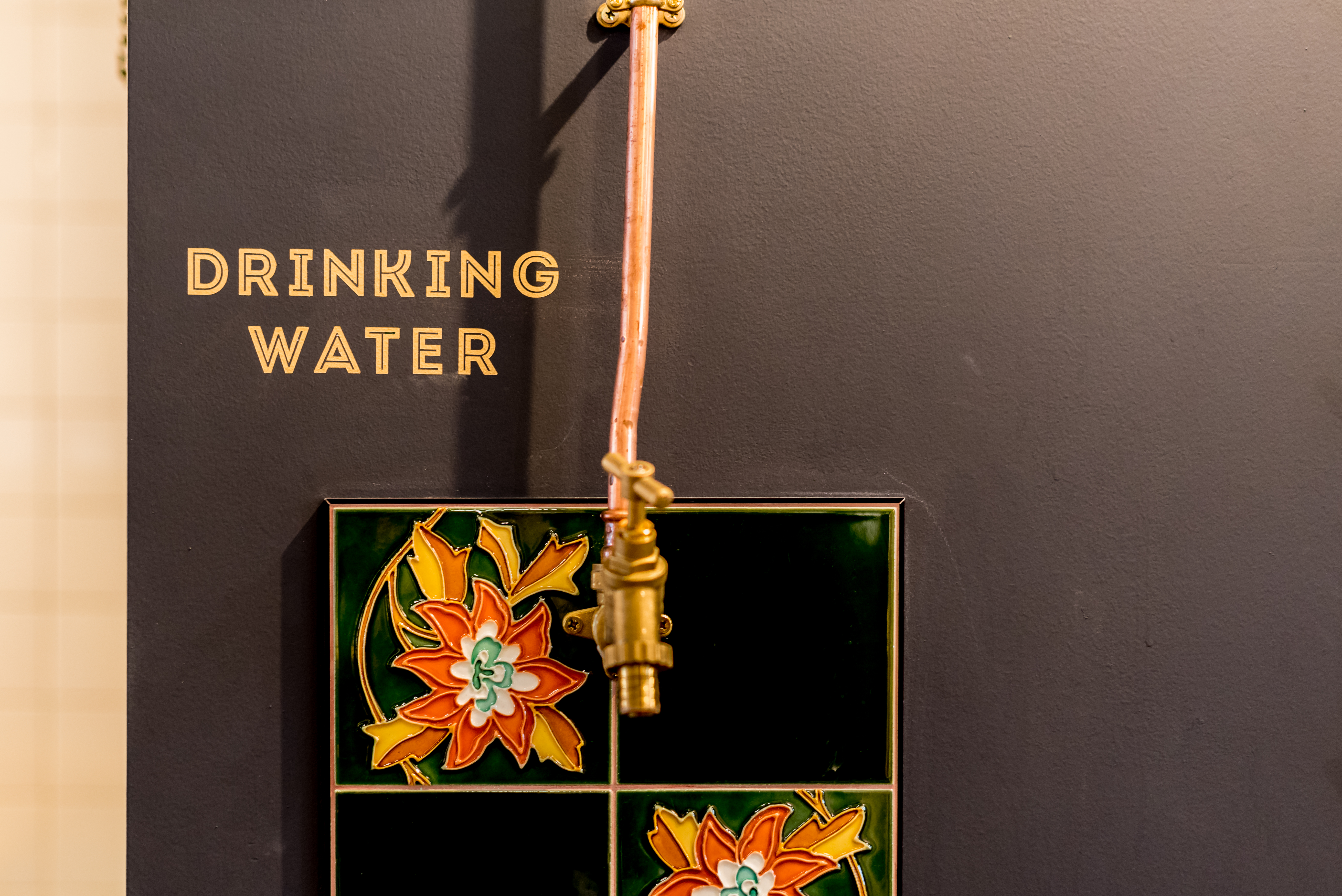 "The bar design is in the form of a large D-shape", Emma Gullick explained, "with half the bar serving as a dedicated dispense bar and half also serving food orders, including take-away. There will be a certain amount of testing out new ideas in this space, from hot-plated food to possible live cooking to order."
The furniture for the new venue very much speaks the same language as the first outlet, especially in terms of the continued accent on timber.
"Wood is perfect for the project", Emma Gullick added, "not only for its natural warmth and organic feel, but also because of its link to farm buildings. The scheme additionally includes a number of recycled farm doors with Pigsty branding."
The new bar-front is in a green herringbone-pattered timber, whilst pink is used once again for the bar top, which is in a pink-flecked, textured Corian and is LED-lit below the bar top overhang. A copper finish has been used behind the bar taps on the central section of bar-back wall cladding, whilst a black iron gantry over the bar counter is another nod to an industrial look and feel. The gantry also tells a brand story via brand artefacts, as well as herbs that speak of the product and suggestions of wines to accompany the dishes.
In addition to the exposed areas of concrete flooring, grey timber has been used in some sections. Tables are bespoke and made by Simon Kohn Furniture Ltd (Mr Kohn Snr, a well-established furniture-maker and also based in Bristol) and are wood-topped with simple metal legs. Booth seating is in natural timber with green leather seat pads, with green herringbone timber as the external surround, whilst an eclectic collection of freestanding chairs with metal frames and wooden seats and backs have been sourced from antique markets for a ready-worn, vintage feel.
For the walls, original uncovered white tiling from the butcher's shop has been kept wherever possible with new white tiling added to complete the look. The ceiling features an industrial, exposed look, with steel tracks and copper pipes, whilst lighting includes old-style metal lights, as well as more contemporary exposed-bulb pendants and a couple of height-adjustable pig lamps with curly coils; a genuine farm out-take, where they are used to keep baby piglets warm.
Olly Kohn commented on the final design: "Phoenix Wharf were great to work with. They took time to understand our business and values before helping us evolve the look and feel of the brand via smart thinking, operational insights and a striking visual and materials palette. They helped us achieve a premium feel for the new venue that is still true to the original brand vision and will help us move forward with confidence towards the next stage of our growth."
Photography by Franklin + Franklin
www.phoenix-wharf.com    
 www.pigstyuk.com