Nulty has completed the lighting scheme for the exciting new global headquarters of a major record label, based in London's King's Cross.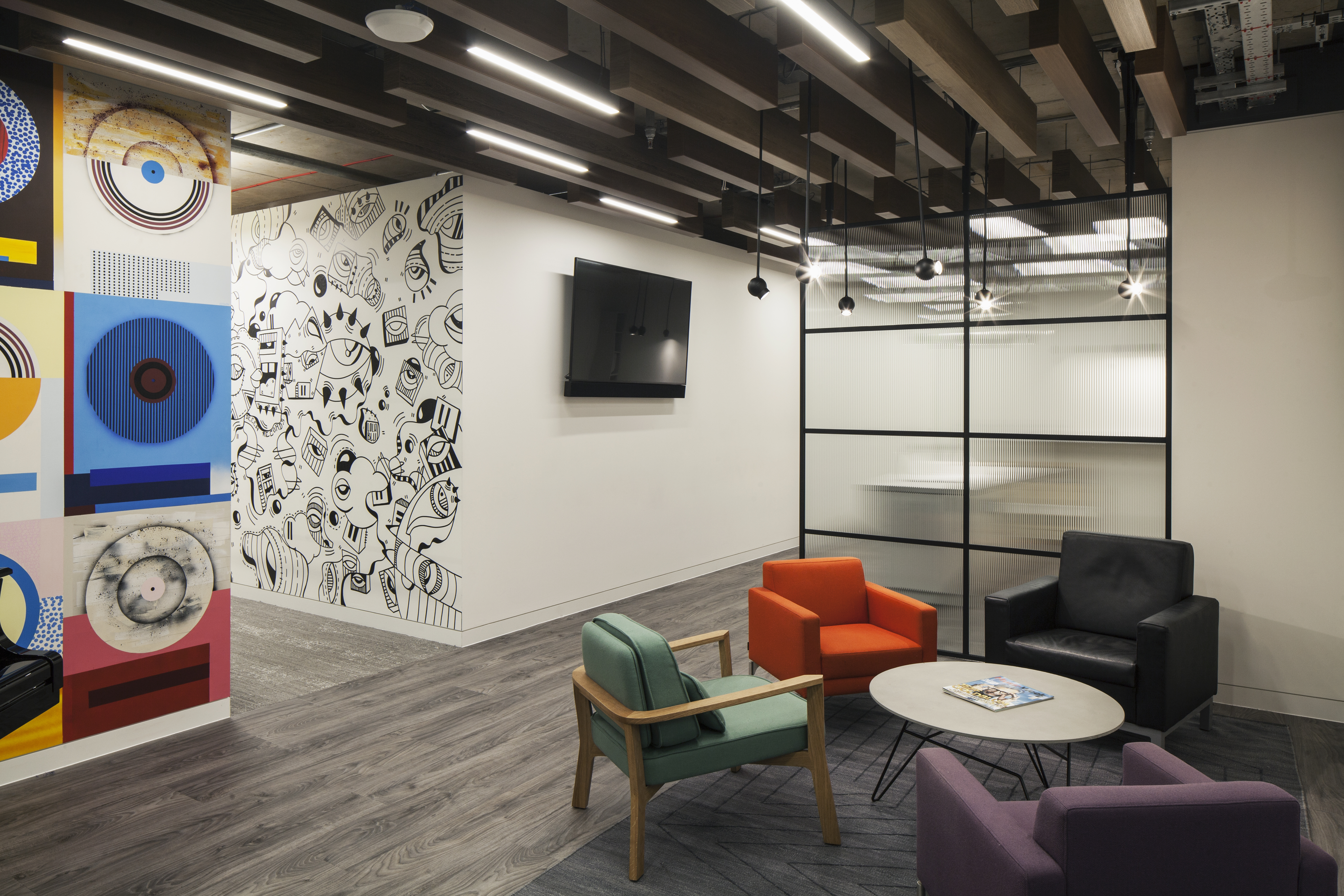 The brief was to create a functional yet fun lighting scheme, which aesthetically linked the HQ's various spaces, whilst avoiding a rigid corporate feel across the imposing new build's ten storeys of working space. The creative nature of the client's business means their spaces have a tendency to switch purposes, with employees customising the layout of their furniture and even the rooms. Therefore, the lighting scheme needed to accommodate the ever-changing requirements of the building's users.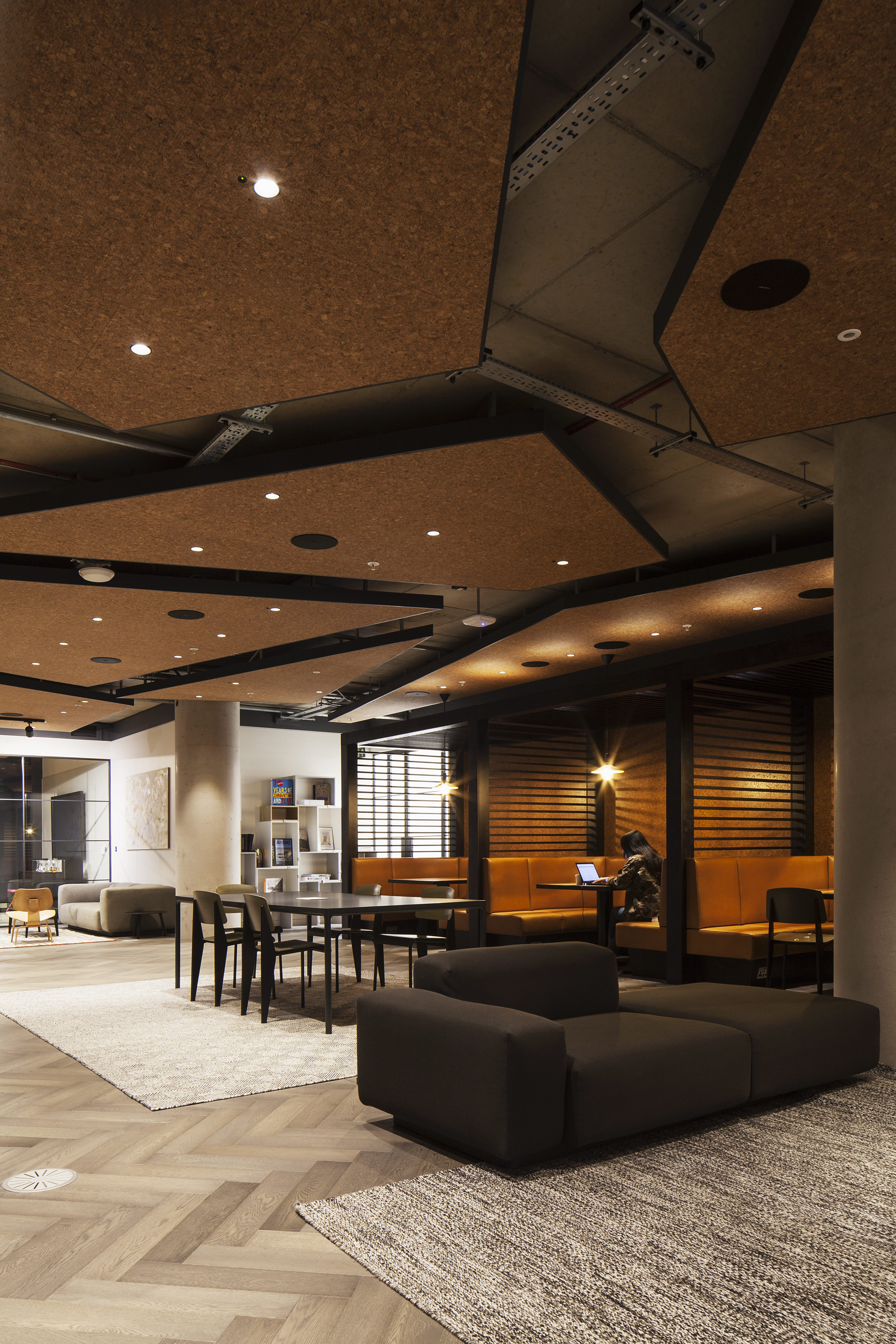 Nulty worked closely with BW contractors to realise McFarlane Architect's concept of a consistent design style throughout, while also integrating a sense of controlled irregularity, reflecting the client's innovative values. Centrally located breakout areas are on every floor, surrounded by a ring of open plan desk spaces. All the ceilings are exposed concrete, and in the break out areas there are feature timber slatted ceilings. In the more secluded collaboration areas randomly shaped, large-scale angular cork tiles hang from the ceiling. Nulty integrated LED luminaires within the feature ceilings, and low glare pendants in the banquette areas giving these spaces a home-from-home, relaxed feel.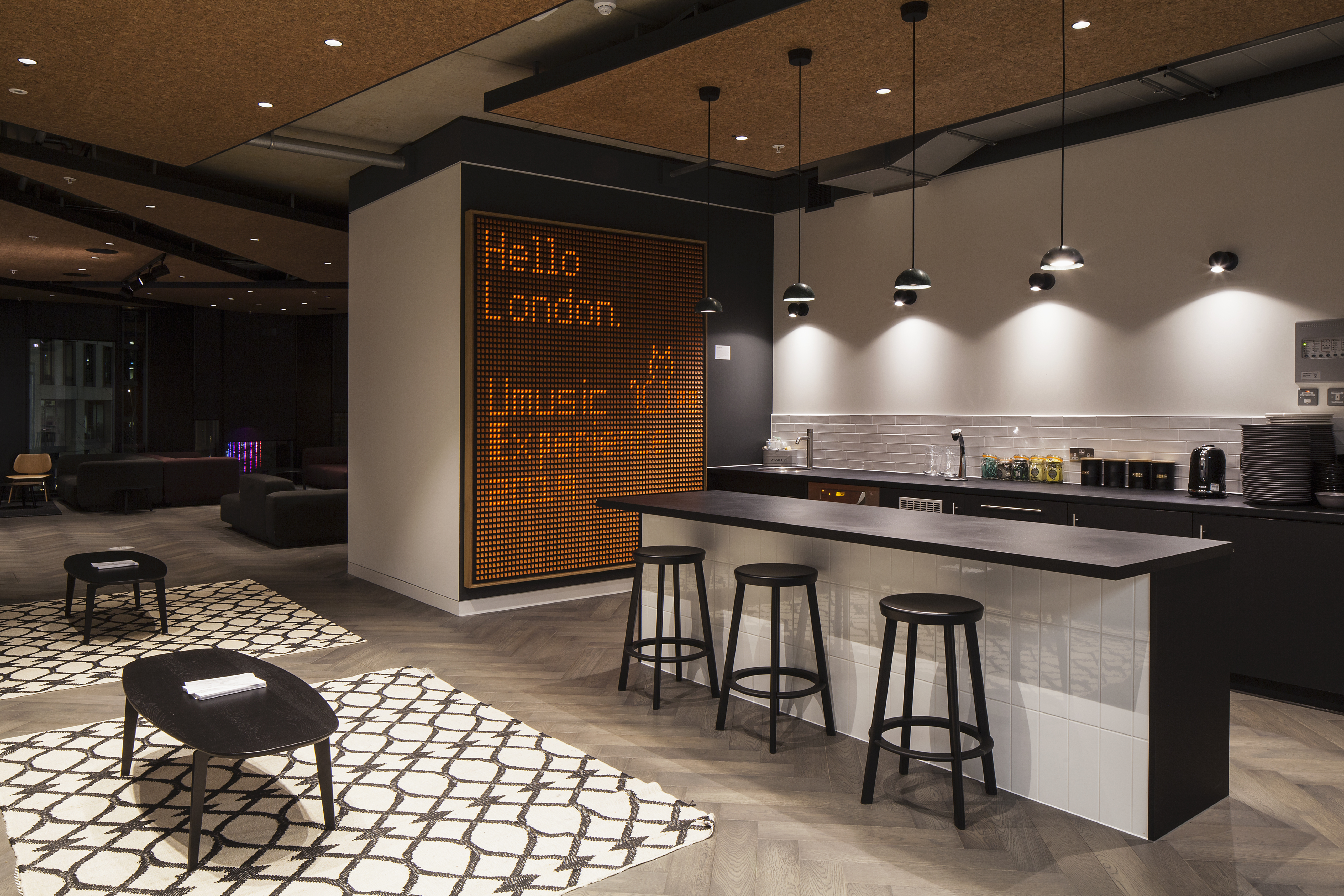 Amongst the timber slatted ceilings, in the additional break out areas Nulty devised a series of seemingly randomised linear LED luminaires that echo the ceiling pattern and create visual interest. The linear luminaires continue into the private office and meeting spaces and are recessed within the ceiling tile system to create a flush finish. Carefully placed spotlighting is also used in these areas to pick up and highlight artwork and a myriad of graphics and music memorabilia displayed on the walls. Suspended circular pendants are included in some of the spaces to soften and provide contrast to the highly angular shapes of the open plan spaces.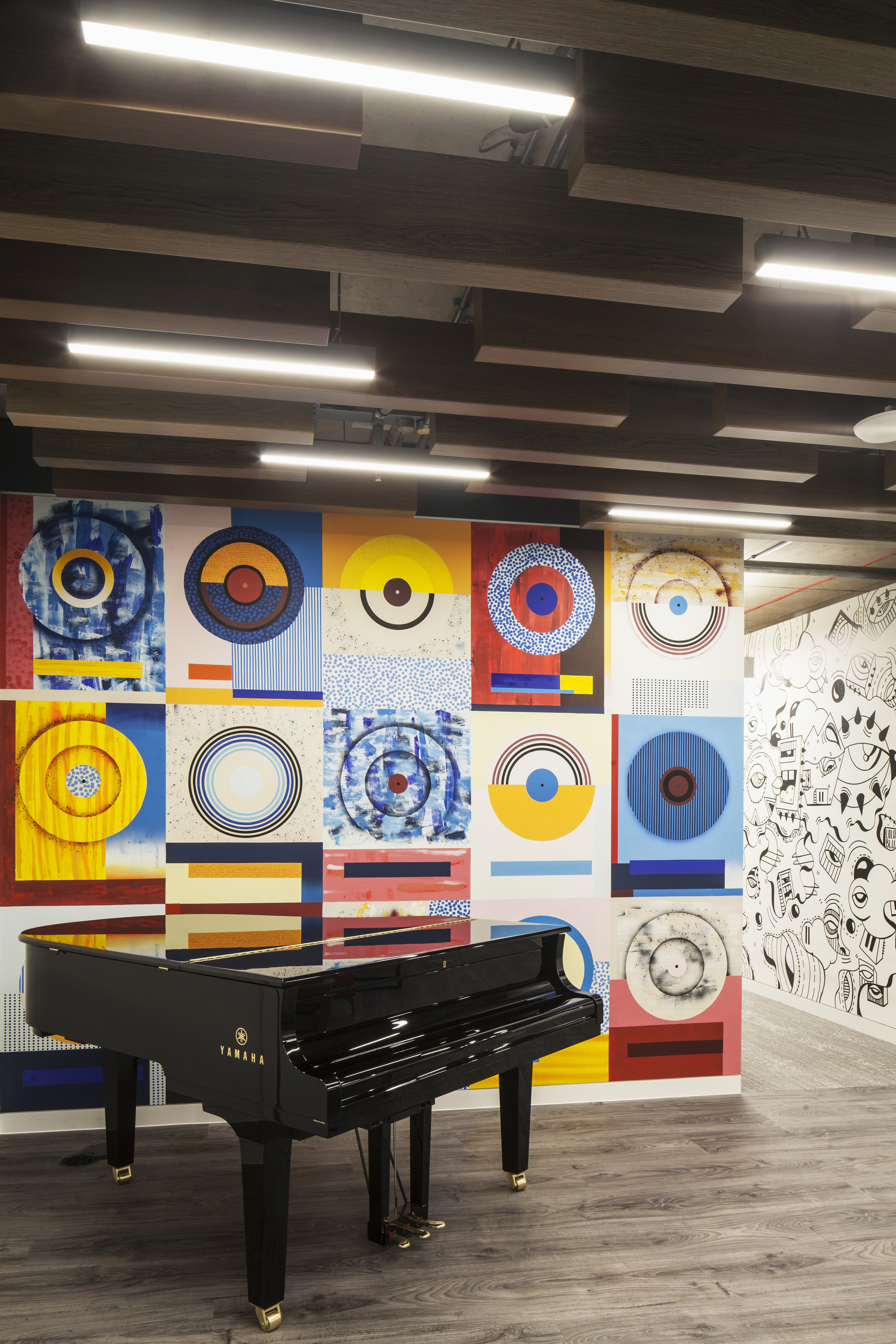 In the open plan desk areas, Nulty designed 7000 metres' worth of striking extruded luminaires, providing direct and indirect light (reflecting light from the ceiling). The shape and pattern appear randomised, however the luminaires have been carefully designed to provide the correct amount of illumination to all the desk areas, even if the furniture positions were to move. In addition, these luminaires needed to accommodate the acoustic rafts suspended from the ceiling as well as all the emergency lighting and sensors required. The result is a bold lighting scheme that reflects the highly creative atmosphere of the space.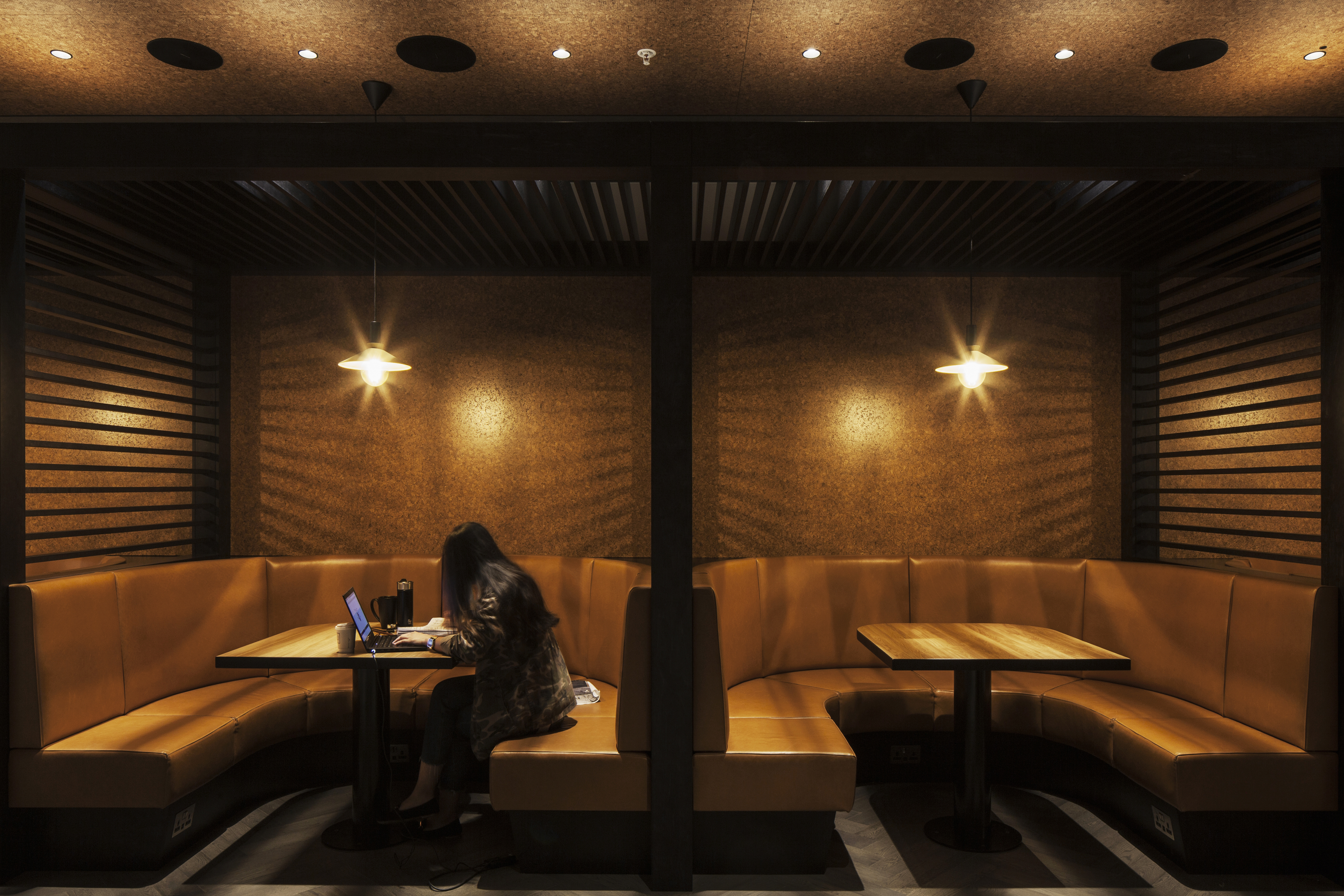 Phil Copland, Senior Lighting Designer commented, "The lighting in the company's previous buildings had a tendency to be changed by individual employees, so the client specifically wanted a scheme more fit for purpose. We worked closely with the client and design team to agree on the correct quality and colour of light, finally settling on a neutral white colour temperature, which fulfilled as many roles as possible for the users."