Emrys Architects has created a welcoming second branch of the popular vegetarian and vegan restaurant, Tibits, in Bankside, London.
Together with German-Swiss architect Oberholzer & Brüschweiler, Emrys were approached to re-think the look and feel of Tibits while retaining key design elements of the existing brand. The result is a vibrant and ambient space with a warm and lively palette of finishes.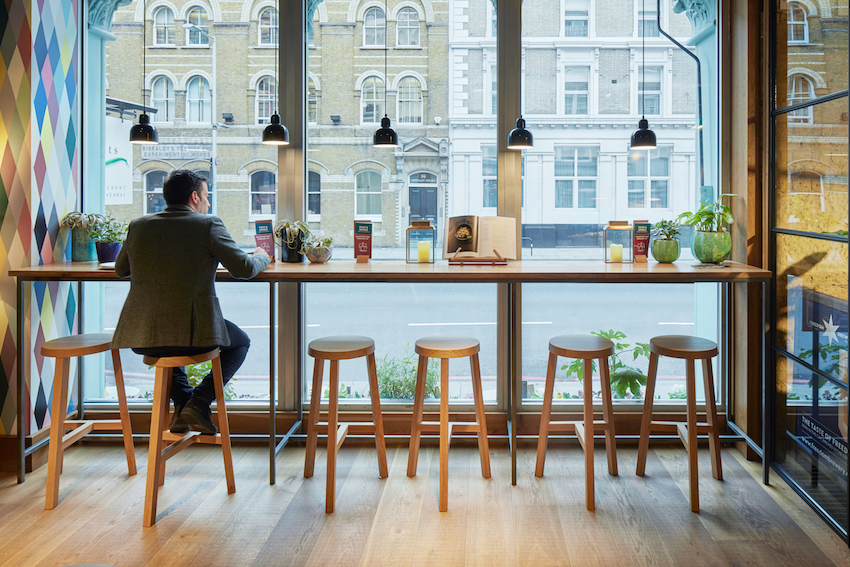 A full refurbishment of the ground floor of a smartly fronted Grade II Listed Victorian mansion block, and a new glass extension into the rear courtyard, now sets the scene for a unique, healthy dining experience.
The interior of the former retail unit was stripped back to the original brickwork to achieve the industrial character that the brand echoes. Colourful wallpapers, bespoke artwork, textured fabrics and soft lighting were then added to balance the industrial edge of the space and bring ambience to the restaurant.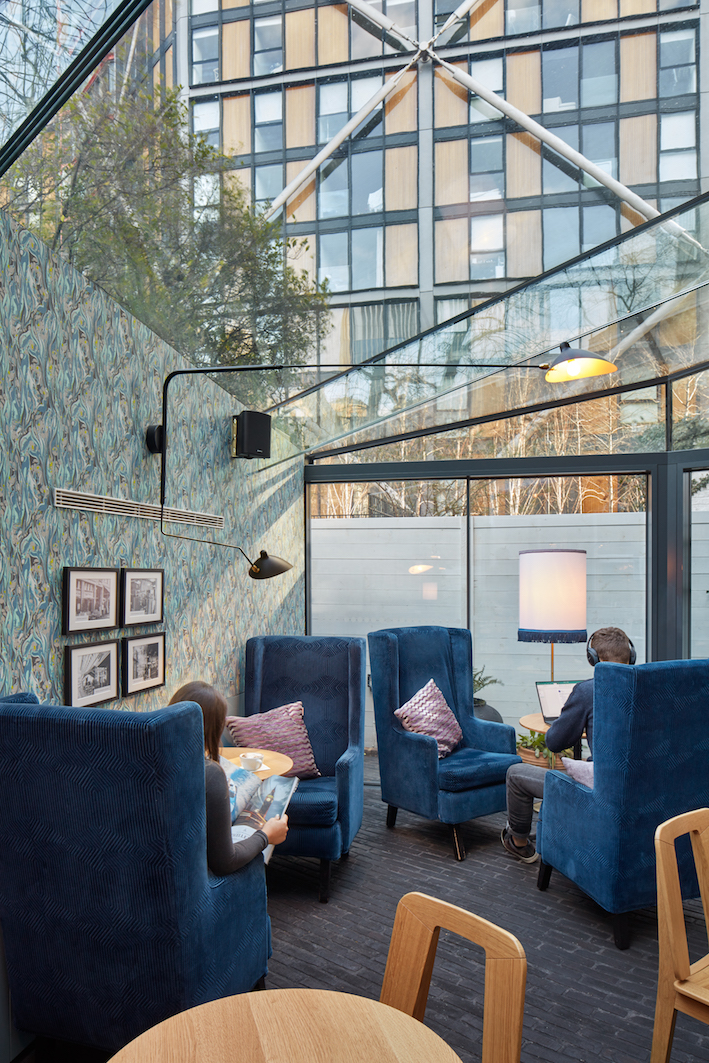 The variety of materials present within the restaurant have been used to create a collection of distinct spaces in which to enjoy a solitary bite to eat, a social meal or a larger gathering. Customers can choose to sit on bar stools at high tables, in comfy café style wicker chairs, in cosy armchairs, or at more traditional dining tables.
A range of floor finishes help to distinguish the different eating areas: hardwood floors in the high traffic entrance area; soft, colourful carpet in the more relaxed café area; and garden terracotta brick pavers in an extension to the rear.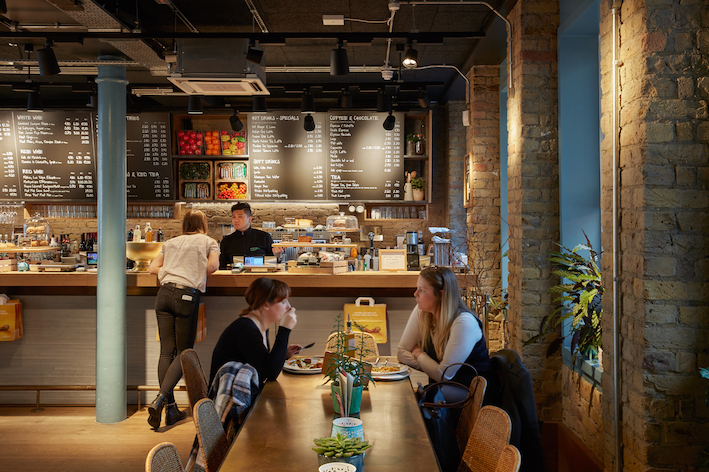 The new garden extension into the existing rear courtyard of the building maximises space and accommodates the main seating area. Made primarily of glass, the structure allows maximum light to penetrate the space, giving the impression of eating outside and allowing a view of the treetops and sky above.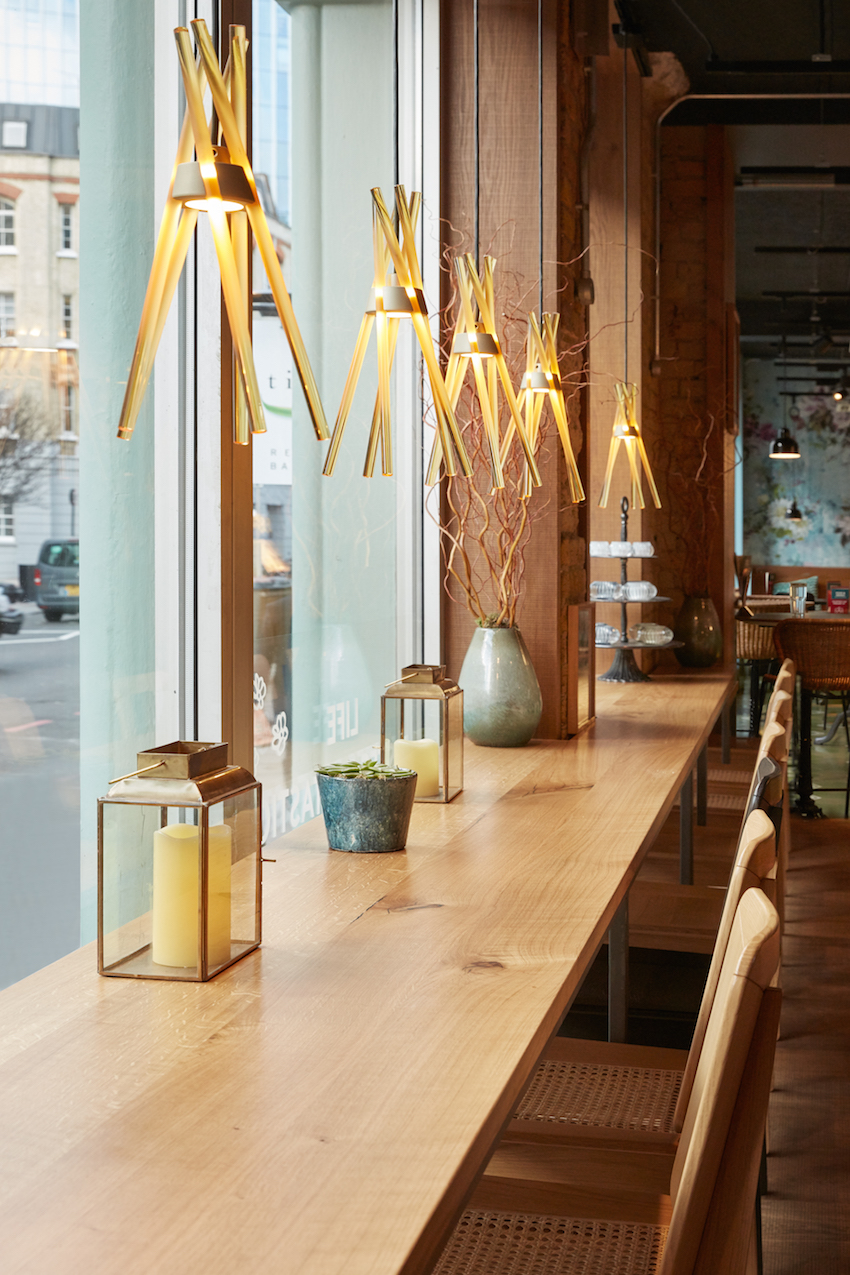 Central to the floor plan is the restaurants' iconic food boat. Present in all Tibits restaurants, the Swiss made serving 'boat' is used to display the food buffet and to act as a focal point to the restaurant. A compact but efficiently designed professional kitchen is discretely located on the lower ground floor level. Customer toilets on this level are characterised by boldly decorated traditional cement tiles and a bespoke concrete trough style sink. A homely private dining room catering for larger parties is also located on the lower ground floor.