With today's strong focus on nature and self-care, the fresh and vibrant botanicals design trend is set to continue according to Hamilton Litestat. Bringing nature inside the home, the health-inspiring natural tones and hues are nourishing and energising, while also creating a wholesome feeling of calm.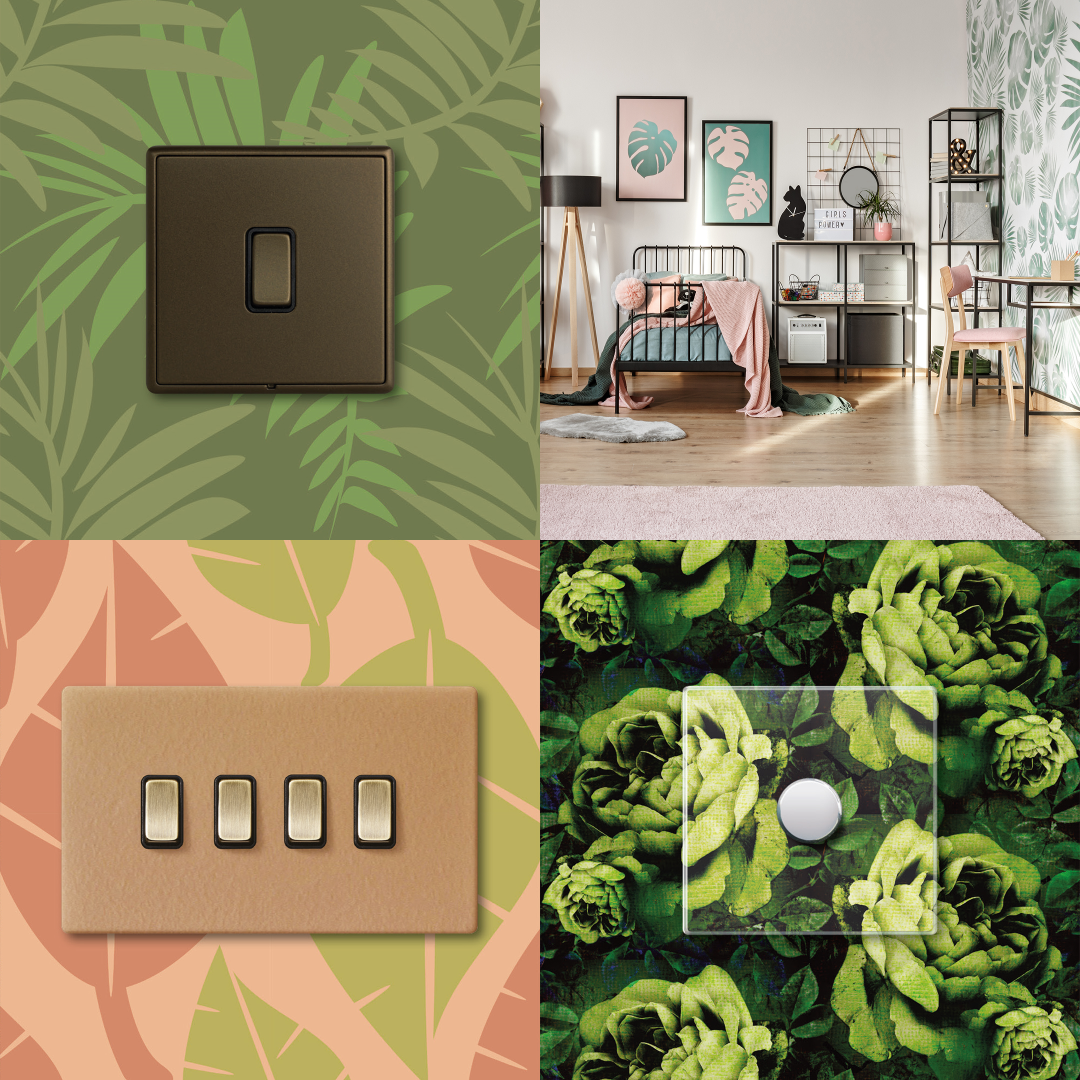 To ensure that the design scheme carries through this feeling of well-being without disturbing the tranquility and positive energy, Hamilton Litestat offers a selection of carefully crafted wiring accessories that perfectly complement the botanicals trend.
Whether you're choosing wall hangings, soft furnishings, accessories or even real plants to convey the design theme, Hamilton has an appropriate decorative wiring solution.
For those incorporating a striking wall finish that shouldn't be disrupted – such as ATADesigns.com bold wallpaper, Kews Dramatic Roses in green (bottom right) – Hamilton's Perception CFX is the perfect choice. The clear plate allows your selection of wallpaper to be inserted, or for the supplied template to be painted to match a monochromatic wall, resulting in an almost invisible finish. The contemporary switch plate has eight insert designs and concealed fixings to make it disappear and allow the wall covering to take centre stage.
Alternatively, with Hamilton's Paintable range (bottom left) you can pick a hue from the wallpaper, or even a contrasting colour from the room's soft furnishings, and have the switch plates painted to exactly colour match. Available in the popular and stylish Hartland CFX and Sheer CFX designs, Hamilton can supply the range pre-painted or primed and ready to paint on-site. Whether you're looking to match a bold, vibrant green of a jungle-themed wallpaper, or the soft tones of a chair covering inspired by oriental gardens, the perfect hue can be easily achieved.
Hamilton also offers more traditional switch plates and sockets in finishes that beautifully complement the earthy, natural colours of the botanicals theme. Its collection of bronze finishes – Connaught, Copper, Etrium and Richmond – provide a sophisticated finish against the vibrant natural colours. These stunning finishes are available across five Linea design ranges, along with the sleek and stylish Hartland CFX and Sheer CFX designs.
Whether the look is exotic jungle or English country garden, Hamilton offers a variety of decorative wiring solutions to perfectly accompany the botanicals trend. Come and see for yourself at 100% Design: Stand G4, and Decorex: Stand G182.
01747 860088
info@hamilton-litestat.com
www.hamilton-litestat.com