Two magnificent life-sized lions, painted in oils by Lélia Pissarro and Lyora Pissarro (descendants of celebrated French impressionist Camille Pissarro), will be on display at the Stern Pissarro Gallery in Mayfair before being auctioned by Christie's Director Hugh Creasy on 28 November.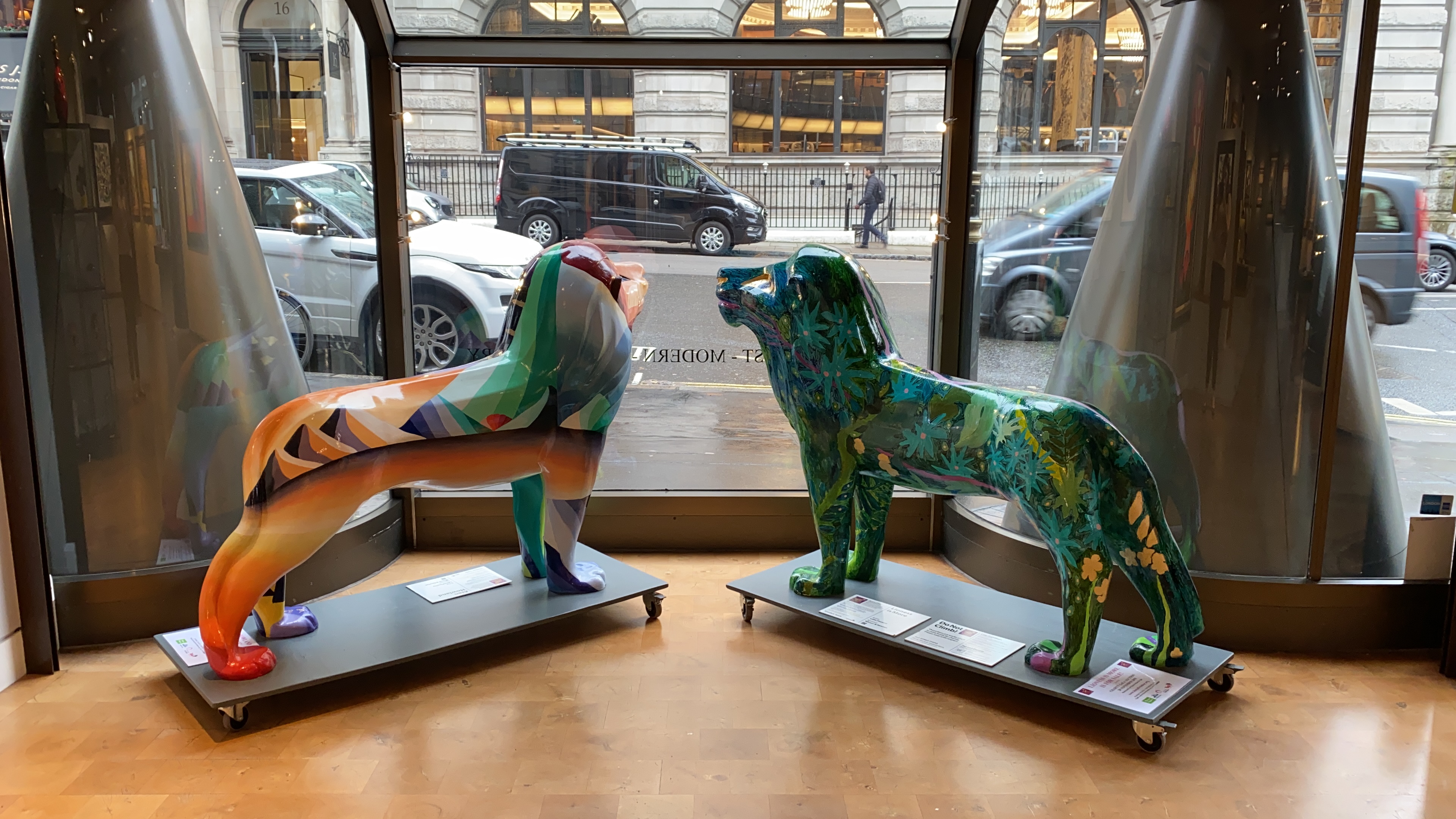 Mother and daughter artists Lélia and Lyora Pissarro painted their lion sculptures in London in July for the
'Lions of Windsor 2019' public art trail, which saw a giant pride of supersized lion displayed across Windsor and the surrounding region from August to October to celebrate Queen Victoria's 200th anniversary.
The Pissarro lions were displayed together in the heart of Windsor, where they delighted thousands of residents and visitors from around the world.
The stunning Pissarro lions will join twenty-nine other large lion sculptures and seven smaller lion cubs at the charity auction conducted by Christie's Business Director, Hugh Creasy and hosted by BBC Radio panellist Tim Brooke-Taylor at the Runnymede on Thames Hotel on 28 November to raise funds for charity.
The Lions of Windsor pride has been decorated by some of the world's leading artists and designers, including iconic fashion designer Dame Zandra Rhodes, former Christian Lacroix designer Craig Wheatley, print designer Kaffe Fassett MBE and celebrity Thai Jeweller and member of the Thai Royal Family, Rojanatorn Na Songkhla.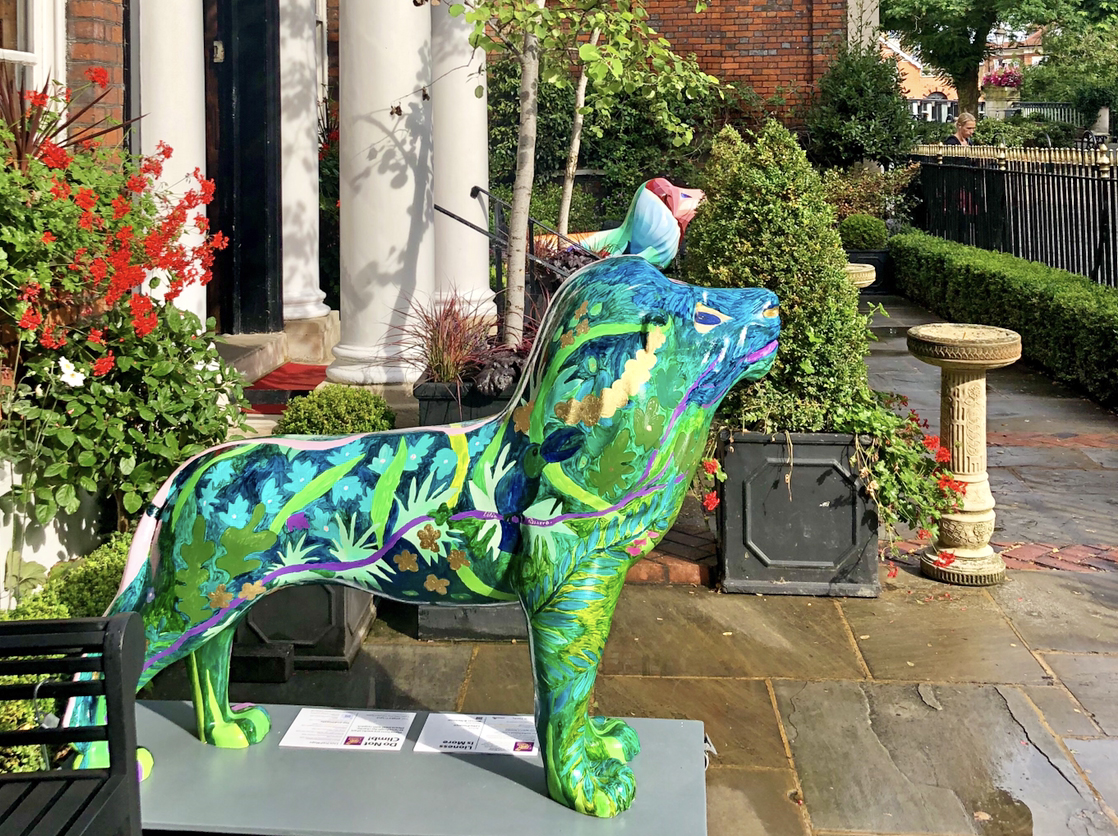 Lisa Todd, Lions of Windsor Creative Director said, "The charity gala auction will give art connoisseurs and collectors from around the world the opportunity to own one of these magnificent, individually decorated lion sculptures or perhaps even a stunning pair of Pissarro's, while also raising funds for charity."
The Pissarro lions are on display at the Stern Pissarro Gallery, Mayfair, from lunchtime on Friday 15 November until Monday 25 November.
To bid for a Pissarro lion or any of Lions of Windsor pride, the auction is now live at UKAuctioneers.com
The Pissarro Lions:
Alan Howland by Lyora Pissarro
Brooklyn based Lyora Pissarro is the great-great-granddaughter of French Impressionist Camille Pissarro and was sponsored by the UK's Winsor & Newton and New York's Leo + Angus to create to her unique lion sculpture. In three-dimensional form, Lyora explores the endless possibilities of how land, sky and water meet. Through the examination of the five elements of nature; earth, water, fire, air and light, Lyora Pissarro is exploring how different spaces can be invented through varying shades of colour and forms.
Lioness Is More by Lélia Pissarro
Lélia Pissarro is based in London and is the fourth generation of the Pissarro painting dynasty. Her life size lion is hand painted in oils with jungle landscapes inspired by her recent camouflage series. The amazing lion was sponsored by Winsor & Newton who have been supplying the Pissarro family artists with art materials for five consecutive generations.
Joining the Pissarros in transforming lions into unique works of art were a wide range of leading designers and artists including iconic fashion designer Dame Zandra Rhodes; former Christian Lacroix studio head Craig Wheatley; celebrity Thai jeweller and member of the Thai Royal family, Rojanatorn Na Songkhla; designer and children's illustrator Lisa Stickley; Liberty designer Sally Kelly and contemporary urban artists Mister Mistry and Mr A Singh.
About Stern Pissarro Gallery
Established in 1964, Stern Pissarro Gallery is co-owned by David Stern and Lélia Pissarro, great-granddaughter of Camille Pissarro. The gallery specialises in Impressionist, Modern and Contemporary art as well as Camille Pissarro and his descendants.
66 St James's Street 
London
SW1A 1NE
Tel: +44 (0) 20 7629 6662
The Lions of Windsor Charity Gala Auction
The Lions of Windsor Charity Gala Auction will be held at Runnymede Hotel and Spa, Windsor Road, Egham, on
28 November 2019
Auction Tickets are £70 and include champagne reception, bowl food, dessert, cheese platter, wine, lion chocolates and live West End entertainment. To book tickets and for further details email auction@lionsofwindsor.org
Bidding – For details of phone and proxy bidding and links to bidder registration forms visit;
www.lionsofwindsor.org/the-auction
For the auction catalogue, photos of each lion, estimates and online bidding visit UKAuctioneers.com
100% of event profits will be donated to these charities;