This year Swarovski returned to Design Miami/ presenting a booth which tells the story of the sustainability activities central to the brand's work, and honouring water and forests as a source of creative inspiration and innovation.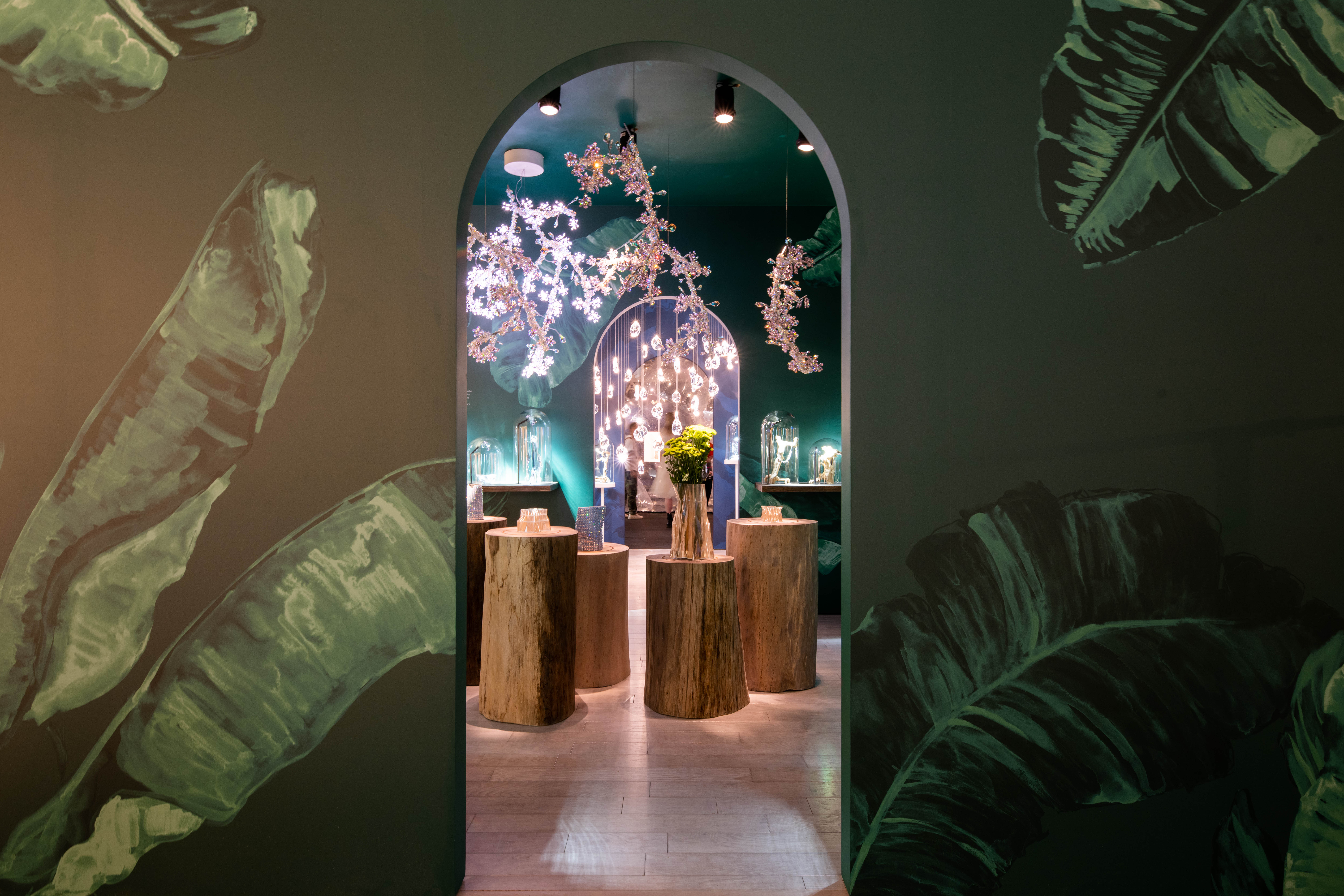 The immersive environment at Design Miami/ (on until 8th December) features stunning lighting installations by Tord Boontje for Swarovski Crystal Palace; a showcase of Atelier Swarovski's home décor, fashion jewellery and fine jewellery; and Calico Wallpaper's hand-painted papers in new nature-inspired themes. The collaboration also illuminates important work to protect the wellbeing of people and the planet with films presented by Swarovski and non-profit Conservation International at the booth.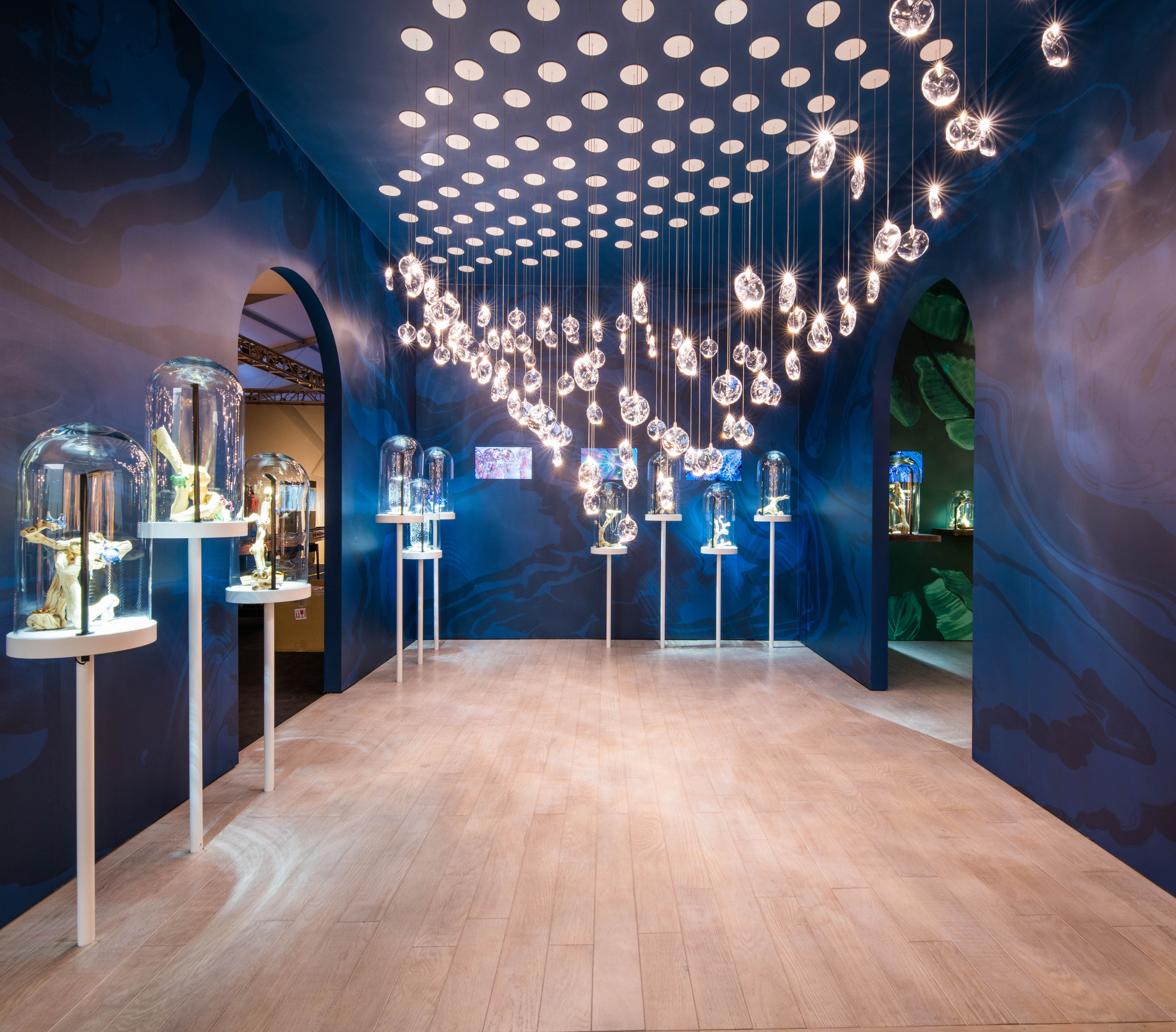 The curated selection of Atelier Swarovski, Swarovski Crystal Living and Swarovski Crystal Palace products, directly inspired by water and nature, will include an exclusive water-inspired Atelier Swarovski Fine Jewellery necklace with created blue spinels, made especially for the fair. Also on display will be the Botanical Jewels collection by Penélope Cruz for Atelier Swarovski, proceeds of which go to Swarovski Foundation partner the Nature Conservancy's reforestation efforts in Brazil, and Catherine Prevost's Atelier Swarovski Sea Life collection which supports the conservation work of the St. Vincent and the Grenadines Environment Fund in the Caribbean.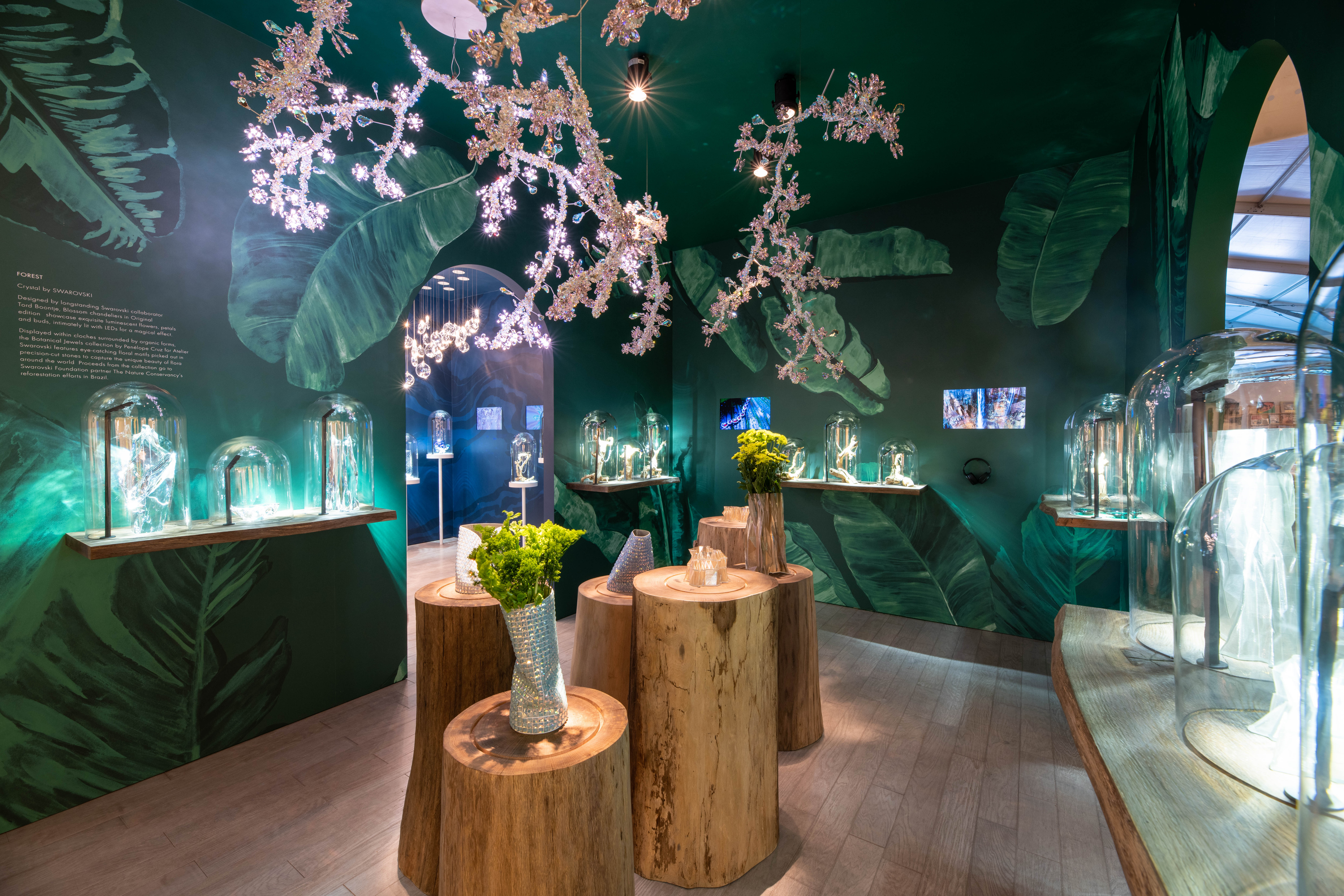 Each half of the environment will house a major installation of lighting by longstanding Swarovski collaborator Tord Boontje. The first room is installed with 100 of Boontje's Light Drops – luminous, organically-shaped pendant lamps that create a 'soft light' effect throughout the space. The second room is installed with a series of Boontje's Blossom chandeliers, the asymmetrical crystal arrangements of which were inspired by a frozen blossom branch after an ice storm.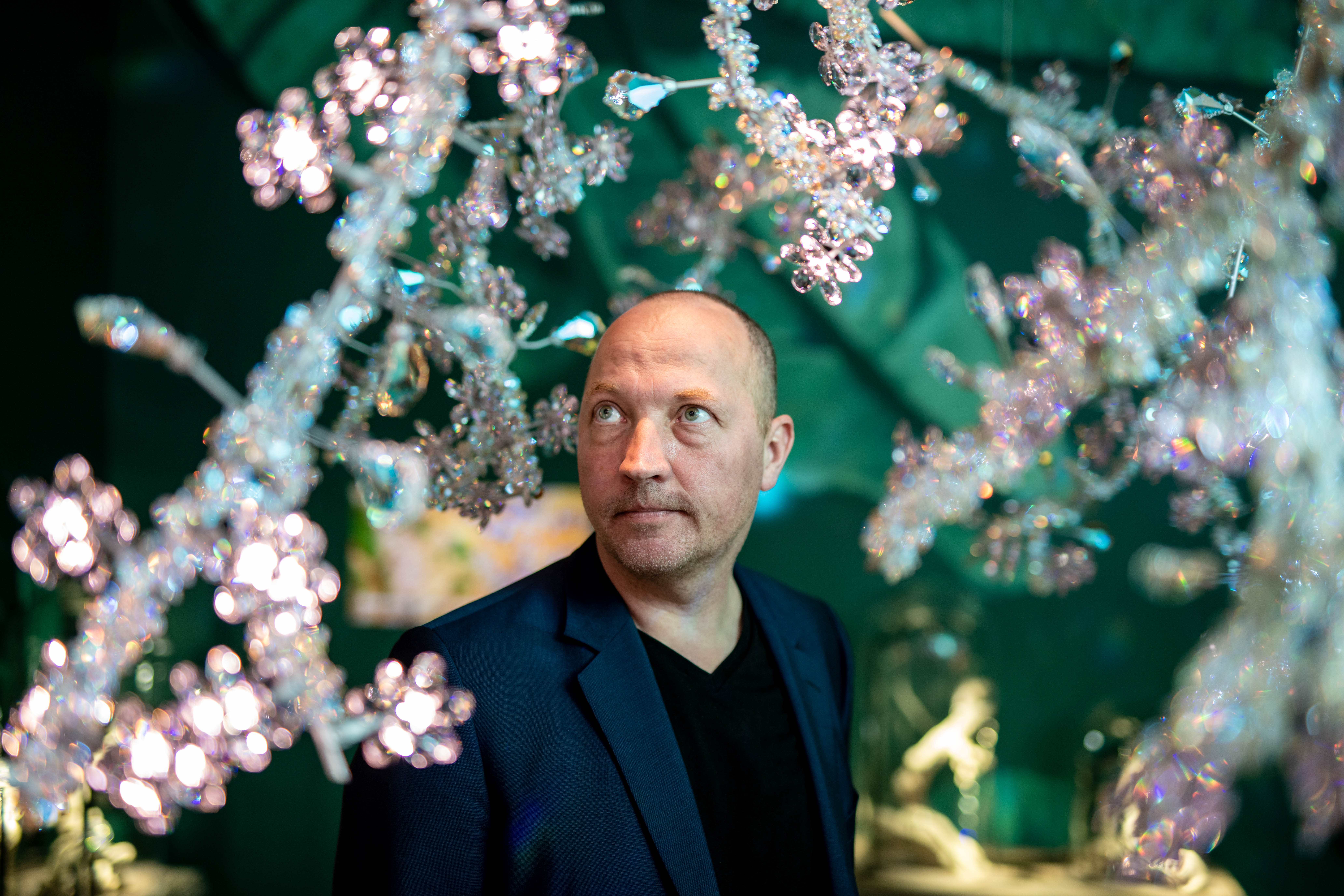 Design Miami/ also represents Swarovski's debut collaboration with Brooklyn-based Calico Wallpaper, known for bespoke wallpapers that combine innovative designs with traditional techniques. Calico's design for the booth is made up of two distinct environments in new bespoke handmade wallpapers – a Sumi design in a custom dark blue colourway created for Swarovski, and a new wallpaper of hand-painted, oversized banana leaves in dark green.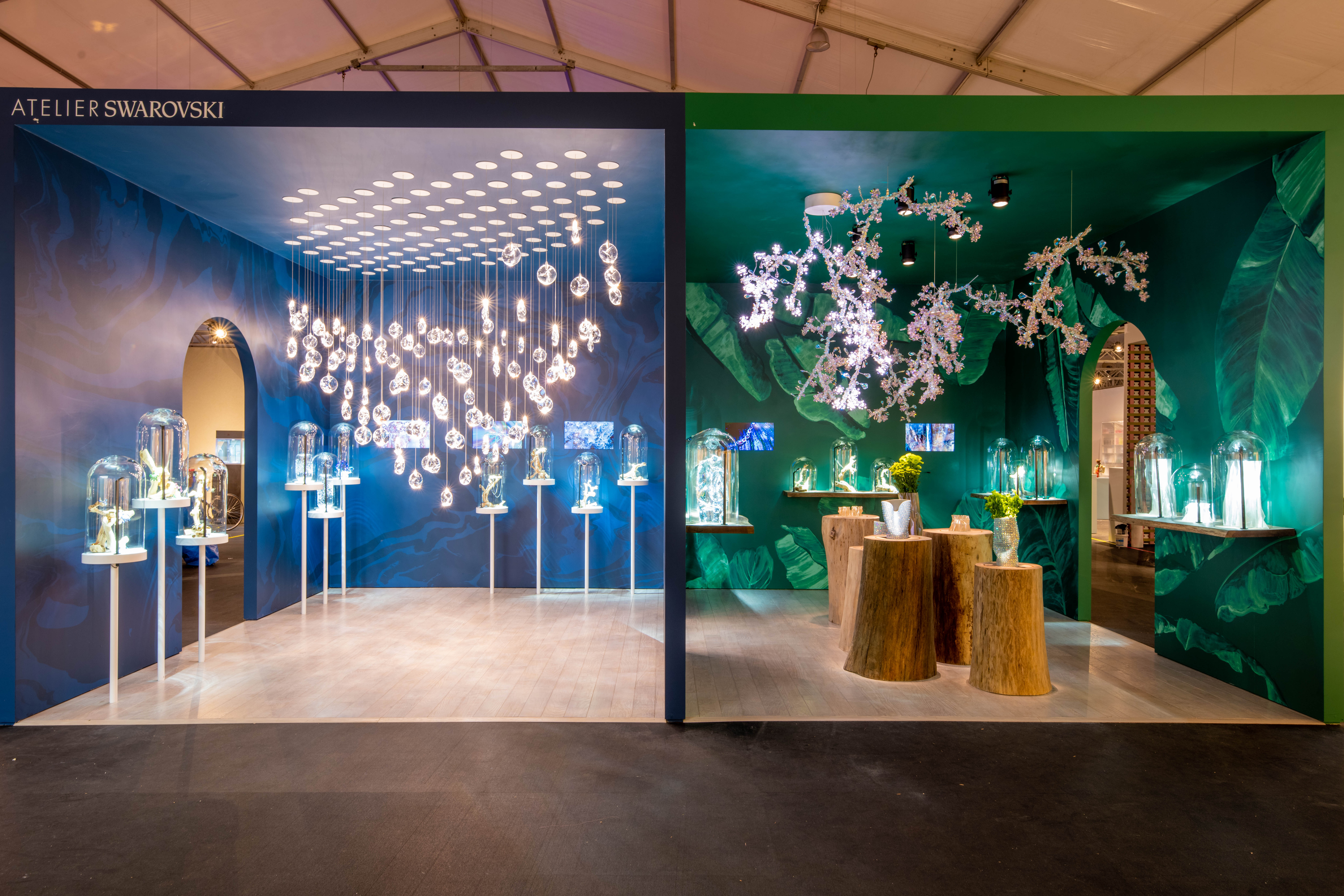 A positive relationship with the world's water and forests has been fundamental to the Swarovski business since it was founded in 1895 in the Austrian Alps, near rivers that provided the hydroelectric power essential for crystal production. Today, Swarovski remains focused on doing business in a responsible way, having reduced total energy usage by 29 per cent since 2010 and with recycled water meeting 76% of its global production demand.

Swarovski has committed to all 17 UN Sustainable Development Goals and at Design Miami/ is focusing on Goal 14 'Life below water' and Goal 15 'Life on land'. Positive impact activities highlighted at the fair include the Swarovski Waterschool, founded in 2000 as the company's flagship community investment program, to ensure access to clean water at schools across the globe while educating those communities on proper sanitation, hygiene and water issues. The Waterschool program has since been implemented along rivers in over 2,500 schools in Austria, Brazil, China, India, Thailand, Uganda and USA, reaching over 500,000 children.
Nadja Swarovski, Member of the Swarovski Executive Board, commented: "Swarovski is delighted to honour the beauty and fragility of our planet's water and forests at the 2019 edition of Design Miami/. As a company which was founded 125 years ago on a close relationship with the natural world, we are excited to collaborate with Tord Boontje and Calico Wallpaper to showcase products, music and films which celebrate water and forests, and to explore the positive impact of our Waterschool and Foundation around the globe."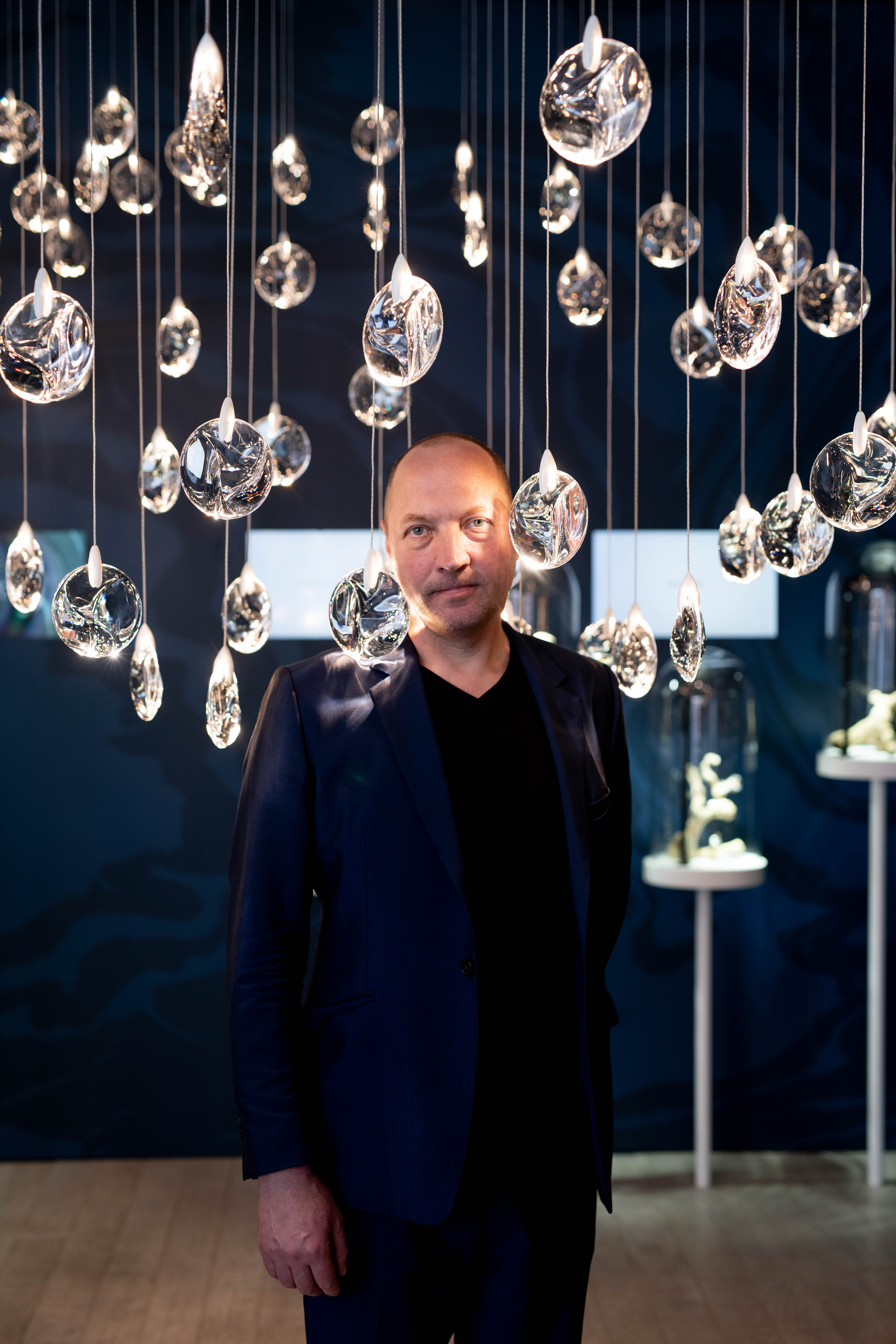 Tord Boontje commented: "Nature is amazing. Nature is life. Nature is spiritual, emotional and moving. It is the main inspiration for my work. It comes through in the forms and patterns I create and in the sensuality of my designs. Sometimes this can be about a calmness I find in nature or sometimes about a feeling of excitement and joy. I use crystal as a material to express these different moods. This can be for example by using crystal to create smooth rounded forms that give a light-through-water-effect as with the Light Drops. Or crystal becomes something bright, energetic and sparkling as with the Blossom chandeliers. For me crystal is a versatile material that keeps revealing different qualities and characters. Swarovski has been a perfect partner to me; for over 15 years we have explored crystal together and created long lasting designs. We are linked by a fascination with crystal and an underlying deep appreciation of nature."
Nick Cope, co-founder of Calico Wallpaper, commented: "It is an honour for us to be collaborating with Swarovski and Tord Boontje. In particular, we have long admired Swarovski's commitment to and support of designers. Accordingly, it has been such a thrill to work with the Swarovski team to design an immersive experience for visitors to Design Miami. We felt inspired by the work that Tord was presenting and sought to create a space that made our wall murals more than a backdrop but an essential part of the space."
Swarovski's presentation at Design Miami/ will be on view at the fair from December 3 – 8, 2019.