Nulty was recently brought on by Sarah Mannerings Studio to design a raw and innovative lighting scheme for the Fitzrovia-based flagship of a new boutique rowing gym concept Rowbots.
Working in close partnership, Nulty created a bold lighting design defined by contrasting tones of blue and amber illumination. Designed to complement the 'post-apocalyptic' theme of the interior design narrative, Rowbots' signature lighting scheme features graphic lines of light that create moments of drama in the reception area, changing rooms, showers and workout studio, whilst creating a cohesive brand identity throughout the entire space.
In the gym's entranceway, cool-white spotlights have been used to illuminate an imposing piece of artwork depicting a horse in Rowbots' signature blue. Warm-coloured lighting has been used as a contrast to bring out the redness of the brick and maintain the blue meets amber juxtaposition. Once inside the reception area, a dramatic fibre optic feature immediately sets the tone for the studio. Travelling down from the ceiling and across the reception desk, the installation features cascading lines of blue light, designed to resemble exposed circuitry and instantly bring a sense of energy to the space.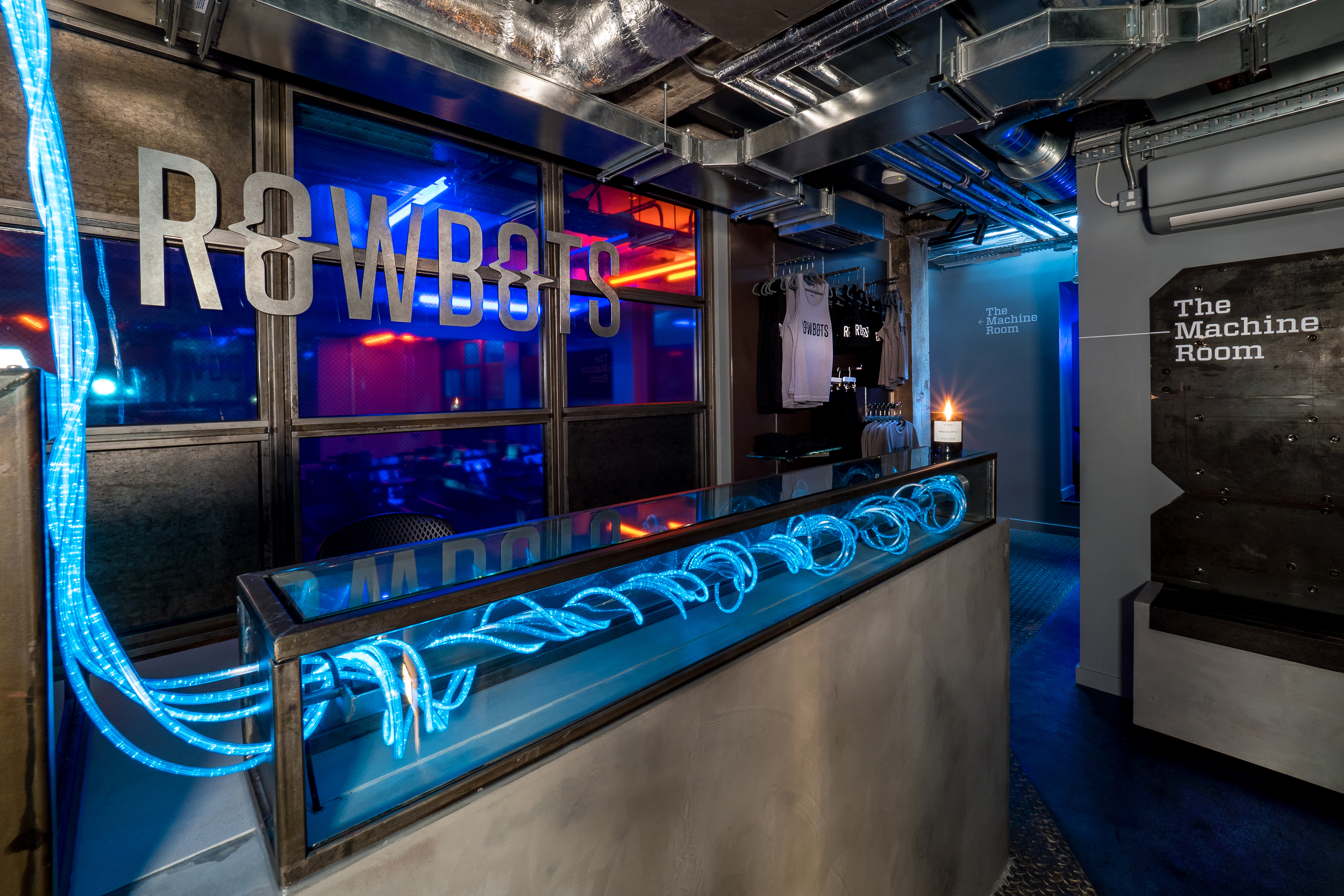 Within the 22-person workout studio, Nulty implemented a customisable lighting system that can be controlled via an app to alternate between different colour schemes depending on the pace and mood of the workout. Blue light is used during warm-up and cool-down periods, while amber light is used more commonly during an intense workout. In the changing rooms, graphic lighting highlights the ceiling and mirrors, whilst forward-facing, vertical lines of diffused light accentuate the corners of each shower cubicle.
Emilio Hernandez, Director for Nulty, explains "We used a lot of blue light, to reflect the colourways of the brand's identity. Crucially, this meant we needed to also incorporate amber light in the scheme. In terms of colour theory, if you have too much blue light your perception of the colour will shift meaning that you stop recognising it as blue, and instead see it as white. The amber acts as a counter point, thus ensuring that the blue still appears cool."
Elsewhere in the space, linear lines of light create a cohesive design aesthetic and serve to accentuate architectural and decorative features. Nulty used a mix of lights in the ceilings where the services are exposed to complement the industrial aesthetic of the space.
Hernandez explains; "We really enjoyed working with the design details that Sarah Mannerings Studio came up with. Architectural details such as the perforated metal panels on the stairs became interesting places where we could play around with illumination. We carefully positioned fittings throughout the space to reflect light off glossy and matte surface finishes, and only used standard downlights in smaller places like toilets, merchandising areas and the reception counter. Everything else was very much orthogonal."