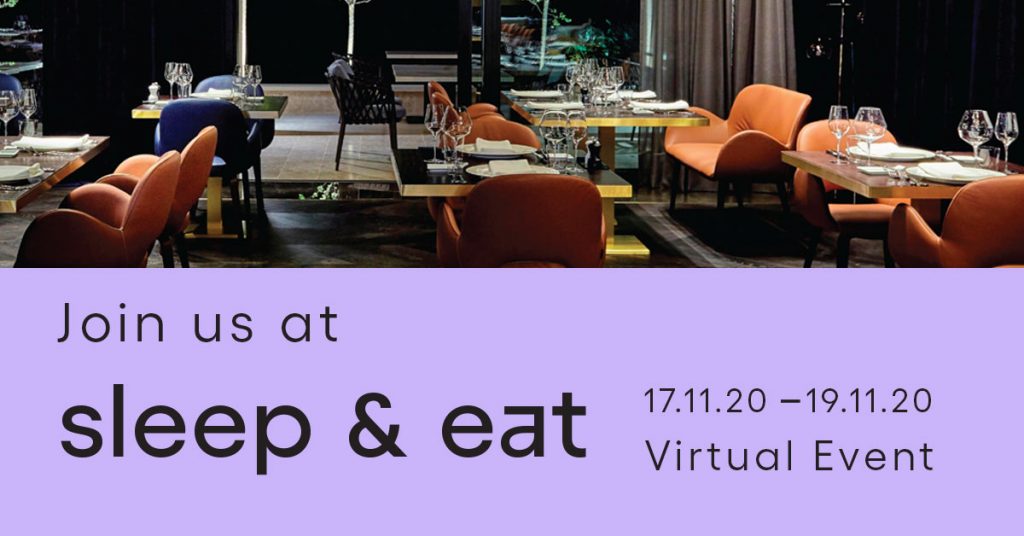 Sleep & Eat Virtual, 17-19 November 2020, Europes leading hospitality design event
For 15 years Sleep & Eat has been the place where the hospitality design community connects. This years event will deliver a unique virtual experience bringing the industry together for video meetings, networking, knowledge-sharingand inspiration, from across the globe.
In celebration of Sleep & Eats 15th anniversary, this years virtual event will look to the future, exploring the best of innovative hotel design today as well as giving us a glimpse into what to expect from our hotel guestrooms over the next 15 years.
Working with major Hotel Brand Partners, including Accor, IHG and Wyndham Hotels & Resorts, Sleep & Eat Virtual will reimagine its industry-renowned features into an immersive, 3D virtual experience. Lifelike walk-throughs byFumo Studiowill allow Sleep & Eat visitors to explore the concept hotel guestrooms and other features in detail, pause to learn more about a specific feature, hear from the designers, and link through to the suppliers used.
Sleep & Eat Virtual will also bring the return of the shows world-renowned Conference programme. This year following the theme of Redefining Freedom, the Conference will bring together expert speakers from across the industry, discussing pressing themes in hospitality design, followed by informative live Q&As with the speakers.
Join us at Europes leading design and innovation event for the hospitality sector, 17-19 November 2020.
Register your interest for Sleep & Eat Virtual here: [reg link].