Juliette Thomas, Founder and designer, Juliette's Interiors, shares the design concept and stages of Windsor Town House, providing a full design service for the living room and master bedroom, one of the designers favourite projects to date.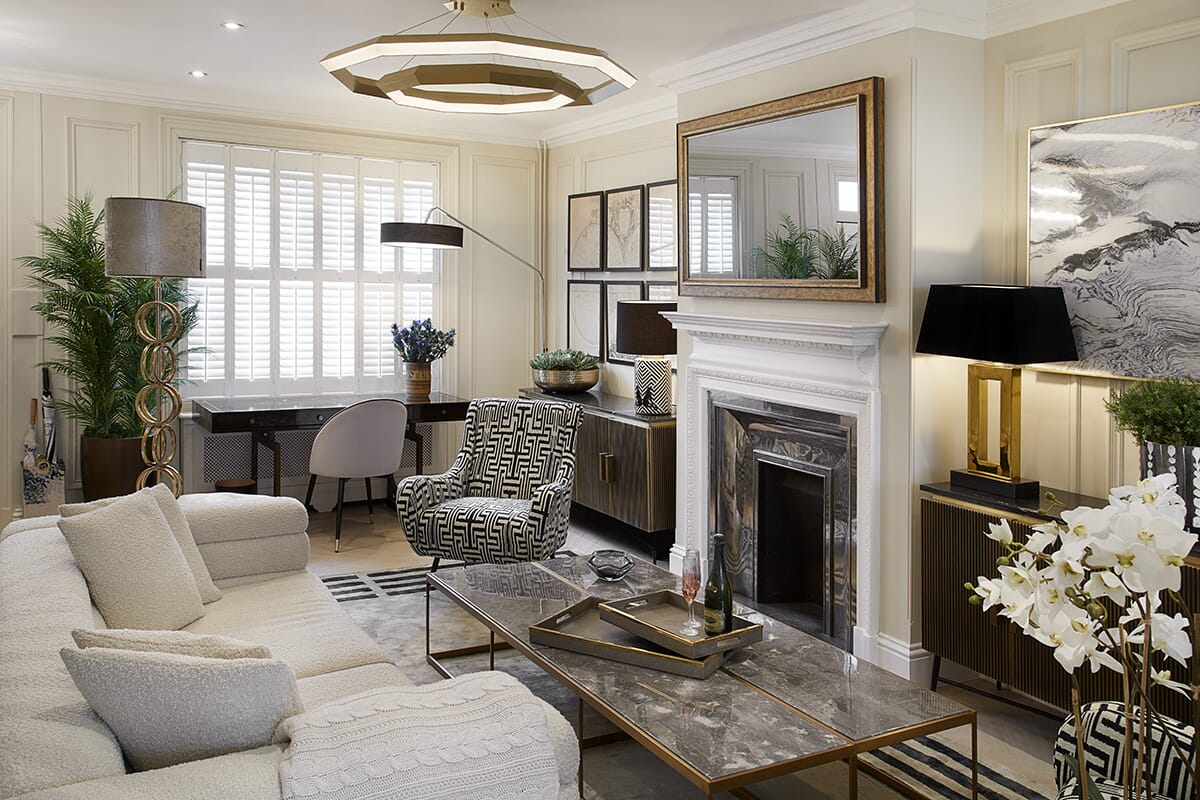 Compared with some of the large scale, international properties the company has worked on over the years, this Windsor Town House was a more modest undertaking but that, indeed, was part of its charm.
Juliette said, "When space is more limited, the challenge is to create a beautiful but still functional home. This means choosing colours, materials and furnishings that make the most of every inch of space."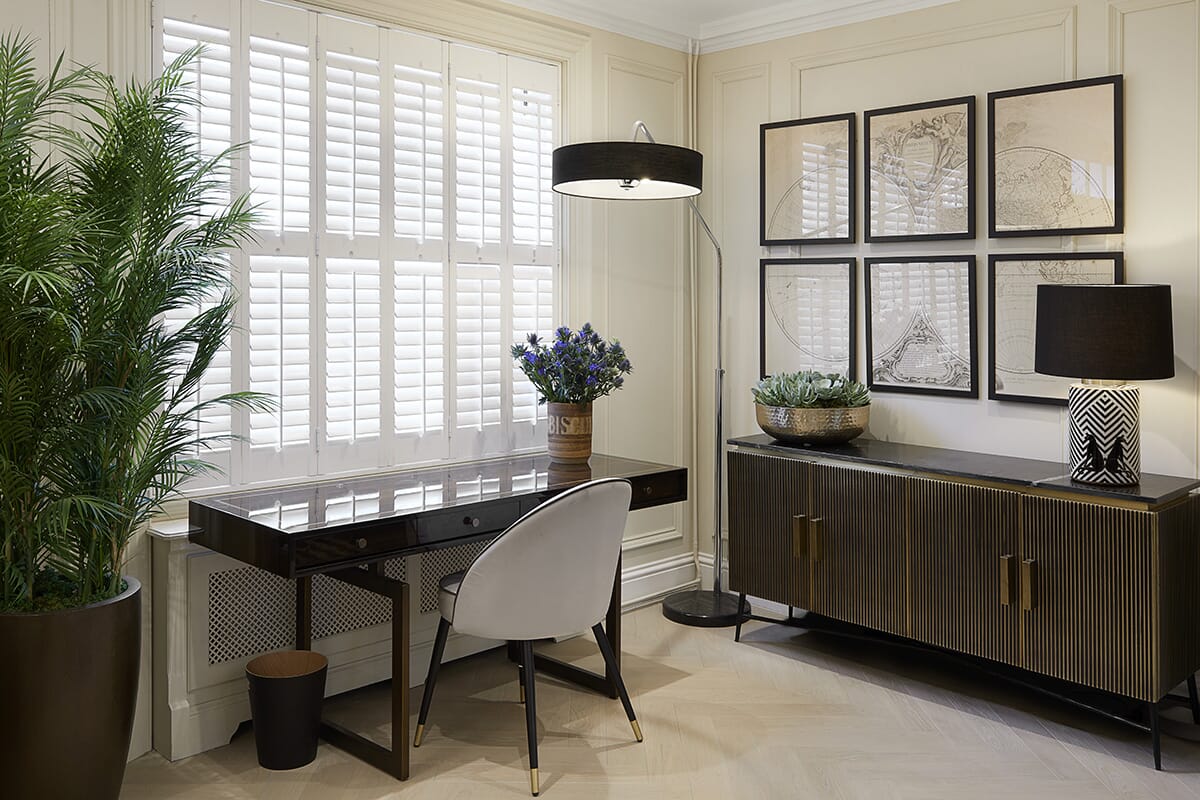 The project
"Initially, we were asked to re-design the master bedroom, front entry way and the living room, plus the sourcing of furniture for the conservatory dining area. Since then, we have also been briefed on a new kitchen and conservatory extension, and have also discussed a possible new master bedroom suite on the top floor."
The brief
"This Windsor House is a traditional property in a traditional town. The clients are a young professional couple who wanted to retain a classic look but incorporate a contemporary, on trend feel. The house as it was, appeared somewhat gloomy and old fashioned. Our brief was to keep its traditional elements but make it brighter, fresher and more suitable for a young couple.
"Both space and budget were tight. The couple have plans to rent out the house at some point in the future so we had to consider their immediate needs plus those of potential renters. Expenditure on ultra luxury items was out of the question. Windsor is, however, a highly-regarded area close to London with high rental prices. This meant sourcing quality pieces but without a hefty price tag.
"We had a completely blank canvas to work with. No existing pieces. They liked the wooden panelling in the living room but it was too dark and made the space feel small and cramped. Instead of ripping it out, we suggested a light and modern paint finish."
First steps
"We always start by getting to know our clients, what they like and dislike, and their vision for the property. We spent time talking through ideas with the couple, then came back to them with a first set of visuals that they loved right away. To achieve the modern, fresh feel they wanted, we suggested a warm neutral scheme throughout. Bold pattern and pops of colour were used to add character, together with sleek finishes and rich textures. The furnishings add subtle glamour, with opulent metallics, smooth marble, tactile fabrics and statement lighting."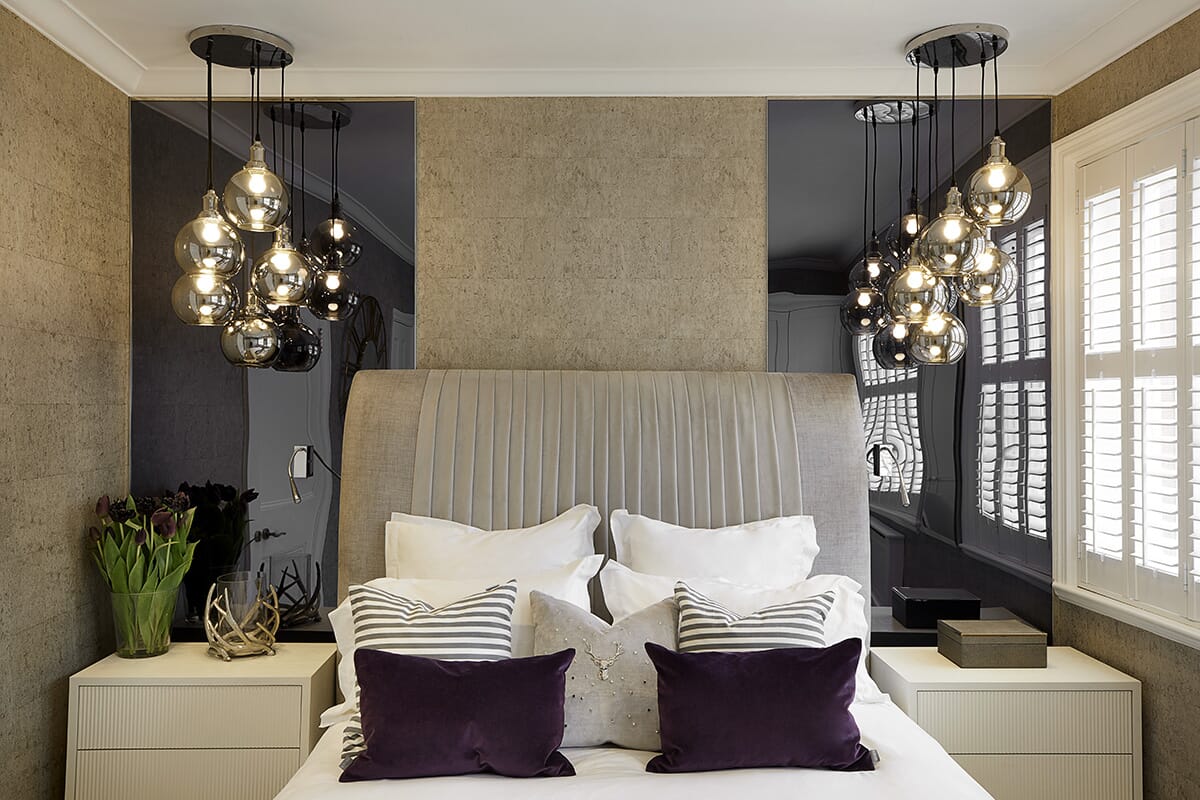 Progress
"We started by taking the living room back to its bare bones. The wall between entrance hall and living room was removed to open out the space. We painted the existing panelling, as mentioned, in a soft ivory to push the walls out and give the illusion of more space. The stairs were repositioned and the old-fashioned balustrade was replaced with spectacular floor-to-ceiling champagne bars. Then the room was brought bang up to date with pale, chevron patterned wood flooring.
"There was less to do in the master bedroom but installed some fabulous smoked acrylic mirrors behind the bedside tables, with modern pendant lighting in front to give a subtle, reflected light. Soft, textured wall coverings added to the feeling of warmth and comfort. Once everything was refreshed, decorated and floorings laid, it was time to bring in the gorgeous furniture, lighting, artwork and accessories. This is always our favourite part of any project, as it's where we really get to express the personality of the clients."
The challenges
"COVID caused a whole set of delays, However, our other challenges were minor. The house is in a terrace with a delightful walled rear garden but no side entrance. This meant that all materials had to be brought through the house."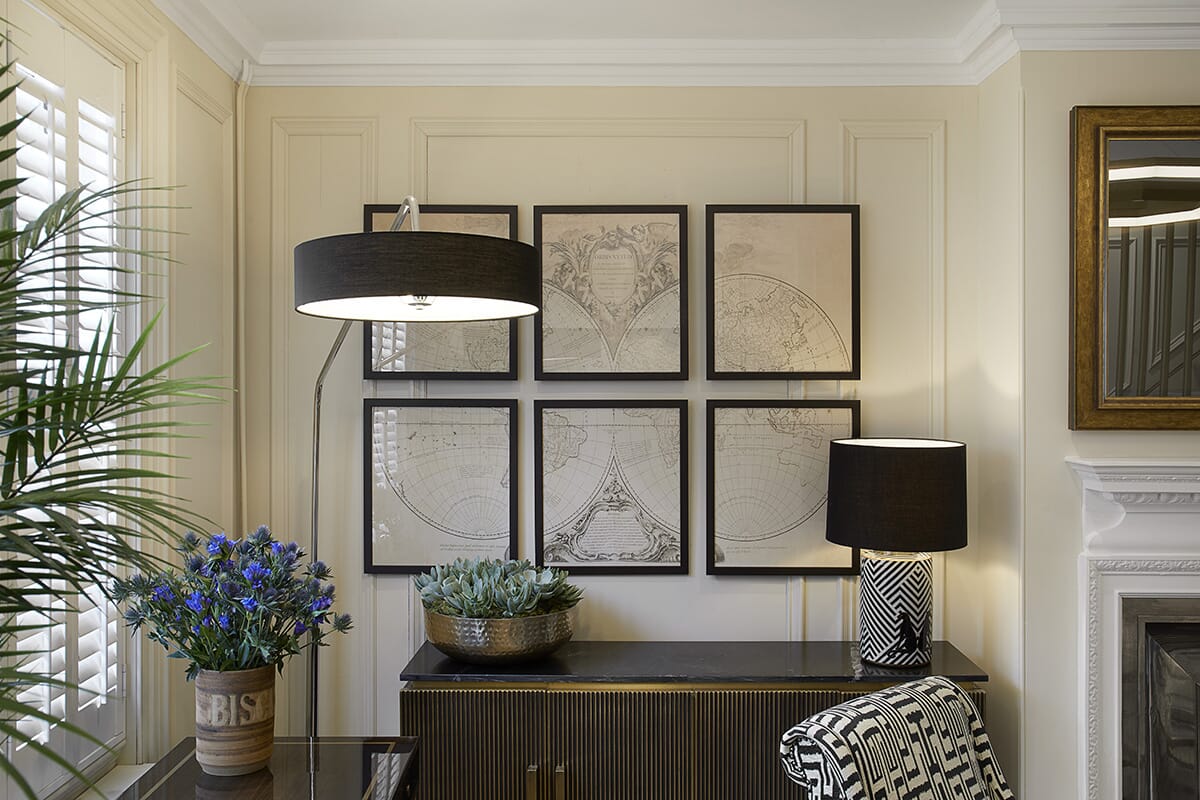 The final finish
"What we have created is a fresh, warm and welcoming property, in keeping with the age and character of its owners. They have some absolutely stunning pieces of quality furniture. The living room is opulent without being ostentatious. It is light, airy and fun. The master bedroom is calm and restful, with concentrated splashes of colour, which can easily be changed when a different look is required. Throughout the property, we have made the most of every bit of space without compromising on style."
Client reaction
"They were absolutely thrilled. They love everything about the interior design and we are now looking forward to the new kitchen and loft bedroom projects."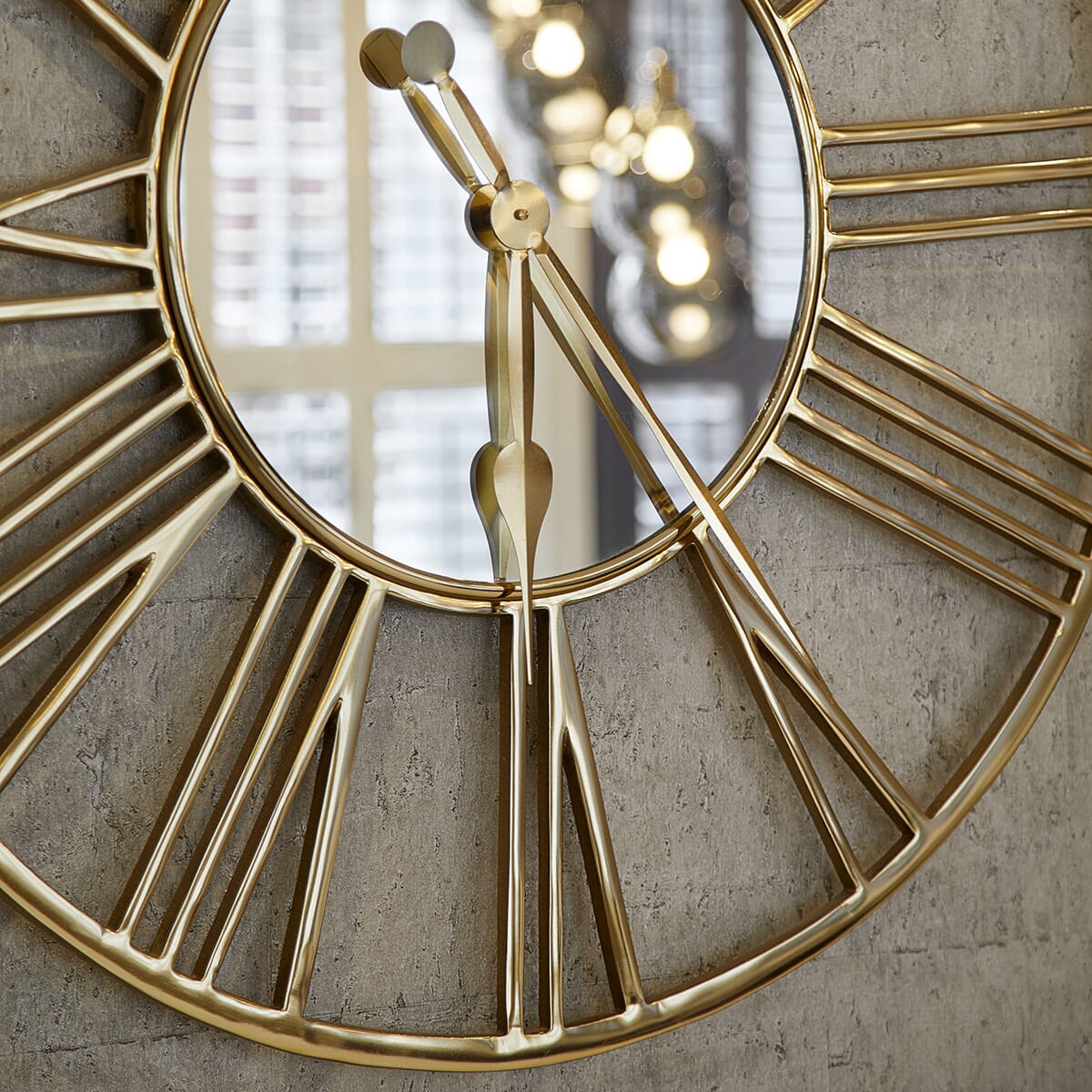 The future for Juliette's Interiors
"Many of our clients prefer total privacy and discretion so we are unable to share the majority of our designs. A major new project for Juliettes Interiors has been the launch of our new Online Interior Design Course. Throughout lockdown, while we were all staring at the same four walls for months on end, we found that people became even more passionate about interior design. They wanted to know how to create their own stunning designs and transform their homes. So the Online Interior Design Course was born. We believe in teaching people real skills that they can always rely upon. We don't just give people reams of information and leave them to get on with it. Our online courses include live virtual tuition with one of our expert designers, plus live demonstrations and the chance to ask questions, watch things again, and share ideas and inspiration with online classmates. Even though things are getting back to normal, demand for our online courses is increasing and we are now finalising the next course in September."