Running in tandem with his interior architecture business, Pierre Yovanovitch's furniture brand, Pierre Yovanovitch Mobilier, builds on from nearly two decades of creating custom haute-facture works for his interiors projects.
Following the success of his two collections debuted for R & Company gallery (2017 and 2019), this marks a major step for Yovanovitch, as his practice will oversee all aspects from the design, production, and worldwide sales in-house.
Drawing inspiration from the rich natural setting of Yovanovitch's native Provence, France, the new brand brings his iconic "Made in France" style of understated elegance together with high quality, natural materials to offer timeless pieces.
The new brand will combine the designer's signature know-how, made in collaboration with Europe's finest craftspeople, to offer exceptionally-made works to a wider audience beyond the exclusive limited edition gallery model. The furniture and lighting pay homage to Yovanovitch's Provencal roots, in particular the region's natural light, rich and varied natural materials and colourways of the surrounding nature, as well as the historic commitment to craft associated with the region.
"Creating custom furniture and lighting works has been an integral part of my design process since starting my practice in 2001. These works started as a way for me to ensure the design elements of a client's interior were of the highest quality and were completely unique to the space, though the pieces I created quickly evolved into a form of creative expression in and of itself. Now, 20 years after starting my design practice, to have this facet of my design work grow into its own entity that operates in parallel to my interior work, is a dream come true," said Pierre Yovanovitch.
To oversee the new brand, Yovanovitch tapped Cédric Morisset as CEO of the new company. Morisset brings his experience as the global director of a renowned luxury design gallery to lead the new brand.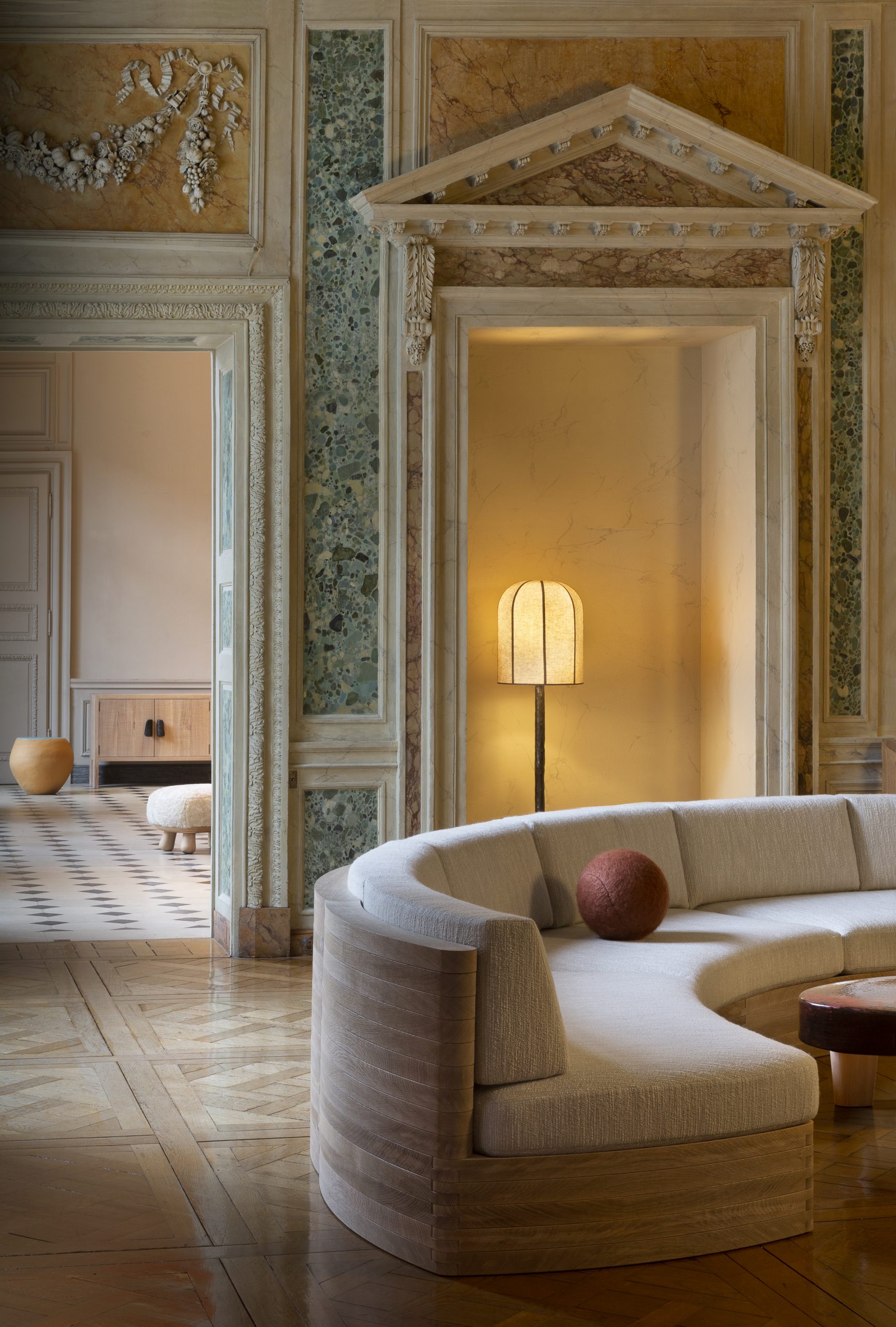 45 newly designed works, including new seating, lighting, tables and accessories, make up the collection.
As with all of Pierre Yovanovitch's work, the new pieces incorporate the craft of speciality artisans from France and Switzerland. Artisans include: renowned French ceramicist, Armelle Benoit, French textile specialists who are recipients of the preeminent 'Meilleur ouvrier de France' award, and speciality glass blowers from Switzerland, to name a few.
Key highlights to the new pieces, include:
●  Daniel Sofa
The Daniel is a 3-seater sofa with a curved, organic form and natural fabric. The sofa offers a timeless and comfortable seating solution for any space
●  Flare Floor Lamp
Offered in both bronze and gouged solid wood base, the Flare Lamp features a modern, light-hearted take on a classic silhouette. The mold for the base of this lamp was created by a specialty woodworker, who created a unique wood grain texture in the bronze. The lampshade is available in two versions: a bell shape and the other in the shape of a hot air balloon, reminiscent of the head of the E.T table lamp.
●  Lexie Suspension Light
Patinated bronze and blown glass made by specialty artisans in France make the Lexie light a one-of-a-kind suspended fixture that is at once sophisticated and striking.
●  Hopper Chair
The Hopper chair is made of meticulously-crafted mirror-polished bronze 
(reminiscent of the texture of gold ingot). The chair is available with and without armrests and in a selection of colors, including rose and khaki.
●  Quinn Coffee Table:
Made of handcrafted, rose-tinted cast glass and patinated metal, the Quinn table is a unique work which provides sophistication in any space. The unique, "cat's tongue-shaped" table is made of ebony patinated bronze base.
Consistent with Yovanovitch's design ethos, all Pierre Yovanovitch Mobilier works are created with longevity and exceptional-quality top of mind. Working with specialty craftsmen to source superior materials, which are locally certified and sustainable wherever possible, the works are meant to last a lifetime both in durability and also with their timeless design. The brand uses local woods (produced locally to promote short supply chains) such as oak, walnut or larch, from eco-certified forests (FSC, PEFC). They also use natural fibres (wool, cotton, silk, linen, hemp and mohair) as well as organic solvents where necessary, though the use of adhesives and finishes is kept to a minimum to enhance the piece's durability over time. 

The Pierre Yovanovitch Mobilier permanent showroom space spans approximately 300 square meters and houses new and existing furniture and lighting works. Open Monday through Saturday on a by appointment basis.