London-based Italian artist Francesca Anfossi is a multidisciplinary artist whose work encompasses ceramics, workshops, cooking classes and communal events. So when she decided to design the kitchen in her new Camden home, there was never any doubt that there would be creativity, imagination and innovation in the mix.
Given Francesca's heritage, terrazzo was the obvious choice. "It's a material I've always been around in Italy, used everywhere from floors to walls. I like the idea of terrazzo as a 'simpler' version of marble, something humble and less precious with links to my inheritance."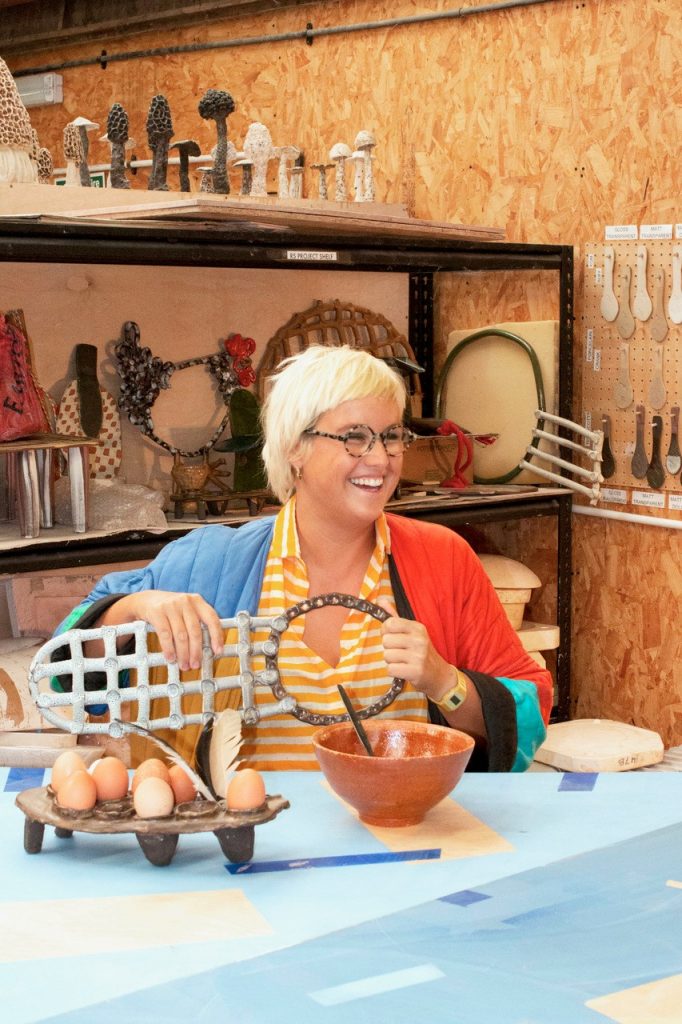 Francesca was attracted to the idea of creating a bespoke terrazzo that drew on her own work with ceramics. Diespeker's experience in making bespoke terrazzo plus the factory location in Bermondsey proved the perfect answer. "When I visited, owner John Krause was especially friendly and approachable. He was very positive and interested in working with an artist with a new idea and new material!"
Francesca was keen to use ceramic pieces made in collaboration with her children set within an off-white terrazzo base. "We wanted to include lots of different objects related to cooking; we made over 100 pieces in terracotta clay from spoons and knives to figurines and abstract shapes.
Francesca created a digital sample using a classic base and the Diespeker team worked to match it. She then sent a number of ceramic pieces to be used in samples. "I fired the ceramics at a high temperature, and they needed to be tested for strength." As well as ceramic, the design uses primary colour glass pieces; yellow, blue and red. The concept came from her house which has stained glass windows – on sunny days beams of light shining through the glass makes shapes on surfaces, which she wanted to replicate.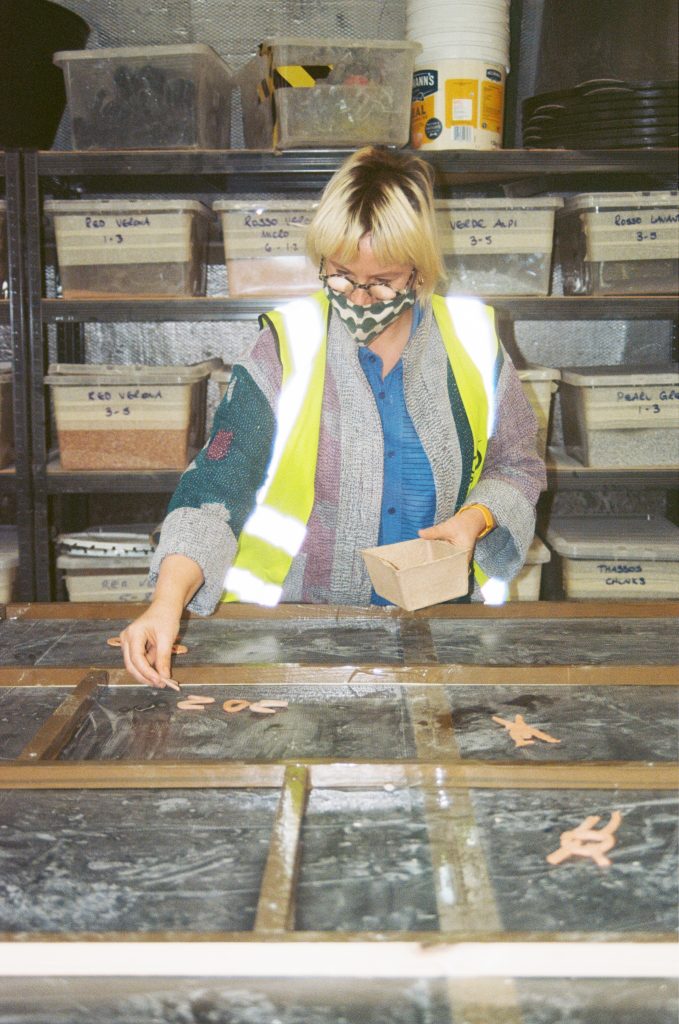 This beautiful, truly unique terrazzo was made using a resin base. The project required two worktops with a cut out for the hob, and two splashbacks. The worktops although a standard thickness and edge, were unusually wide at 900mm. Francesca also set the bespoke team a challenge when she commissioned a sink in the same terrazzo to be cast as a single piece. The result was a triumph and the sink is a truly stunning element within the new kitchen.
The artist is pleased as punch with the result. "It is a true family piece, the centre of our home and something we take pride in. I love it, I've used marble before and this time I wanted something that was both functional and more playful and richer in content."
Francesca enjoyed the process so much that she would be delighted to accept commissions for ceramic shapes from anyone keen to create their own custom made terrazzo designs.
Artist
Insta @fraanfossi
Photography
Marta Fernàndez
Insta @donaestrangera
Terrazzo specialist
Insta @diespeker.co