Arnaud Behzadi completed the interior architecture and design of new Parisian restaurant Mallory Gabsi
For his first gastronomic restaurant, Belgian chef Mallory Gabsi entrusted the design to architect Arnaud Behzadi resulting in a harmonious collaboration.
Mallory Gabsi gave Arnaud Behzadi carte blanche to decorate his eponymous restaurant. The new interior was greatly inspired by the young chef's cuisine, from the rough facade with the broken texture of a mineral stone at the entrance to the contrasting glossy wooden plane panels and mirrors – the details promise a rich experience.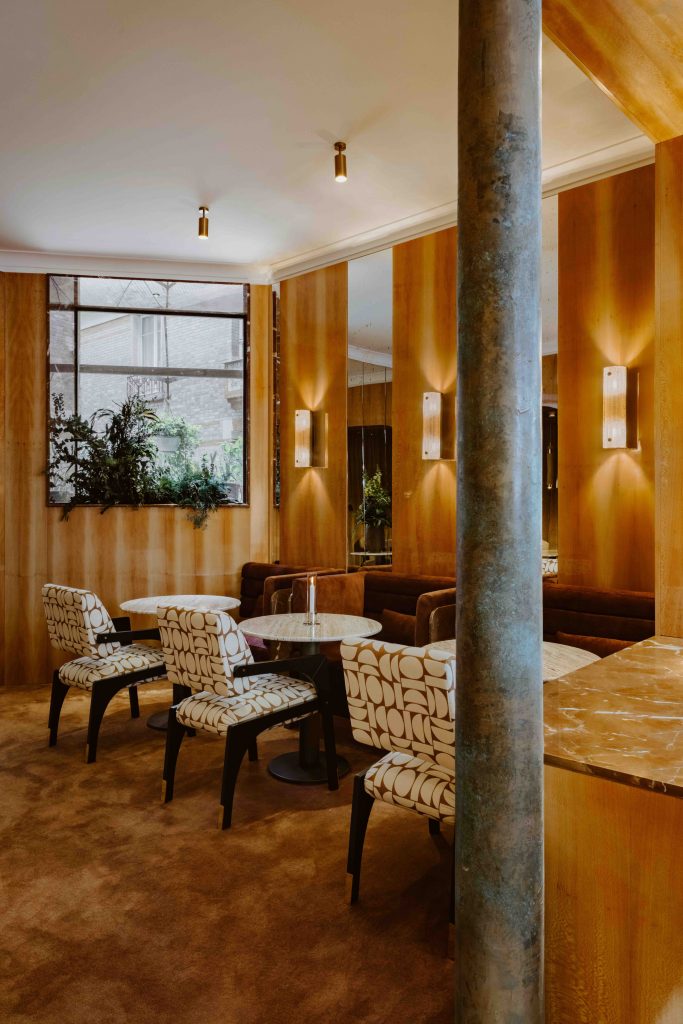 A strong parallel is drawn between textures and materials, flavors and tones, scents and moods, shadows and lights. Arnaud Behzadi transcribes the crispness and delicate acidity of Mallory's cuisine and also seeks to bring out the scents of Mallory's recipes in his choice of colors and materials. Behzadi was inspired by saffron (an ingredient that reminds him of his childhood dishes in Iran) to select the velvet of the seats, which he delicately combines with a few touches of turquoise (Mallory's favorite color) by accelerating the oxidation of bronze powder in touches, on certain supports.
For the tableware, Arnaud and Mallory called upon young talents such as Lea Soumali who created custom-made ceramic pieces (sauce boats, fruit plates). They also summoned all the elegance of the French classic and timeless by choosing Bernardaud plates and Christofle cutlery. As a constant testimony to the chef's humility, the kitchen opens onto the dining room in order to cultivate a permanent dialogue with the guests.
Arnaud Behzadi
Arnaud Behzadi decided to set up his own eponymous structure in 2019 after successful collaborations with other agencies.
Arnaud Behzadi design and develops varied and exciting interior projects and has previously worked on Parisian hotels and restaurants including Hôtel Grand Powers and Hôtel Les Jardins du Faubourg in Paris.
Architecture according to Arnaud Behzadi never begins with a blank page but is composed of a multitude of analysis, conceptions and ideas with many layers.