Jenya Lykasova, Founder, JL Studio, describes the interior details of an apartment project in Minsk

. Featuring a beautiful and functional kitchen. Which

seamlessly

follows the tone of the atmospheric concept.
GOLDFISH is a soulful and special project. This is an apartment in an old building not far from a park in the centre of the Minsk.
The main challenge that we faced as a studio was to create a modern and stylish interior. While preserving the history and spirit of the past. As well as supporting the clients vision. We wanted to get away from a sense of a newfangled interior and make it welcoming, cozy and comfortable.
The choice of room finishes was the first step toward achieving the goal. We wanted to create an authentic atmosphere with the new interior. By emphasizing its historical roots. Also restoring the elements that survived so many years. Despite the age of the building. As well as the dilapidated construction of the walls, the stucco was in perfect condition.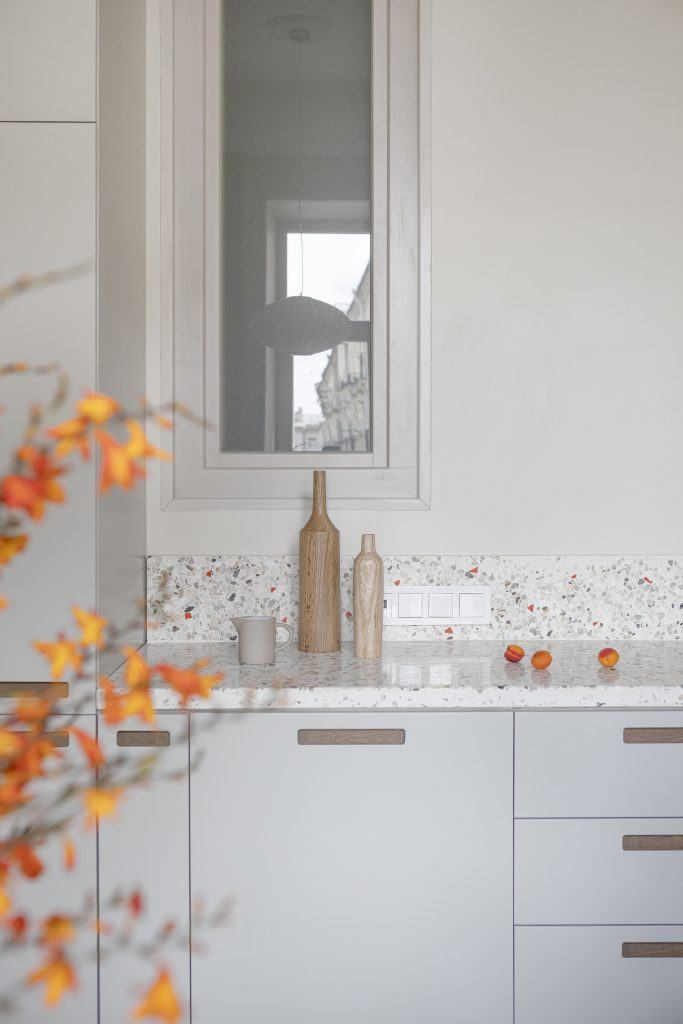 The range of interior finishes is soft, it

is dominated by

calm, pastel colors.
The furniture for the project was chosen in the Scandinavian style. This meant light, minimalist and modern. To create an airy and comfortable interior, balancing the classic elements of decoration. We also incorporated some antique furniture. The previous owners of the apartment had left antique chairs and a table, which we restored.
Parquet flooring is the predominant element in the interior of the apartment. In contrast the kitchen
is tiled
. This is why we decided to use concrete tiles for the kitchen flooring. Which
are decorated
with an ornamental pattern.
We connected the kitchen and living room to create an open-plan feel. Which allowed us to
visually
increase the space of the living room and add more light and air.
To make the kitchen feel more spacious. We removed overhead cabinets and stretched the lower cabinets along two walls. Thereby providing ample storage space. A large two-compartment refrigerator, dishwasher, water filter and oven, fitted into the space.
Where the wall cabinets had been, we placed wall lamps and lined them up to create a decorative element. In the evenings, they create a very cozy atmosphere, filling the space with warm and soft lighting.
lykasova.co.uk | IG: @__jlstudio__
Photography by Lizya Kulenenok
Interior Styling by Sashen Holerik