Armac Martin brings quality detailing to the cabinetry of a beautiful kitchen in an opulent riverside home

.
This luxurious kitchen is in a grand estate in Niagara, Canada. The kitchen features framed cabinetry to the 14-foot ceilings. A stunning butler's pantry, and a mix of lavish textures including stone, brass and natural wood. The space is all tied together by the handmade mixed metal-toned hardware by Armac Martin.
This kitchen and pantry by Thorpe Kitchens is the perfect example of interior beauty.
Also the cool-toned neutral palette mixed with accented metal tones, creates an inviting space
. Combining satin nickel and brass, provides a focal point from hardware too appliances. Furthermore the two-tone cabinetry defines spaces and functions. From the sink area to the cooking area and coffee bar. Framing the fridge on either side are double black crittal doors. Helping to conceal drawers and open shelving. One side displays glassware and ceramics and another acts as a coffee station. A space for everything.
Notably
natural light floods the space. Whislt symmetrical mirrors frame the range hood to give the illusion of a larger space. Using the innovative hardware collection from Armac Martin. Each space is unique with details, from the sink area, and coffee bar to the utility space.
MIX cabinet handles in burnished brass and satin nickel, offer a clever nod to the finishes of the impressive range hood and fridge freezer
. Thus allowing them to blend in
seamlessly
. Using the same hardware throughout offers some uniformity in design. Whilst the different materials allow for the hardware to look different.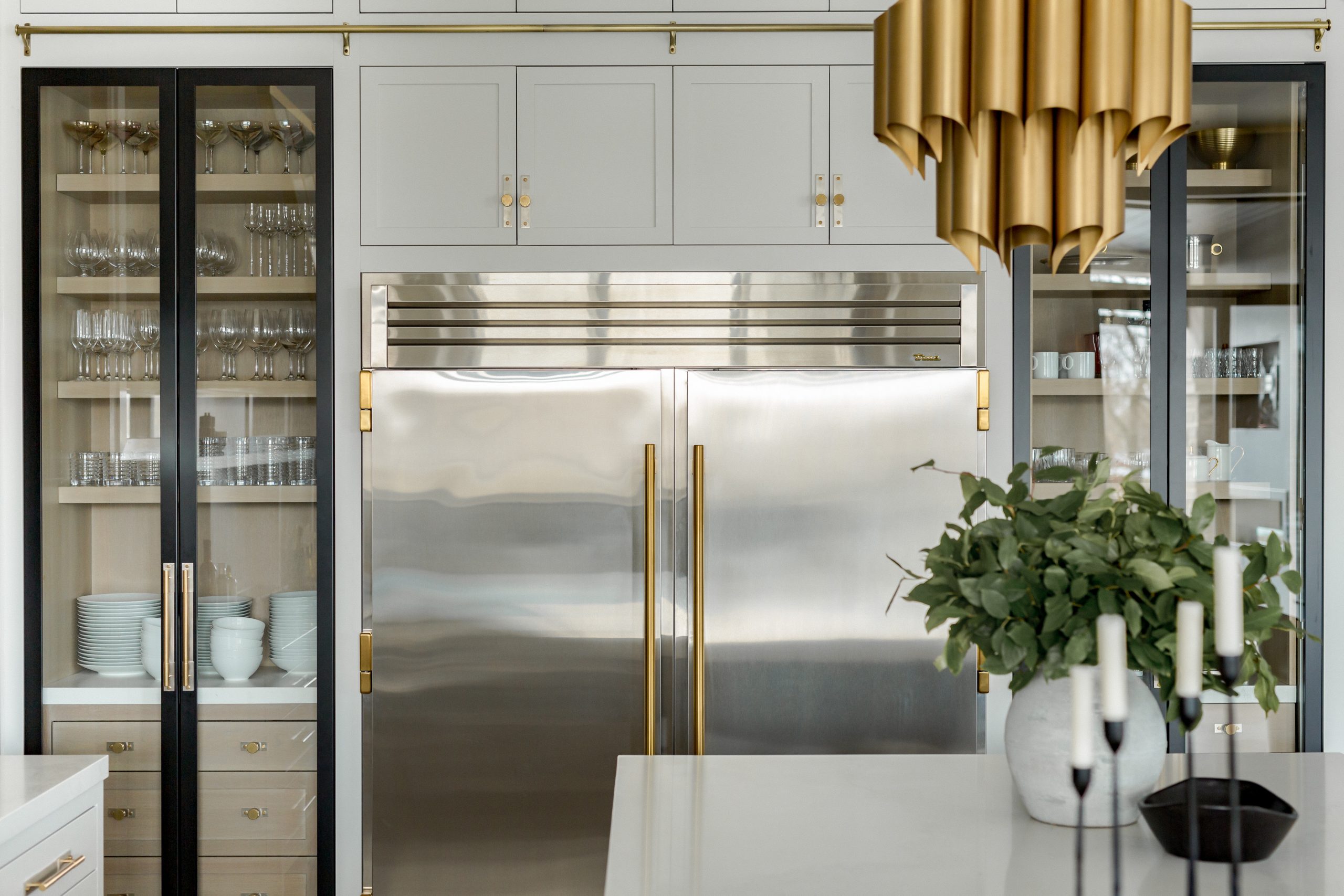 Additionally the ultimate entertaining space, Interior designer, Enrico DiRisio has duplicated seating space. With a statement island that doubles up as sophisticated high seating. Next to a glass top table, this design has ample seating.
As a result the standout feature of this space is the clever use of mixed materials. The kitchen by Thorpe Concepts is an example of luxury. There is no doubt the smaller details work in unison to create this masterpiece of design.