The British Institute of Interior Design has announced the winners of the inaugural BIID Interior Design Awards.
The accolades were awarded at the prestigious awards ceremony, which took place on 5th October 2022, at the stunning Drapers' Hall, London.  The magnificent interiors created a spectacular backdrop to celebrate and reward the very first BIID Interior Design awards.
In front of an enthusiastic in-person audience of almost 200 industry professionals, the event proved to be an enjoyable and exciting day for all, especially for the winning interior designers who had gathered from all over the UK.
"Drapers' Hall was a wonderful setting to acknowledge and reward the excellence of our winners," said Mathew Freeman, BIID President. "These first BIID Interior Design awards have been a long time in the planning and it was wonderful to have everybody together to celebrate the outstanding achievements of our award winners."
The prestigious event kicked off in style with a lively drinks reception, before attendees took their seats in the Livery Hall.  Guests were welcomed to their tables by event host, TV Presenter and design historian Amber Butchart and guests enjoyed a delicious three-course lunch, during which they were treated to a short presentation by Jonathan Deeming from architecture firm Purcell, on the restoration of the historic Drapers' Hall. BIID President Mathew Freeman then presented the Awards with the help of guest presenters including Philip Jones from Headline Sponsor Havwoods and Edward Thomas, from Sustainability Sponsor Paragon Studio.
The winners of the 2022 BIID Interior Design Awards are:
Central London Region – Pascoe Interiors for Vernon House
Greater London Region – The Vawdrey House for Greenwich House
Midlands & East Anglia Region – Studio Osborn for The Old Post Office
North Region – Design by Jo Bee for Howgill Lodge

Highly Commended – Dunning & Everard Interior Design for Upper Heights

Scotland, Wales and Northern Ireland Region – Blacksheep for The Glenlivet Visitor Centre

Highly Commended – Ampersand Interiors for Edinburgh mansion house, entertainment suite

South West Region – Zelah Studio for Verdant Brewing Company
South East Region – Pfeiffer Design for Design Studio, Chapel Barn

Highly Commended – Dunning & Everard Interior Design for Exton Hall 
The Anna Whitehead Prize, awarded to best achievement in sustainability – Pfeiffer Design for Design Studio, Chapel Barn
Interior of the Year Prize – The Vawdrey House for Greenwich House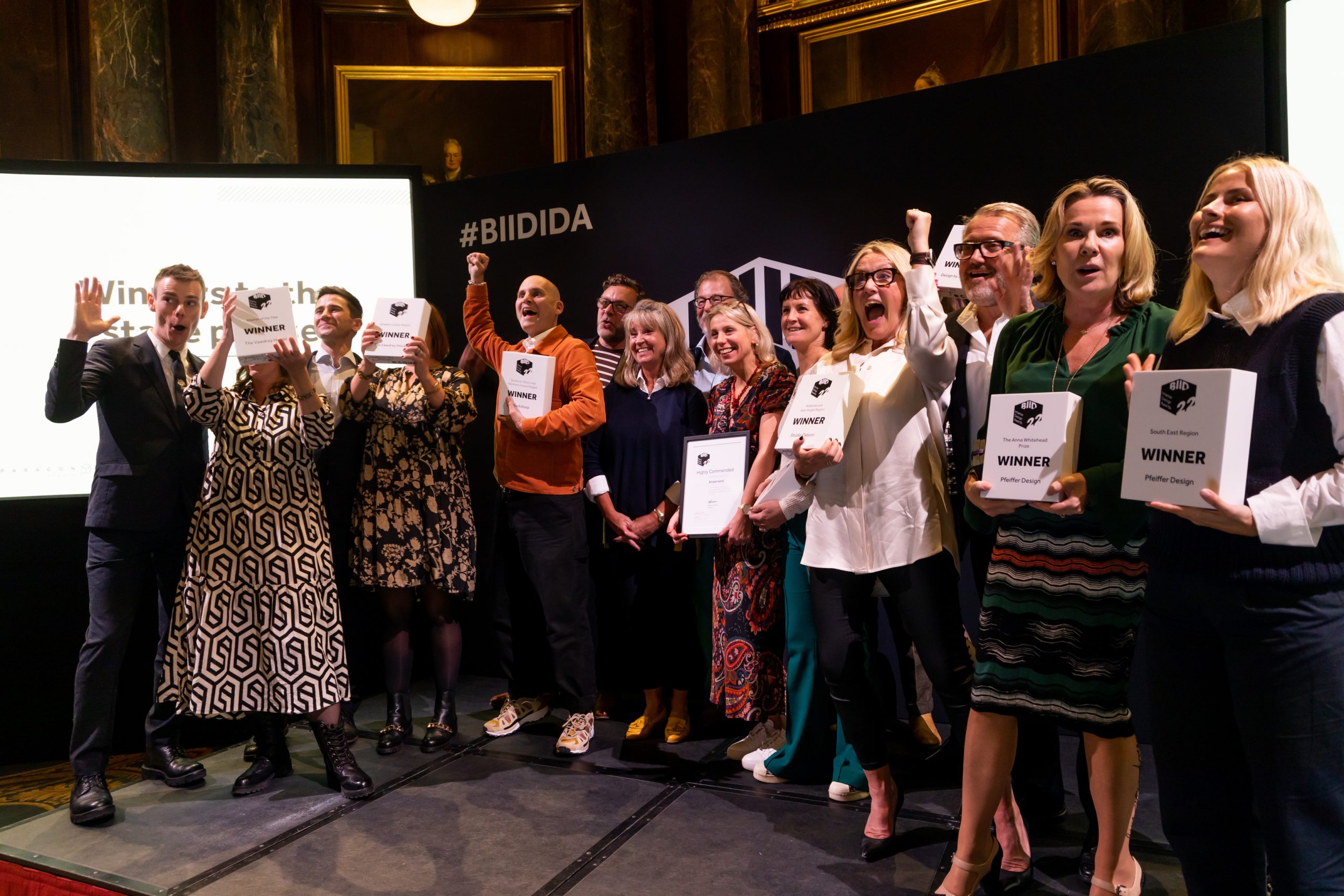 BIID President Mathew Freeman commented: "The judges all agreed that the Greenwich House project is an outstanding example of the power of great design to transform a space. It showed meticulous attention to detail, creativity and professionalism in its design and finish, and was deemed to be the best overall project. We warmly congratulate The Vawdrey House team and all our BIID Interior Design award winners on their very well-deserved accolades."
For further information about the BIID Interior Design Awards and to view the winning projects, please visit: https://biid.org.uk/winners-biid-interior-design-awards