Creative Director Camilla Douraghy Fischbacher and Designer and Architect Hadi Teherani discuss how their heritage is reflected in their collaborative textile collection Contemporary Persia.
Luxury Swiss brand Christian Fischbacher is a sixth-generation family-run textile company whose product range encompasses interior fabrics, wallpaper and rugs. Currently run by CEO Michael Fischbacher and his wife and Creative Director Camilla Douraghy Fischbacher, they recently launched a collaboration with Iranian German designer and architect Hadi Teherani.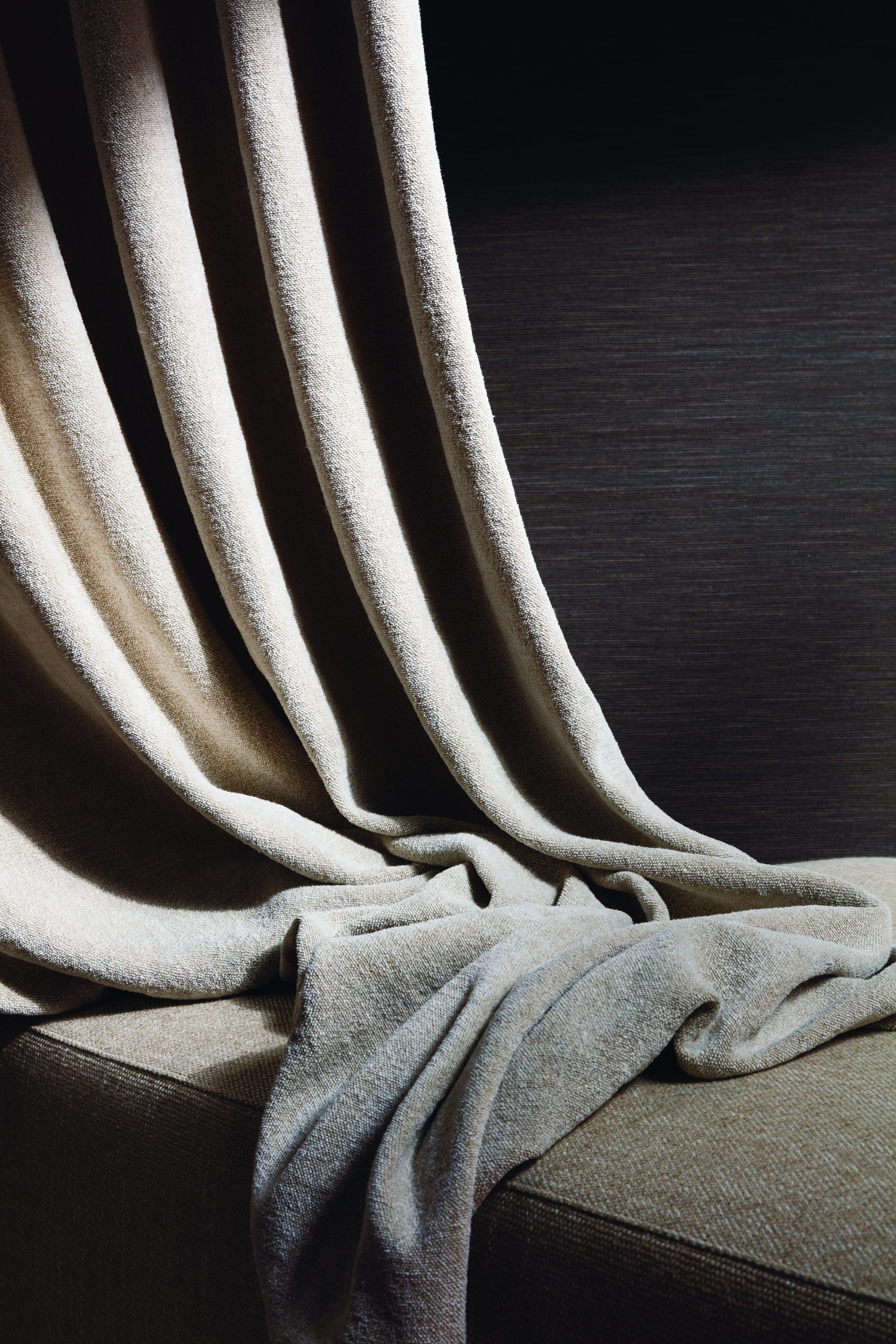 The Contemporary Persia collection interprets the unique diversity of Iran and its geographic and cultural richness in elegant and refined designs. Fine and coarse structures go side by side and the colour palette ranges from calm, earthy tones to strong accent colours, which are inspired by the contrasting colours of the Iranian landscape.
Both Camilla Douraghy Fischbacher and Hadi Teherani were born in Iran so the collection was a joyful exploration for them both to reflect upon their heritage and translate it into textile form. Here they discuss how it created a unique working experience and the future of textiles in design.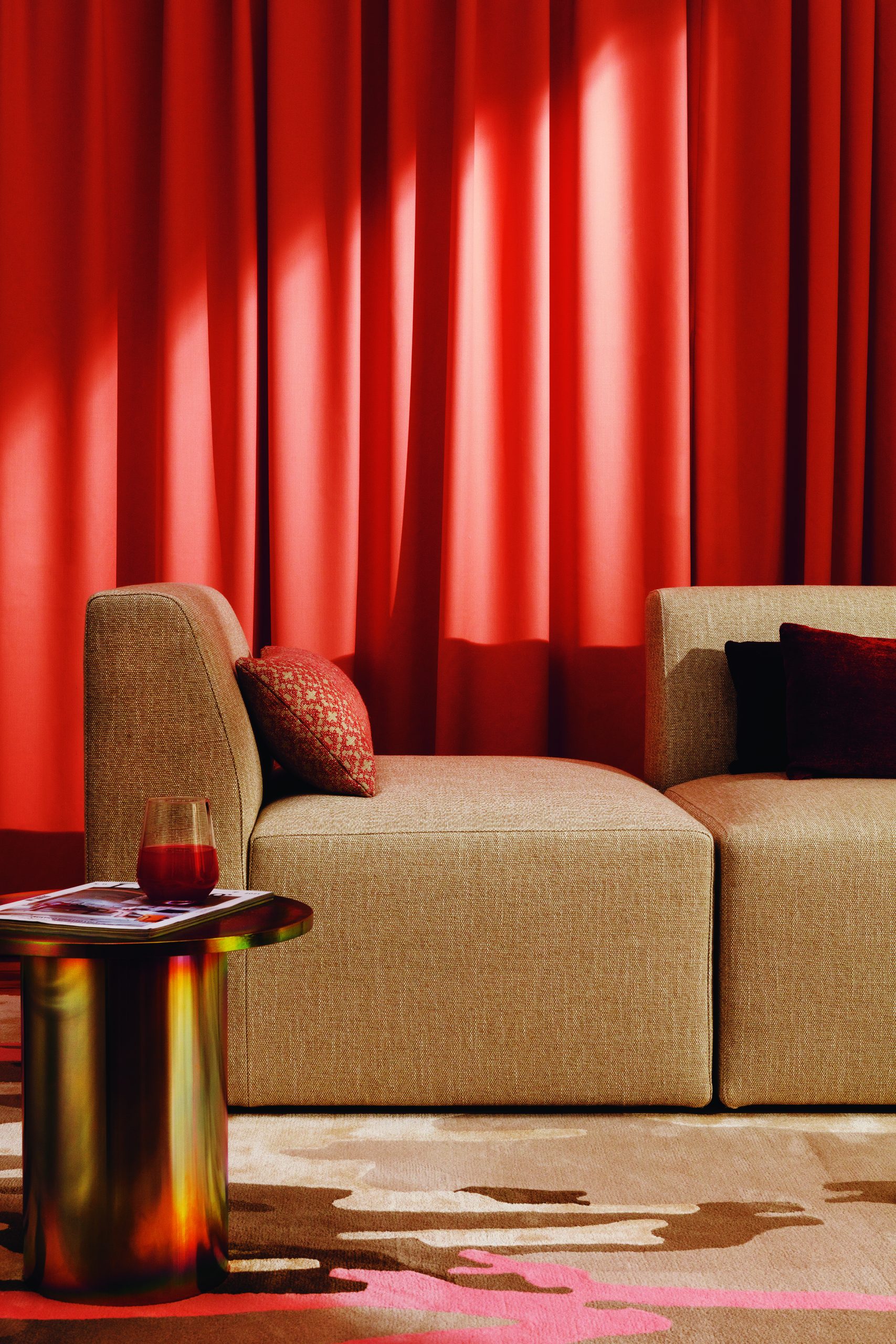 What was the inspiration behind the Contemporary Persia collection?
CDF: Hadi and I were both born in Tehran, Iran and we spent our formative childhood days there before moving to the West. When Hadi and I met and we discovered we had such similar backgrounds we had an instant connection and talked for hours about our experiences on growing up in the country. Iran is a architecturally rich and very culturally vibrant country and that shaped both of our design perspectives in very different but also similar ways. Our Persian heritage is very artistic and something to be celebrated, as is contemporary Persian arts and crafts also. In this respect, the collaboration felt very natural and easy. We both wanted to translate the energy into a collection of textiles that was respectful to our ancestry, forward looking and modern and also timeless.
HT: I have had an office in Tehran for 5 years and have thus gotten to know my home country, to which I had lost touch with a little before, anew. (Besides all the difficulties) there are so many beautiful things to discover there, in the culture, history, landscape, but also in works of young innovative architects, designers and artists, who always captivate me with their power. Working with Camilla, our desire from the beginning was to convey these positive aspects in a fabric collection and in a very contemporary and forward-looking way.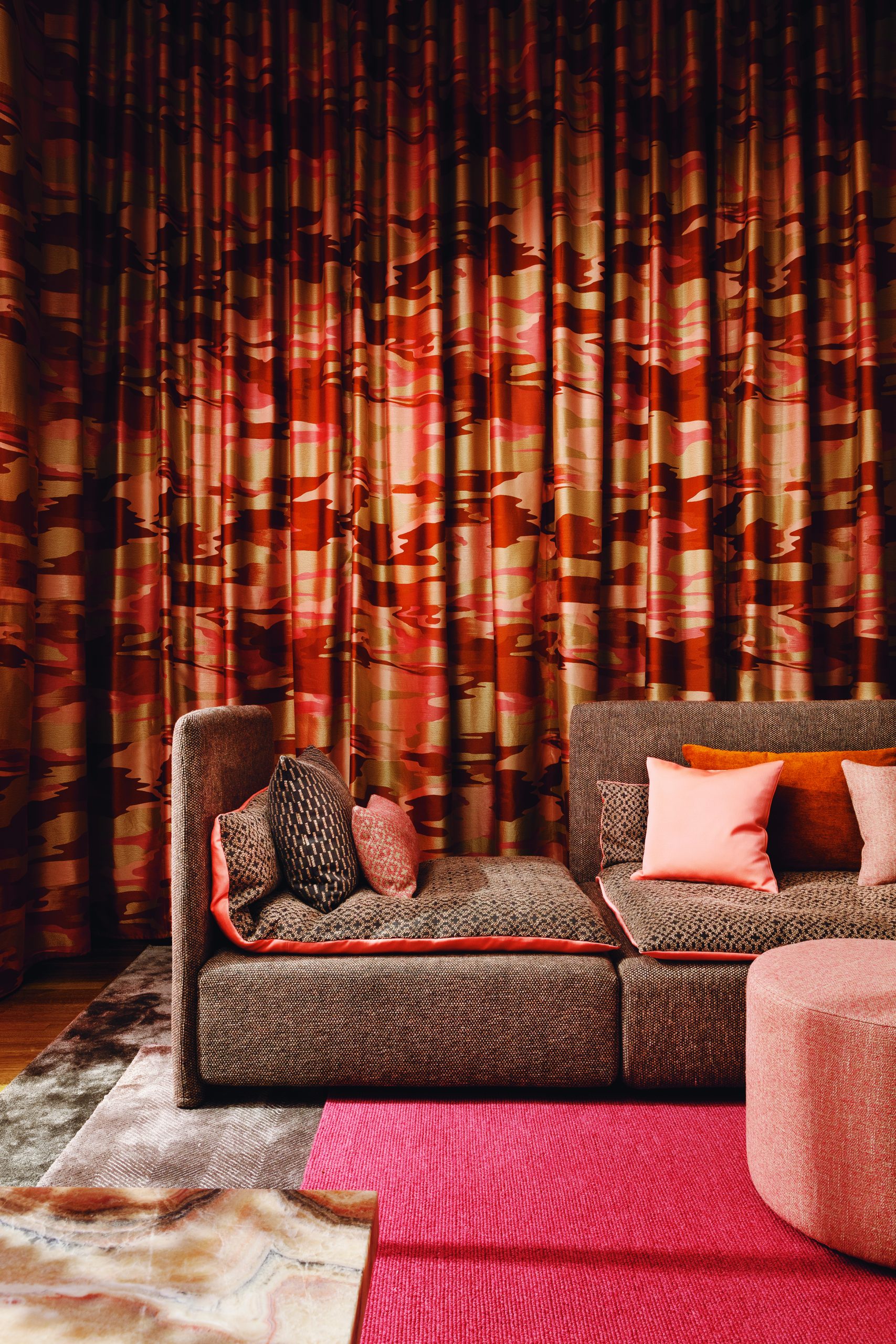 What was it like collaborating with someone who has a shared cultural heritage?
CDF: Having a shared heritage with Hadi made the process of collaborating incredibly easy. Often with a collaboration finding a starting point can be challenging, but we both had such a clear unified vision that everything from the inspiration to choosing the qualities to use to the name of the designs was a joy. It didn't feel like work and we both had a huge amount of respect for each other's area of strength. Myself and my very talented team bought a very textural appreciation and knowledge to the project, whilst Hadi and his team bought a more graphic and architectural language to the table.
HT: The great common understanding of the design language and materiality made this collaboration very enjoyable for me and my team. In the dialogues during the development, our different perspectives on textiles complemented each other wonderfully and created a result for both sides in which we did not have to make any compromises, and that fills us with great joy.
What is the most memorable part of this collaboration?
CDF: The launch in Milan during Salone del Mobile 2022 was very special. When I saw the collection contextualised in a room set, with beautiful drapes and upholstered furniture pieces surrounded by Persian art pieces we had chosen, I felt very proud, not only of the collection but of its resonance and the response it received. Salone del Mobile is the pinnacle if you like of design, it's a global platform to showcase your creations so launching this very personal collection at our showroom in Milan was a moment I will remember for a long time.
HT: For me, the beginning of the collaboration with a first visit to St. Gallen and a wonderful Persian meal in Camilla and Michael's house was also a lasting moment. It laid the foundation for the personal level in the collaboration. In addition to the creativity and the craftsmanship, you also feel the emotion in the result.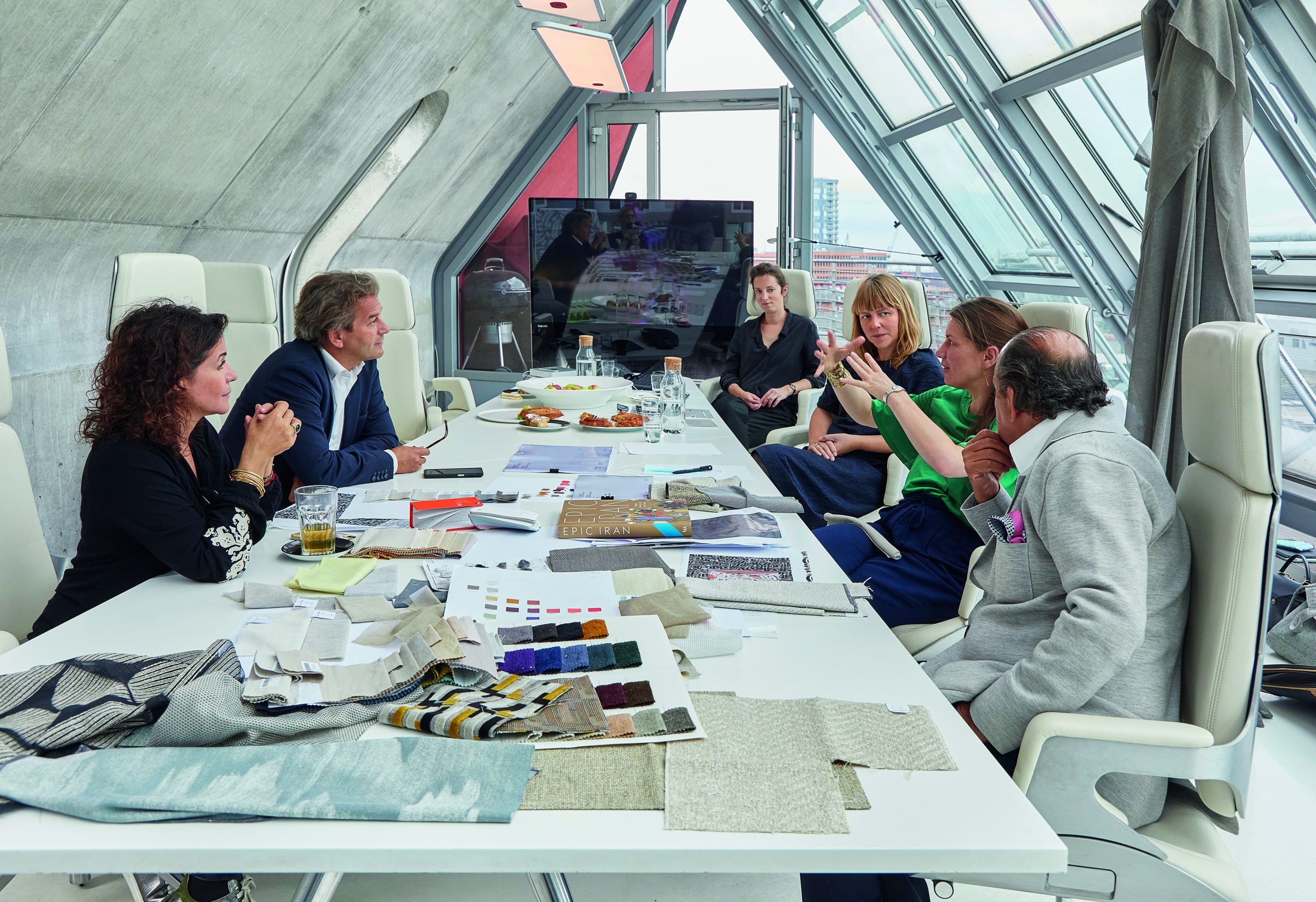 What have you found to be the biggest challenge in the global textile design industry?
CDF: I think what continues to be a challenge in the industry is what is a challenge in many industries and that is sustainability and ecological awareness and the impact we have as manufacturers on the planet. At Christian Fischbacher we have been creating sustainable fabrics and rugs without compromising on style and quality since 2009. The numerous awards we have received confirm our efforts as pioneers in this field but there is still a long way to go for the textile industry.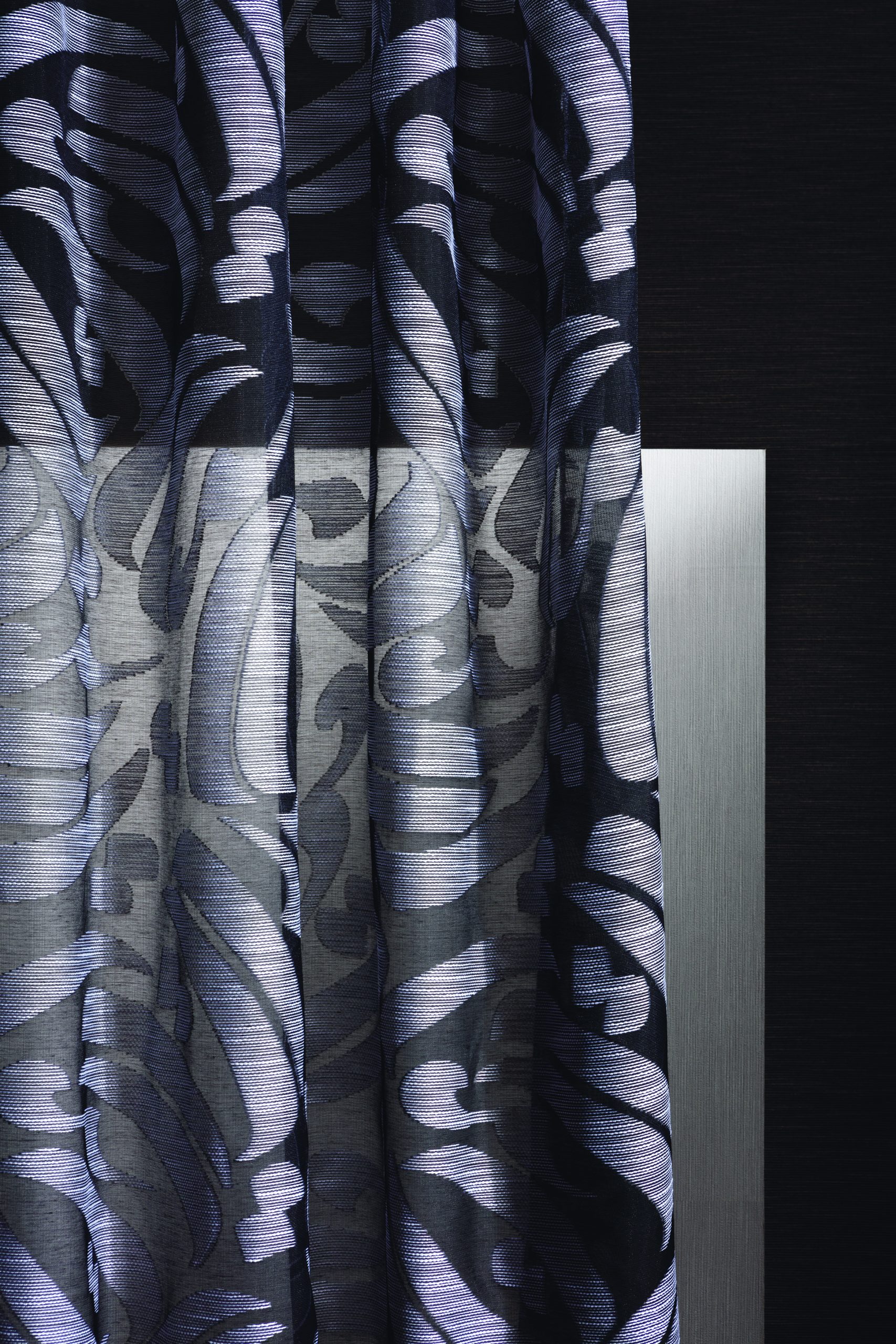 How do you continue to innovate with your work?
CDF: We innovate through research and experimentation with new recycled materials and sustainable yams. Our BENU fabric collections was one of the first in the market place to utilise recycled PET bottles to make indoor and also outdoor fabrics. New yarns are also made from cuttings and left-overs of the fashion industry in an eco-friendly process. The material is sorted by colour, which eliminates the energy-consuming process of dyeing. Only the best textile fibres are carded and spun into a new, high quality yarn. Reducing waste water, dyes and chemicals protects the environment and saves precious energy. We also utilise BCI certified cotton and innovate with high performance acoustic  fabrics.
HD: As an architect and designer I always look to the future, I want to create lasting, timeless values for it, with the best means available to me today. My works should always be looking forward, not romanticizing a past. I am always driven by how to create living environments where people feel comfortable, can develop free thoughts and feel valued and strong. I also see textiles not as fashionable companions but valuable textures and identity givers in a space.
www.fischbacher.com | IG: @christianfischbacher