Chloé Nègre transformed the Hôtel Beauregard into a homely and playful space with a quintessential Parisian flair.
French hotel group Touriste has opened the doors to Hôtel Beauregard, the fifth property to join its portfolio of Parisian hotels. Designed by Chloé Nègre, Hôtel Beauregard will see the Touriste group, led by Adrien Gloaguen, crossing the Seine to the Left Bank for the first time.
Based in the authentic and Parisian 15th arrondissement, Hôtel Beauregard sits in an elegant six-storey Haussman building on the crossroads of rue de Vaugirard and rue Cambronne. With views looking out across the Eiffel Tower from most of its 38 rooms, Hôtel Beauregard will offer guests a quintessentially Parisian experience – one that the hotel's interior designer Chloé Nègre describes as "a hotel I would dream of if I were a tourist travelling to Paris".
For her second collaboration with Touriste, Chloé has married classic and contemporary influences in Touriste's signature tongue-in-cheek style – invoking Parisian clichés and nods to the Seventies across the six floors. Elegance and intuition are the hallmarks of the French designer who is known for her intuitive approach to design and decoration.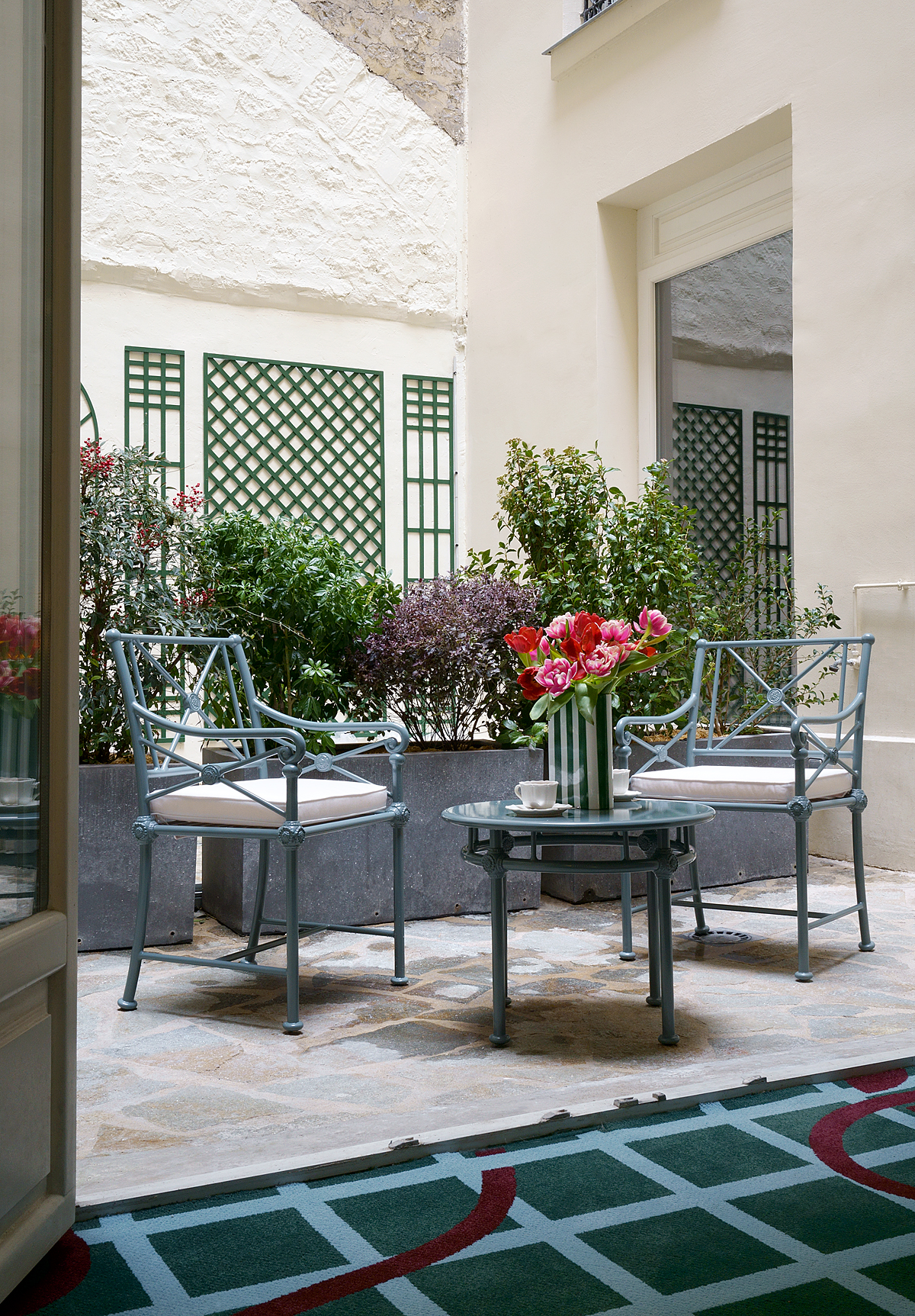 The journey begins in the lobby where, on the ceiling, a fresco by the artist Pauline Leyravaud depicts a trompe-l'oeil sky. The airy bistro-style breakfast room, seating up to 30 guests, can be used throughout the day for enjoying tea and cakes, a glass of wine or as a quiet spot to work.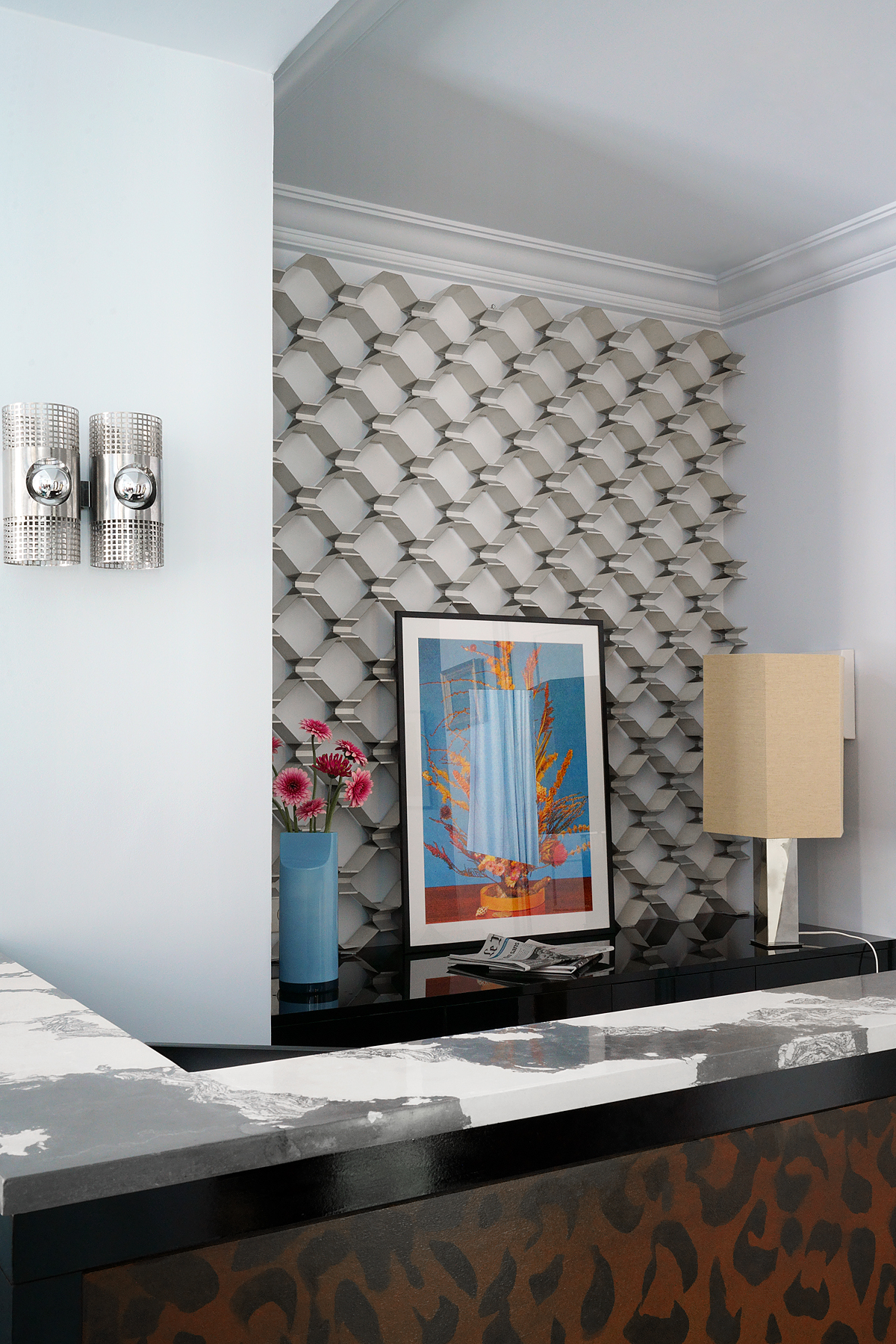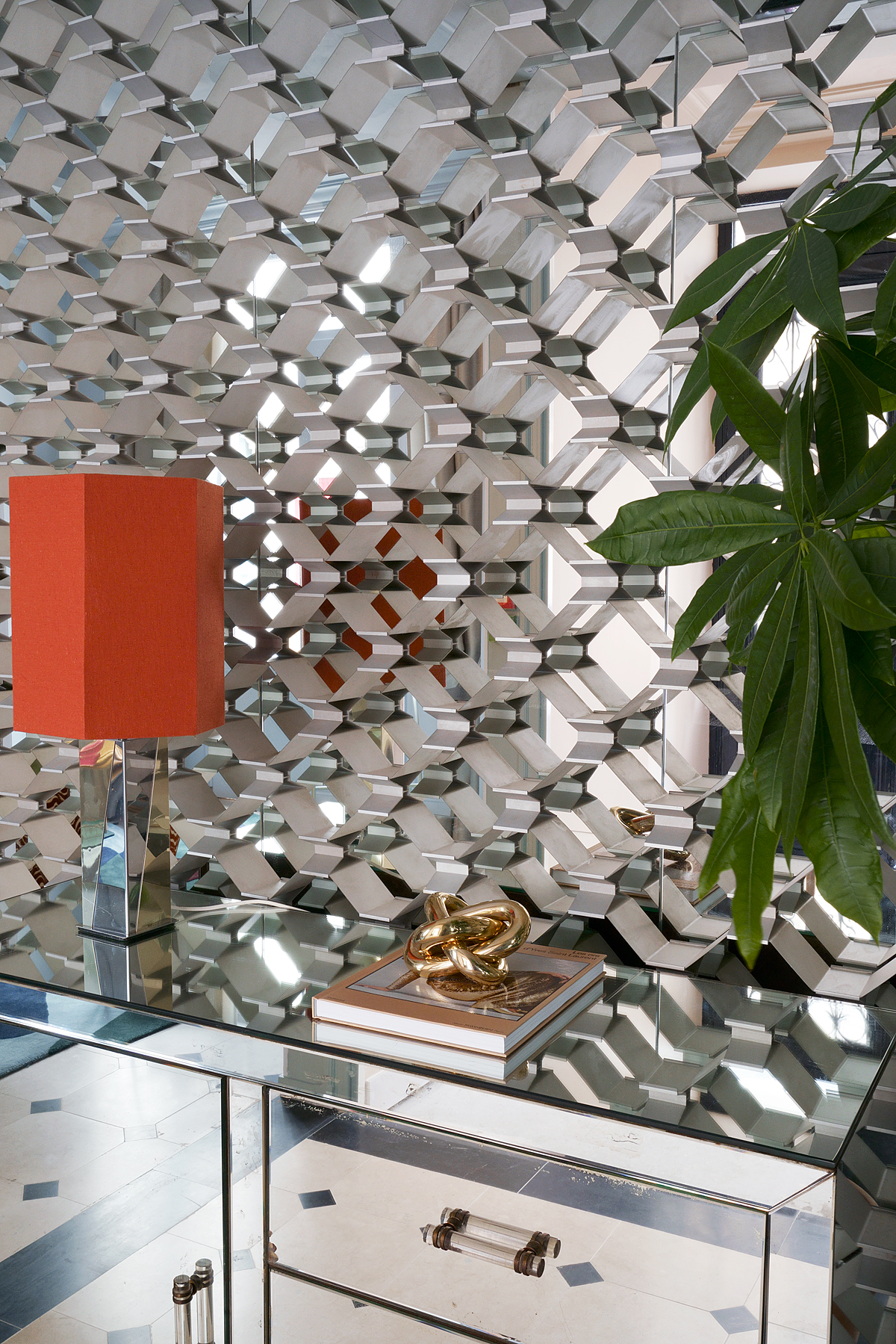 Each of the six floors has its own colour palette, featuring characterful touches such as: tapestries designed by the Pinton factory and grid carpets inspired by French garden trellises. Custom-made floral wall lamps and heart-shaped chairs features in the bedrooms, along with "I Love Paris" crests embroidered onto the headboards. The bathrooms pop with striped walls inspired by artist Daniel Buren's Minimalist works.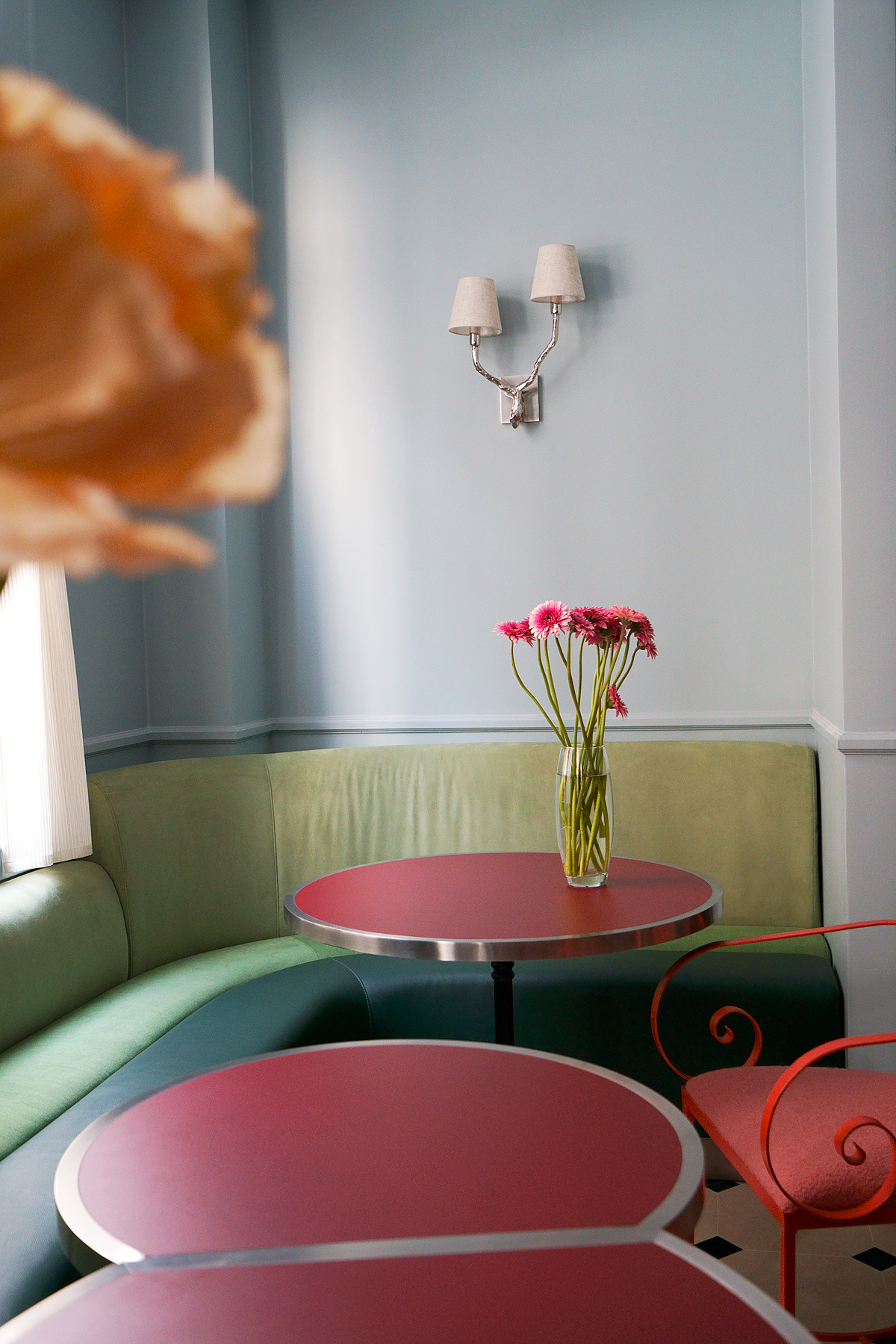 Vintage finds from France make up much of the furnishings, such as a rare chair by architect Mario Botta and an undulating bench inspired by Pierre Paulin in the breakfast room. Textiles are made from recycled or recyclable fibres, bathrooms feature reclaimed taps, and all furnishings have been manufactured in France and Europe.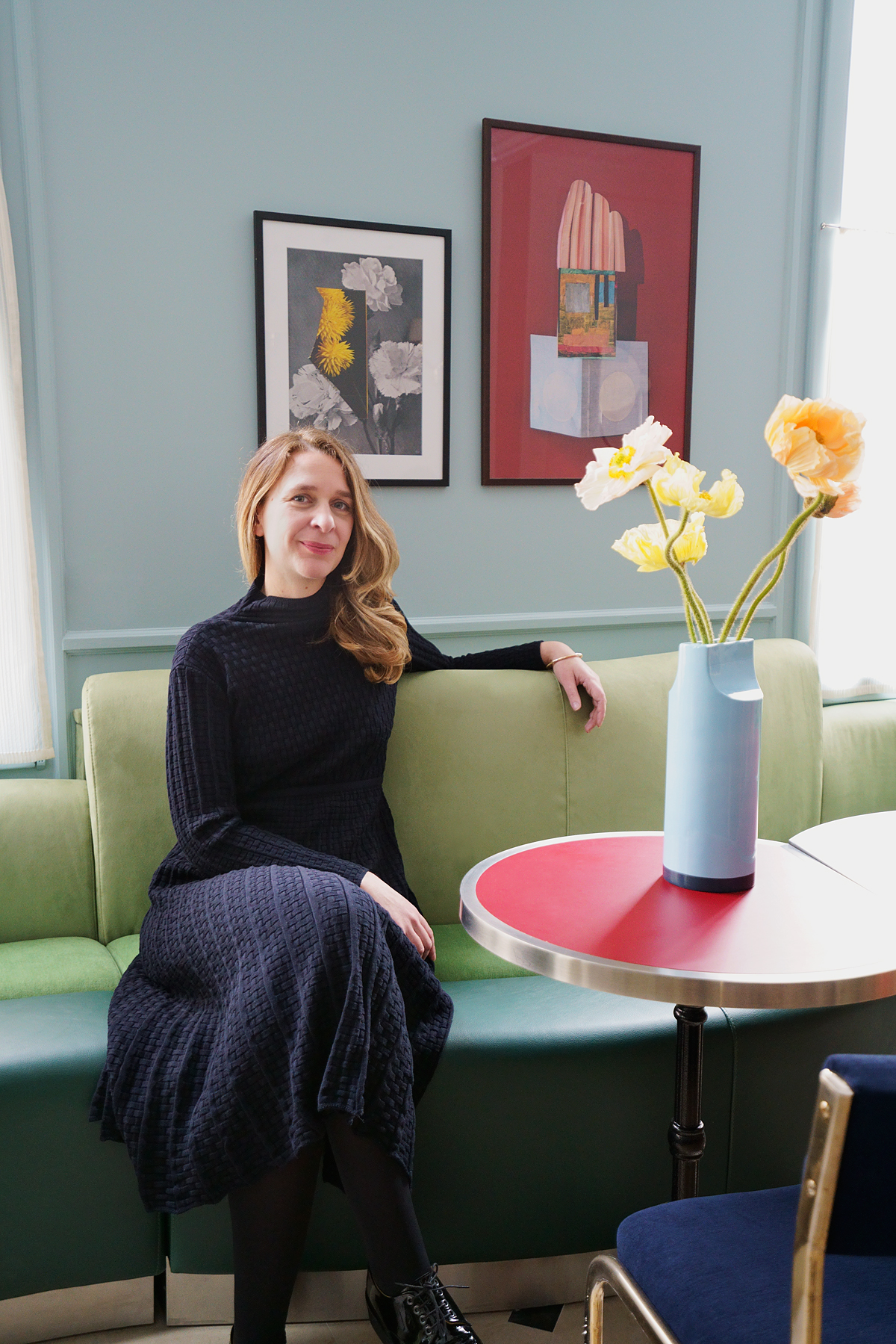 Here Chloé discusses taking a client-focused and eco-friendly approach to this homely and playful project.
Where did the conversation with the client begin?
We had already worked with Touriste on Hotel Bienvenue in 2016. Touriste's founder Adrien Gloaguen contacted me when he found this new hotel on the Left Bank, to see if my vision would align with his Hotel Beauregard. The hotel has a sublime view of the Eiffel Tower so I envisaged a place I would like to stay in if I were a tourist in Paris. It's a story of contrasts between typical French know-how and pop decorative elements.
How do you approach designing a hotel that is part of a hotel group?
Our studio designs various types of projects, from residential to retail and hospitality so we are used to working with guidelines and I often say that places we create are a vision of the brand's codes through our eyes. We always push creative boundaries as we love to build up a new story for each project and design space and furniture. Adrien's wish for Touriste is to give creative freedom to the designers behind his hotels; he likes to try new things and create playful designs with strong creative inputs.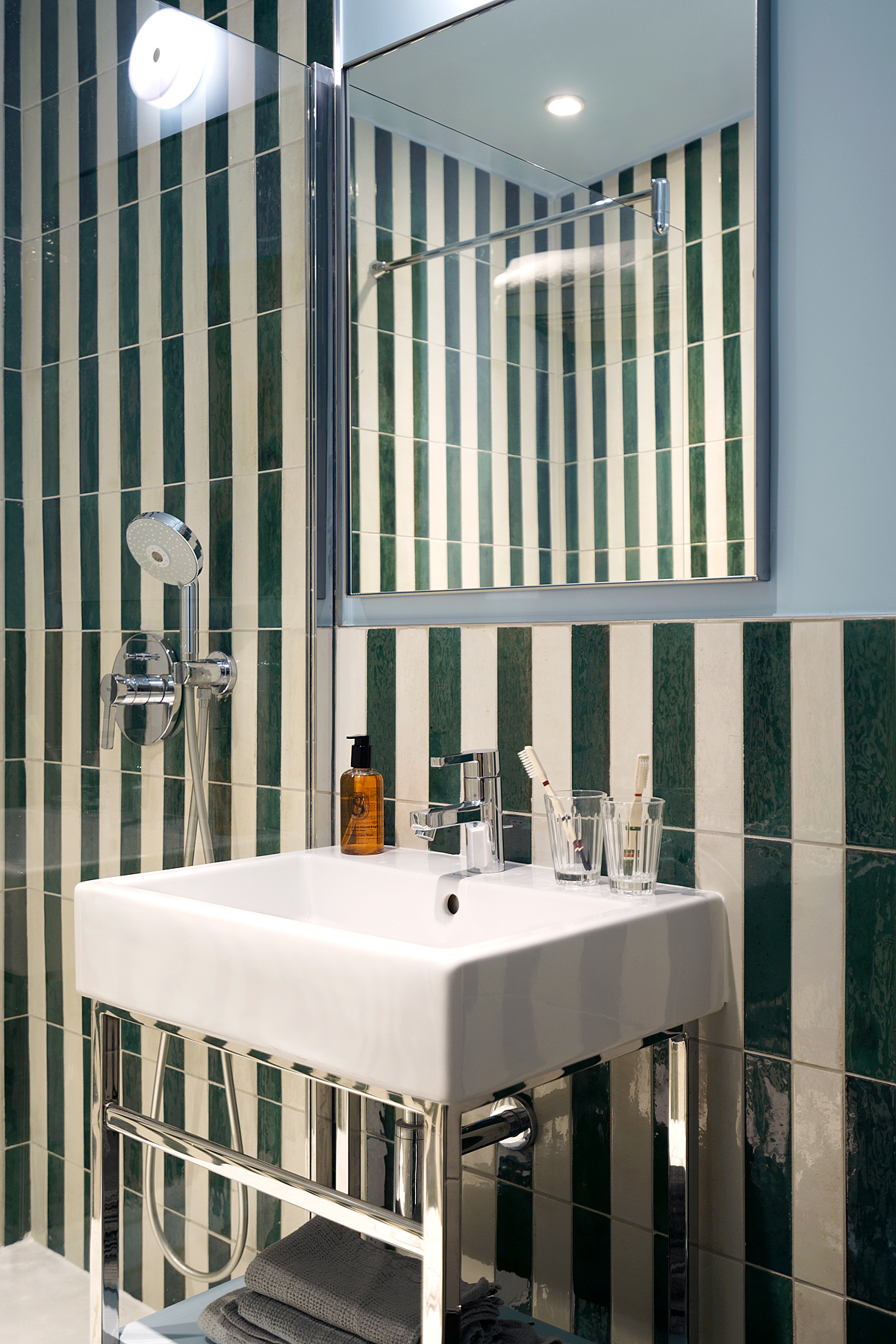 Tell us about some of the design features that were unique to Hôtel Beauregard?
Hotel Beauregard is like an old bourgeois family flat that a trendy thirty-something has taken over. We collected many pictures of Paris monuments, the places we like, tourist clichés and applied them throughout. These references ranged from the fluffy curtains of the Ritz, to the Palais Royal gardens with the stripes of the Colonnes de Buren to typical vertical trellises found on Haussmannian buildings to "I love Paris" labels. We worked on custom tapestries with the Pinton, a traditional French jacquard and tapestry manufacture.
How did you tackle issues surrounding sustainability?
Our studio uses sustainability as a starting point for any project we undertake. First we did a tour of the hotel and listed all the items that were still in good condition to keep. We decided to keep existing bathroom fittings, lockers, and various accessories. Touriste gave the remaining furniture to the charity, Emmaus. Our creative process includes using mainly custom-made furniture and lightings. For this project, almost all the furniture was made in France with a few pieces from Europe. We always try to choose sustainable materials, recycled Trevira or recyclable fabrics with mono compositions. To finish, we decided to combine our furniture with vintage pieces sourced from French galleries.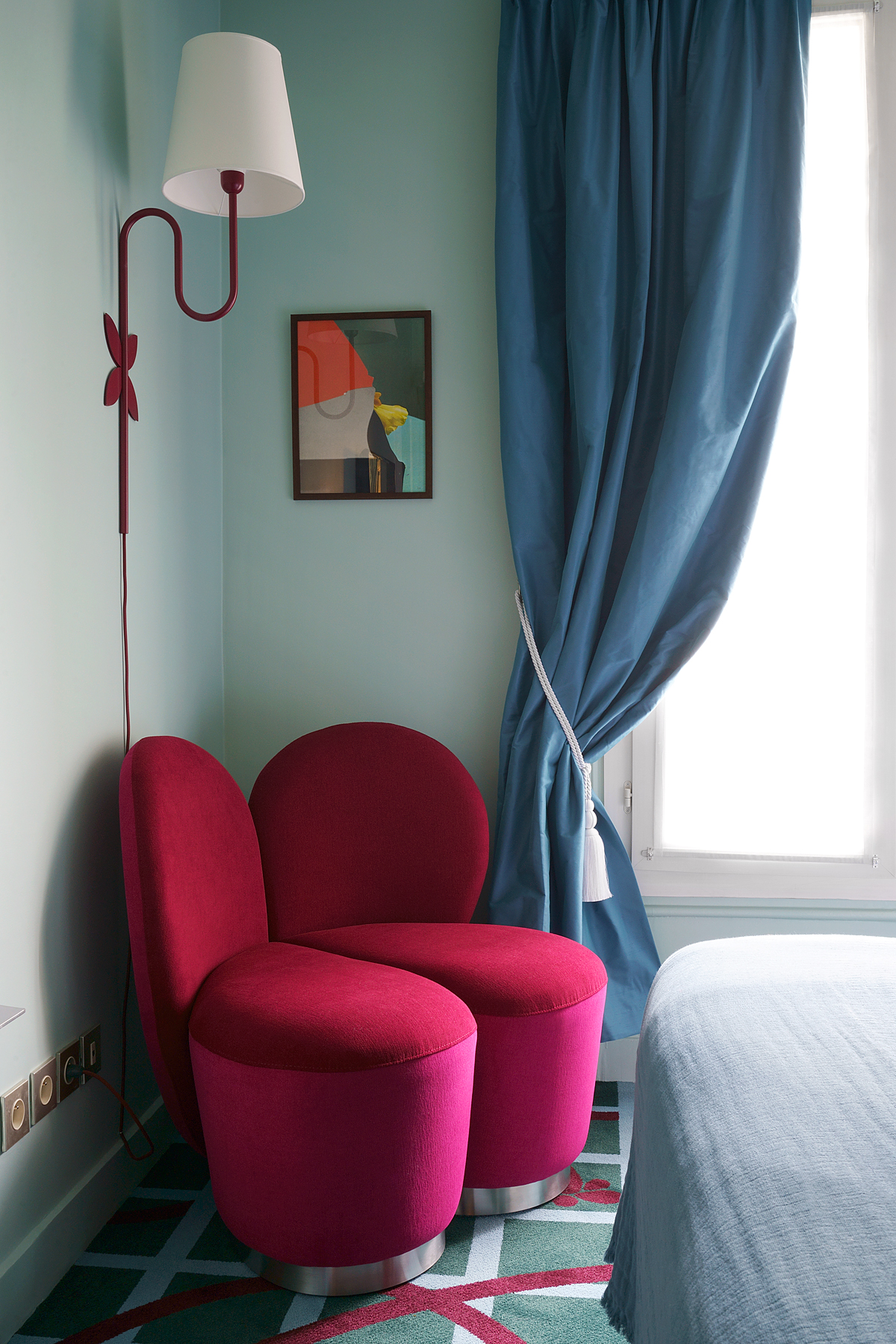 What was the most challenging part about this project?
The most challenging part was definitely the schedule as we had one year between first  presentation and the opening. It means that all the decisions must be taken very fast, and there was no mock-up room.
www.chloenegre.com | IG: @studiochloenegre
Photography by Romain Courtemanche