Architectural and Interiors studio SHH transformed a family home in Surrey collaborating with Kate Gould Gardens on the landscaping.
SHH were appointed to refurbish, redesign and refurnish a treasured home in Surrey. The visionary owners, who are passionate art collectors, wanted their home to reflect connections with nature while introducing lots of colour and character; their brief was given to the design team through a poem titled "An Ode to Home".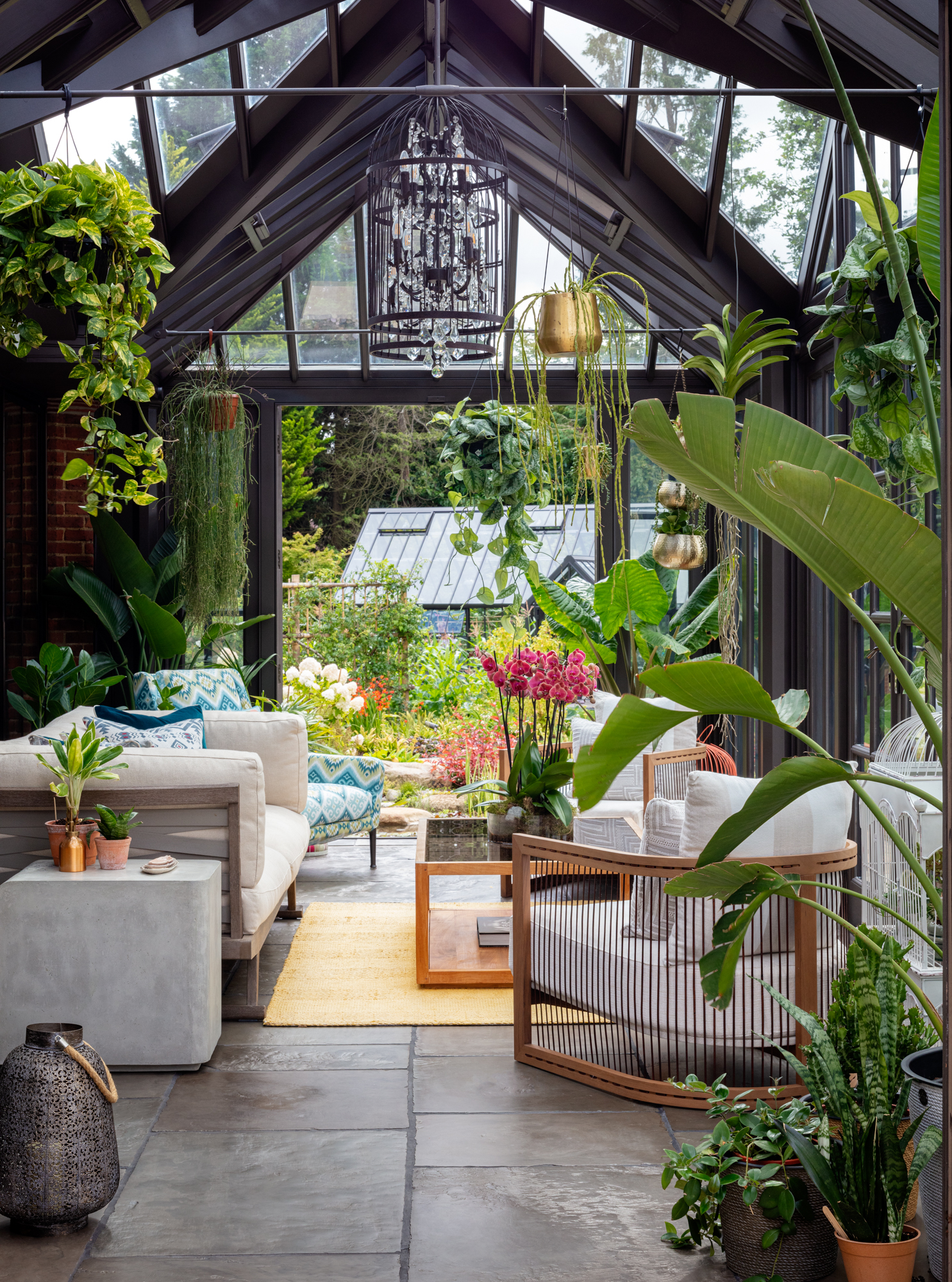 The main task was to restore the traditional 1920s features of the house while introducing contemporary yet characterful style and functionality. Architecturally, the main objective was to prolong the life of this important 'Arts & Crafts' property, by bringing it up to the modern age and adapting it to the needs of a young, creative and vibrant family.
The original brief was extremely well considered and thorough although when working through the detail there were some challenges to consider.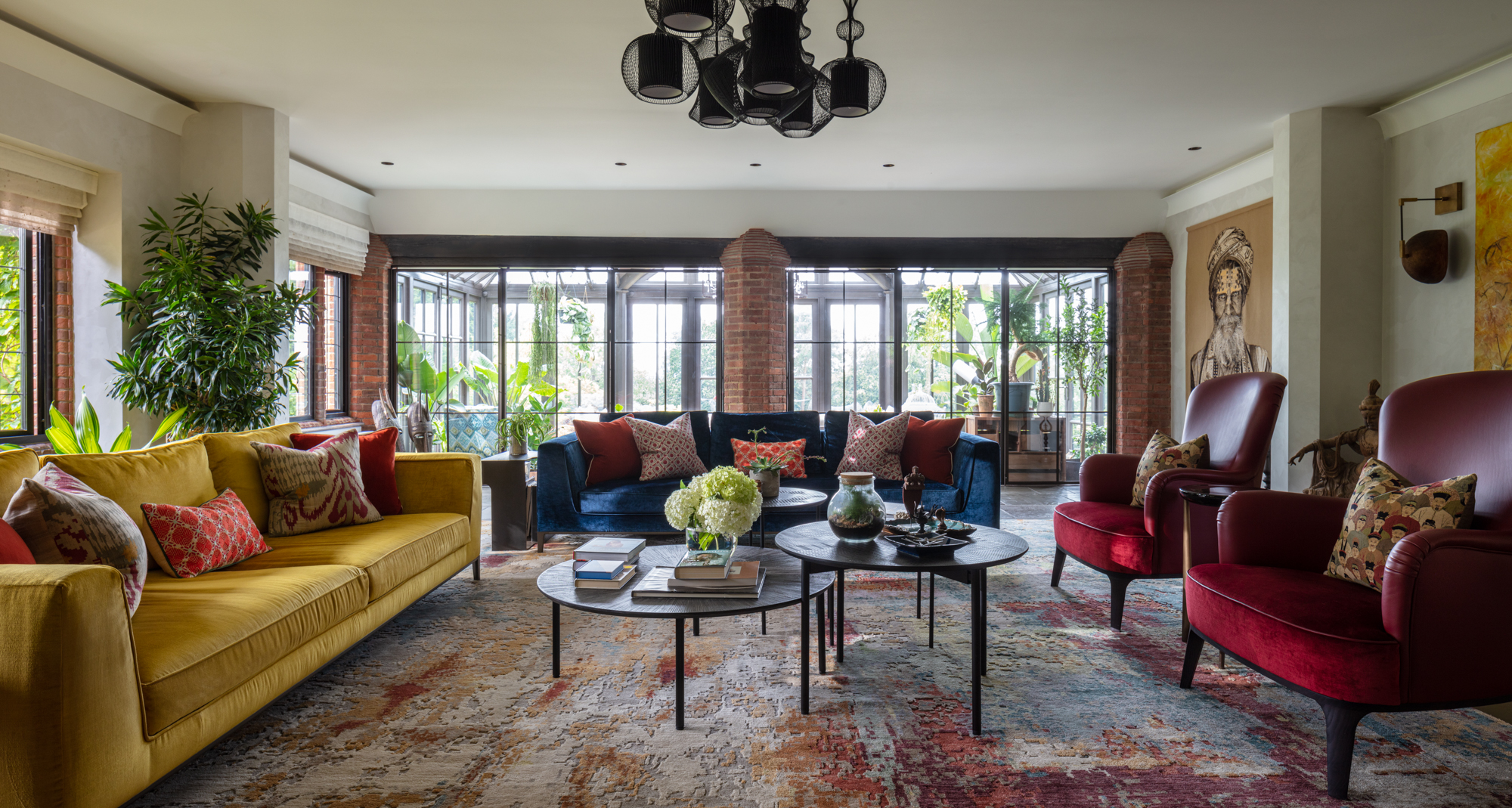 The Media room became a very important feature and the client requested a very sophisticated sound system that required substantial soundproofing whilst remaining a comfortable and inviting family space. We designed a double door system that featured a secret door that passed as a substantial bookcase from the end of the hall, concealing the hidden gem beyond.
A later change to the brief to extend the kitchen and include an internal 'hot house' for growing vegetables and plants was considered but proved to be unsuitable, but a great compromise was designed that extended and created a wall of windows looking on to the gardens.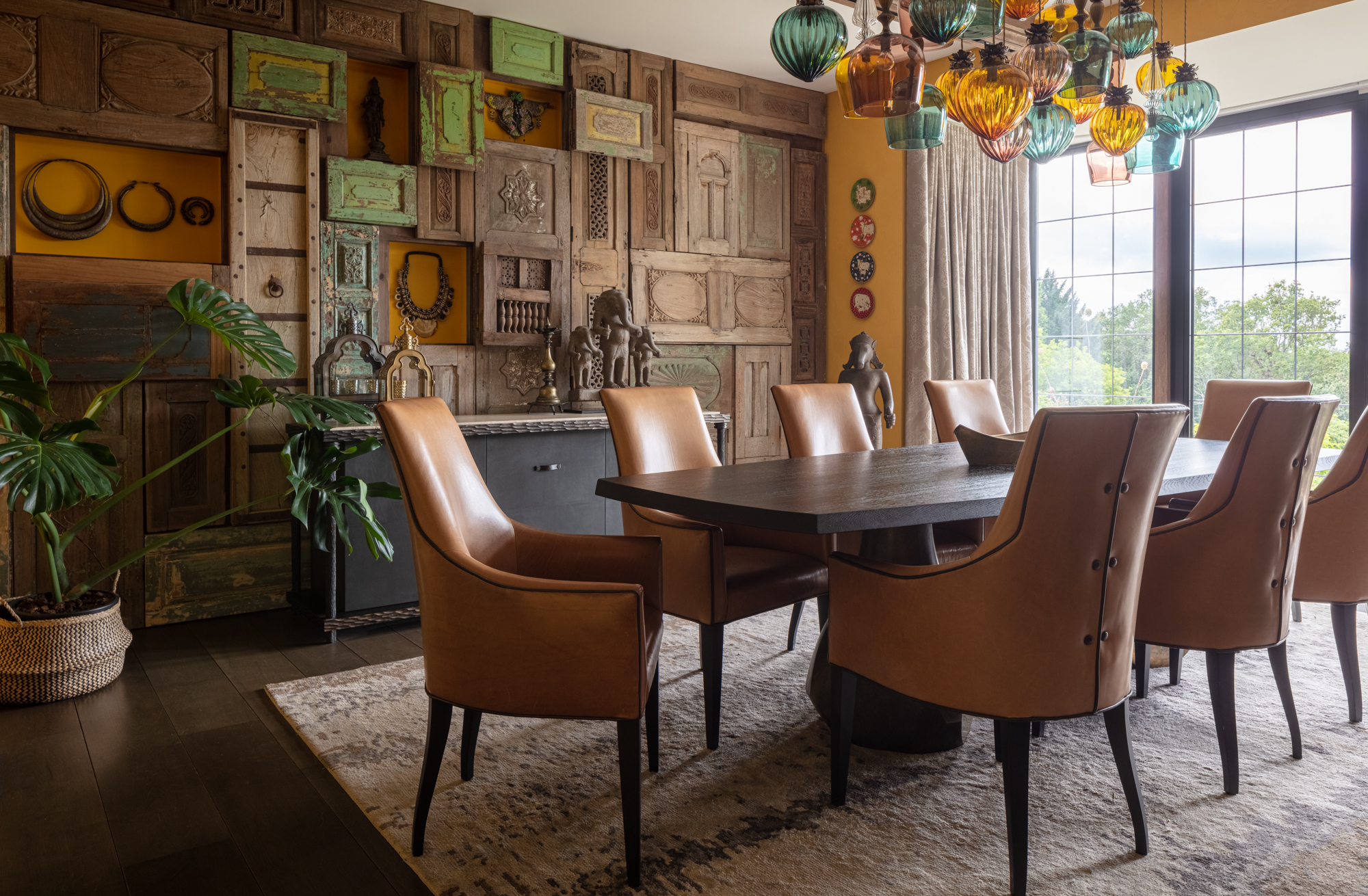 SHH was invited to refurbish this family home, by creating connections with nature. Interior planting and textures were integral to the scheme. Biophilic design filters into the main house, with the use of leafy ornaments and splashes of greenery throughout.
The interiors capture a bohemian organic design aesthetic overlaid with handcrafted and quirky details, finished in a vibrant colourful palette with bold use of pattern. The central design was influenced by the owners' own travel experiences from which they have curated a collection of art and artefacts over time (including a collection of 12th Century Indonesian statues) carefully displayed across different areas of the house.
One of the main concerns has been the use of sustainable materials and how to avoid waste while they reuse and recycle resources. Vintage leather belts have been recycled and used to clad feature doors, in the Dining room Antique Indian doors were repurposed to create a decorative display wall. Throughout the house custom and artisan furniture pieces have also been selected. More than anything the interiors were considered to promote positive energy, wellbeing and harmony; this is a space that allows one to slow down and take notice of the beauty of the present moment.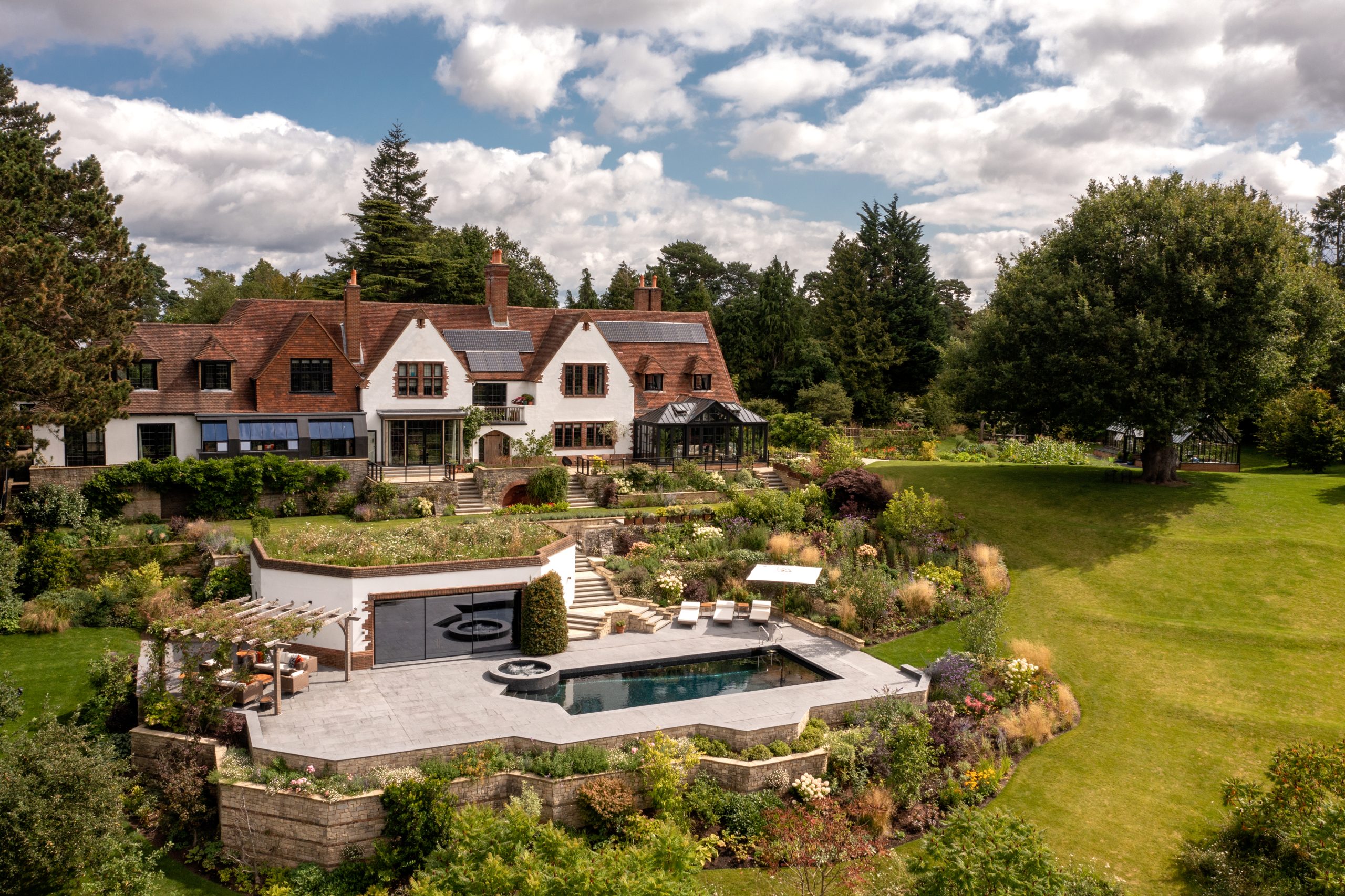 The residence comprises 8,500 sq. Ft of luxury living space over two storeys, with five bedrooms, a cottage and summer pavilion overlooking the outdoor swimming pool.  Reflected throughout the house is the client's international lifestyle, their love of art, colour and appreciation of the artisan and their work.
The interior furnishings and wallcoverings features rich and vibrant artisanal inspired prints and weaves, balanced with plain and textured characterful linen's, cotton and silks. Each bathroom is bold and characterful but unique achieved by a brave use of wallcovering, lighting and joinery.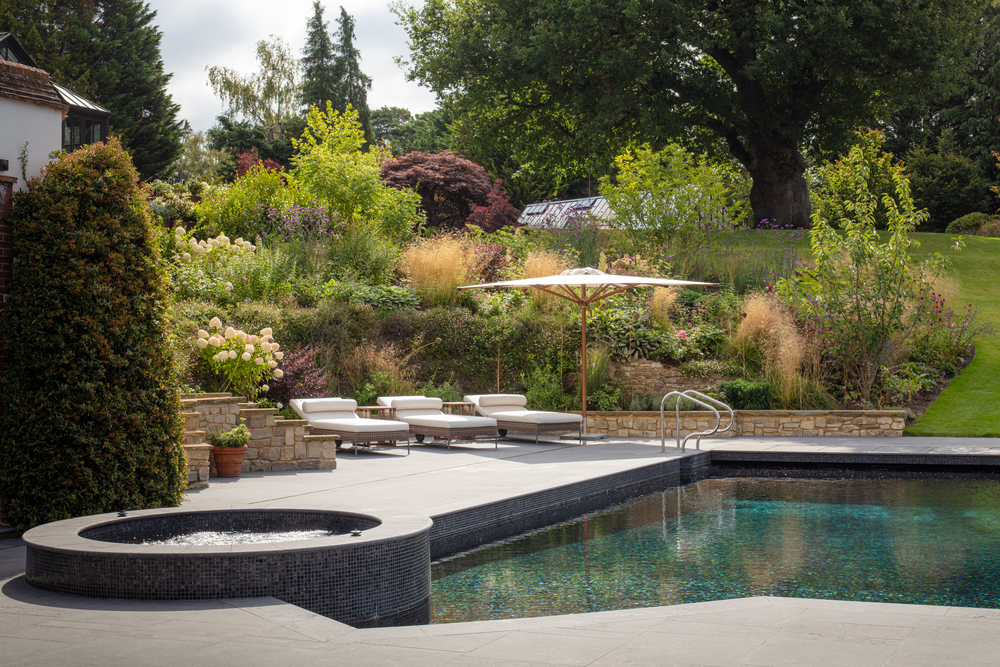 In the Dining Room a beautiful and unique custom wall was developed; original antique doors were sourced from India and re-purposed to cover the area with the doors and have strategically placed openings to reveal treasured ornaments and art inside. The Limited Edition Dutch Dining Table with its bold base and irregular shape is complimented by the detailed chairs and chandelier made up of multiple coloured glass lanterns hanging from varying heights.
Increased volumes were gained throughout the upper floor by claiming back unused loft areas which expose the roof pitch and add to the character of the space. The Master bedroom features a half double height ceiling, rich deep terracotta polished plaster walls and a dramatic hand carved headboard. Pocket doors covered in re-purposed leather, the restoration of the original fireplace and the addition of a reclaimed wooden mantlepiece reflect the client's desire to use distinct and sustainably considered materials and avoid waste. The bold dark and moody bathroom features re-purposed distressed timber vanity unit, raised 3D chiselled tiles and a composite stone 'look' free standing bath.
Back downstairs, the ground floor hosts all the family rooms and entertainment spaces including a large double reception room, which flows into the conservatory and connects to the substantial landscaped gardens – a collaborative design with Kate Gould Gardens. The refurbished conservatory features bronze paintwork with repurposed 'bird cage' chandeliers, relaxed seating, bold prints and tropical plants, making this an ideal space from where to enjoy the magnificent views to the garden.
www.shh.co.uk | IG: @shharchitects
Landscape Narratives with Kate Gould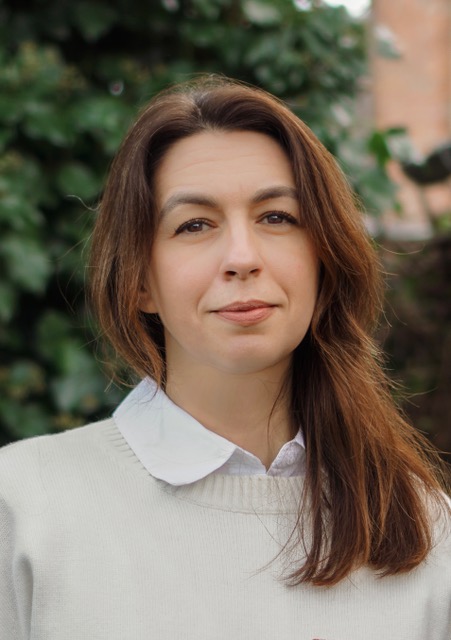 The beautiful sprawling Surrey estate garden was the result of a collaboration between Kate Gould Gardens and SHH. Here, Kate Gould shares the landscape design details of the project.
How did you become involved in this project?
Having worked with SHH for many years I was asked to submit a fee proposal and to meet the clients to see if we would be a good fit.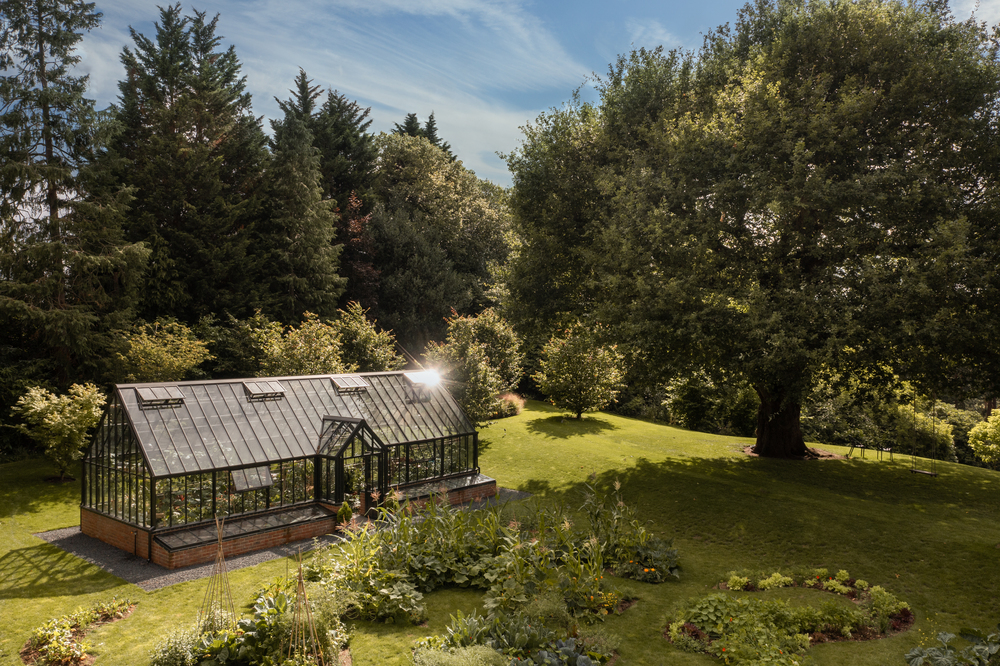 What was the client's brief for the garden?
To be biodiverse, interesting all year round, encourage wildlife and to create different areas with different feels that could be used at different times of the year, even in the winter.
Tell us about some of the garden design features that were unique to this project?
A wildlife pond was high on the wish list along with a large functioning greenhouse and productive area. Ideally vegetables were to be grown all year round. We also had to work around an existing swimming pool whilst retaining a large and established climbing Rose. This had to be taken off its original structure, laid down and reattached onto a new and sturdier pergola.
How did you ensure that your garden design worked in harmony with the interiors?
The interiors are refreshingly colourful and individual. This meant that creating spaces in the gardens allowed for wider creativity, particularly when it came to planting.
How did you tackle issues surrounding sustainability?
As much boundary planting as possible was retained. It is always difficult to increase a large landscape without the use of  hard landscaping materials but those that were used were sustainably and ethically sourced. Plants are site specific and create biodiversity for wildlife on site.