PENSON has recently released pictures of YouTube's super cool space situated in the heart of Covent Garden, London, designed by the quirky design firm. Completed in August 2012, the über cool space features a replica of Del Boy's living room in Mandela House, Peckham.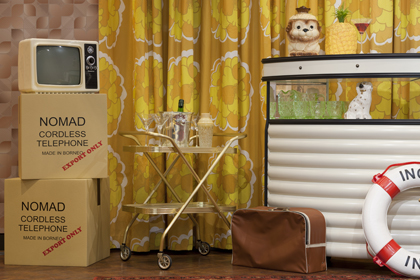 Also featured in the space is a cinema sealed off by the coolest PENSON trade mark Air-Lock doors; sound proof recording studios; squishy sunken snugs and bundles of environmentally friendly timber back-of-stage walls. These were made from quickly erected timber, just in the way stage sets are economically whipped up. With ergonomic video conferencing rooms, meeting booths and film viewing pods, it is a highly functional yet unique space, which benefits from oodles of new ideas that stimulate the mind and assist with day-to-day life in both function and good-form. At the same time it provides a calming creative atmosphere to the desking areas, which have the greatest views across London's skyline.
A YouTube Walk-of-Fame sits at the core of the space, with padded walls and a long sumptuous couch, which reflect a modern twist to old English cinemas. The Creator Space designed in collaboration with YouTube, CBT and DreamTek, include a Green Room, edit suites and two large acoustic filming spaces. A silver glitter welcoming reception dazzles external visitors, YouTubers & the odd visiting celebrity. Silver fabric walls form ultra cool Flight Pods, another PENSON trade mark, which provide secluded meeting spaces basted with comfort, creativity and collaboration with integrated white boards for scribbling on.
By default, PENSON's specification has made the space an eco-giant, since many materials have high recycled content, are fully recycled, reclaimed, water-based or fully natural. The project is only a few points short of LEED Platinum, which is a huge achievement for an interior fit-out. The project is also compliant with Google's Red List, in tandem with Google's Super HQ.
The space provides desking and many different cubby holes for collaborative groups. A vivid yellow micro-kitchen is featured in celebration of Del's famous episode "Yellow Peril", where he wheels-a-deal to redecorate his local Chinese take-away in faulty bright luminous yellow paint. So don't forget your sunglasses!
Lee Penson founder of PENSON commented, "With Del's famous cocktail bar, complete with shaker, glass and umbrella, it is great fun to work at YouTube London. Del's twin porcelain dogs, 60's bamboo-shoot wallpaper mixed with Granddad's awful choice in curtains and carpet, chintz drinks trolley and life ring, creates just the right level of really loveable-rogue taste."