Heimtextil 2013 is putting people at the centre of textile interiors with a spectacular showcases where textiles meet fashion, art, technology and performance.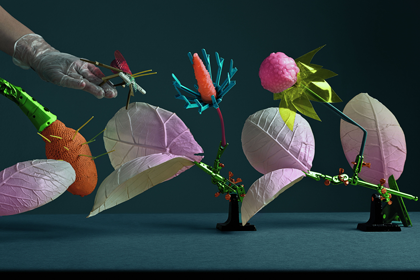 This year the show boasts a daily programme of talks where high-calibre speakers provide insight into the latest design developments and market trends.
Spectacularly showcased, interactively brought to life and artistically conceived – this exceptional industry event awaits visitors and exhibitors at the trend show during next year's Heimtextil, the international trade fair for home and contract textiles from 9 to 12 January 2013. In Forum 0, the Trend Show will provide an impressive insight into pioneering design developments – planned and executed by Stijlinstituut Amsterdam. The Trend Show will be complemented by talks by high-calibre speakers. With "Be inspired", Heimtextil is also showcasing concrete decorating examples based on the trend forecasts. As a partner of Be inspired, Swarovski is enriching the presentations.

Heimtextil Trends is interpreting living spaces as an important expression of people's personality, pointing the way towards future design concepts. "Manufacturers have recognised that consumers want to put their own stamp on their homes. Their interiors should reflect their identity and individual lifestyles," says Anne Marie Commandeur, designer and Managing Director of Stijlinstituuts Amsterdam. "The same goes for public spaces and contract furnishings, where we are seeing a movement away from anonymous uniformity towards individual concepts. This approach is absolutely critical in the Trend Show and for the future of home textiles."
Interactive showcases
Using exhibitors' latest collections, the Dutch designers are creating an overview of the new season's aesthetics, shapes, materials, patterns and colours. The textiles feature energetic patterns, dynamic surfaces and products boasting a strong identity and personal touch. The latest trends are being illuminated from different international perspectives and brought to life with products from well-known designers and numerous examples of different applications. The show will also captivate visitors with enigmatic, humorous and even religious features, while moving and interactive elements will provide for fun surprises. Performance artists and designers will also appear in the show which will artistically and compellingly put people at the centre of textile interiors.

Complementary talks by international designers
A daily programme of talks featuring high-calibre speakers will illuminate the latest design developments and market trends. Renowned trend experts from the UK, France, Italy, the Netherlands, the USA and Germany will convey valuable information and inspiration on the future of textile design. Representatives of the Heimtextil Trend Table will also provide insight into their work. Anne Marie Commandeur from the Stijlinstituut Amsterdam will explain the 2013/14 Heimtextil Trends "Being" three times a day.

New special show Be inspired
With a view towards the Heimtextil Trends, the Stijlinstituut Amsterdam – in addition to the Trend Show – developed a new concept for a special show. Under the banner Be inspired, design ideas for retailers are being shown in Hall 11.1. Ready-made products, high-quality designs and sustainable textiles will get an exclusive presentation area. Acting as partner of Be inspired, Austrian crystal manufacturer Swarovski is enhancing the show experience with crystal elements reminiscent of water.
Heimtextil Trends: international flagship
For over 20 years, the Heimtextil Trends have served as a touchstone for the international textile and interiors industry as well as a guide to the new season. Before the trade fair, a team of international designers selected pioneering themes for the 2013/2014 season from a multitude of different global trend movements. Six renowned design and style agencies from Brazil, France, Japan, the Netherlands, the USA and Germany were involved in the analysis. The latest design themes are described in depth in the new Heimtextil trend book "Being".