A new training programme, provided by The Furniture Ombudsman (TFO), is set to be launched at the Interiors Show in January. The existing courses have been refreshed and prices have been lowered to help make training accessible to everyone in the furniture and home improvement industry.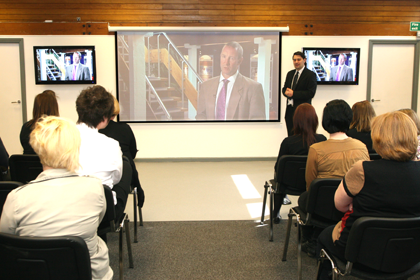 The Furniture Ombudsman's friendly team of professional trainers and advisors will be at the Interiors Show (Stand B75, Hall 1), to launch the new training programme. They will also provide a free drop-in service for anyone who would like information or needs help with an issue they are facing.
Jon Walters, Service Delivery Manager for TFO, commented: "Training is a fantastic way to ensure your workforce is knowledgeable and well informed. Our research shows that well trained staff can save money spent in compensation and help maintain customer satisfaction. We appreciate the challenges of the current financial climate, so we have refreshed our courses and reduced the prices to help make sure that our high quality, industry-specific training is affordable for everyone.
"Our legally qualified trainers are able to give examples of problems and solutions by drawing from a wealth of experience gained in the industry. We are really excited to launch our new training programme and our advisors will be on hand to provide useful advice, hints and tips about a wide range of issues. We hope to see you there!"
The Ombudsman aims to raise standards by providing training courses that are specific to the furniture industry. The courses can be tailored to meet requirements for different areas of industry, such as the Consumer Law package which can be specific to home improvement, upholstery or beds.
The new prices are £150 per person for members and £250 for non-members.
www.thefurnitureombudsman.org/business-services/training