Hakkasan New York has been designed by Paris based architect team Gilles & Boissier. The luxurious 11,000 square foot venue is located in midtown Manhattan at 311 West 43rd Street.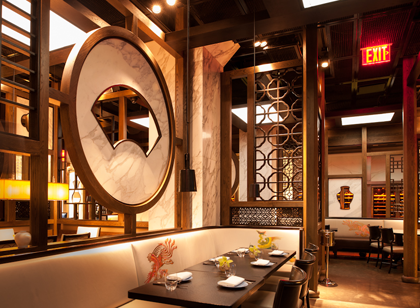 Gilles & Boissier, who previously developed interiors for the Miami, San Francisco, Abu Dhabi and Dubai Hakkasan locations, were appointed to design the New York space. The designers have also created projects for luxury clients such as Louis Vuitton, Jean Paul Gaultier and Moncler.
The New York restaurant design reflects the brand's global philosophy with subtle edits to the interior décor, which includes a new motif and deep blue colour scheme with red and pink undertones, tailored to New York sensibilities. The restaurant is 11,000 square feet with seating for 200 guests with semi-­private dining areas available for groups between 15-­30 people. A 60-­foot bar and 80-­foot entranceway lobby are integral features of the restaurant.
"There is a lot of mystery to Hakkasan," says design team Gilles & Boissier, "experienced on a journey through a sequence of charismatic, yet somehow distinctly varied spaces that are charged with powerful emotion."
Photography by Mona Zubair.