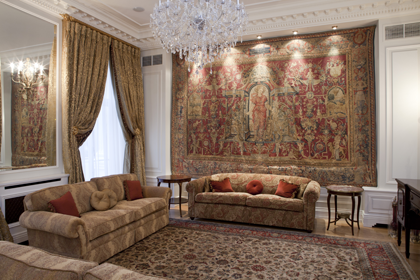 The conceptual imagery of interior designers is an integral part of their presentation. It is only when the project is completed that their client's full appreciation of the beauty of their design can be expressed.
Understanding this and that interior designers have different requirements and problems on each project is important. Deadwood's experience and the DiDii System give the company the confidence to guarantee work and delivery times to a high standard.
DiDii 'Deanswood Interiors – Detail in installation', is a unique home grown computerised in-house process that gives up-to-the-minute progress on every project.
CURTAIN MAKING
Naturally, designers expect their modern day and traditional designs to be interpreted in the finished product. We have industrial-size workrooms with very high eaves, which mean we can make-up and accommodate the largest of curtain widths and lengths.
BLINDS
Years of experience in the manufacture and installation of all types of blinds including motorised blinds mean that we are justly proud of solving the inevitable problems that come with challenging windows.
SOFT FURNISHINGS
We know how important soft furnishings such as cushions, throws, runners and bedspreads are in the design scheme – they are the finishing touches that hold the design together and bring a certain caché to the overall picture.
INTELLIGENT LIVING
The ever-increasing use of intelligent technology in the home is having a significant impact on interior designers.
Deanswood select electric curtain tracks and all types of electric blinds that are the very best and quietest motors for each project. They work closely with the designer's home automation team integrating with the control equipment used for lighting, heating and other applications.
For more information telephone 01634 814444, email enquries@deanswood.co.uk or visit www.deanswood.co.uk