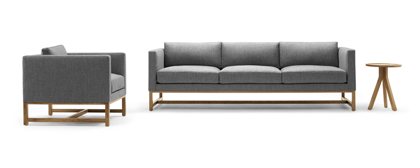 A new collection of refined seating upholstery from Lyndon Design that was unveiled at Sleep 2012 takes comfort and sophistication to a whole new level. Paying homage to the company's design and handcrafted capabilities, the Arlington collection of armchair and 3-seater sofa flaunts an innovative and modern twist on the classic buttoned back sofa design.
Inspired by design classics of the 1920's, Arlington's timber hardwood oak frame has been especially sculpted to give the illusion of a floating upholstered back – a distinctive aesthetic that sets Arlington apart. The fixed seat and back composition further provides a refined and indulgent level of comfort that not only epitomises all Lyndon Design's seating, it helps provide crisp lines and cleaner visibility. The visible timber frame and substructure also serves to enhance Arlington's appearance, whilst a refined and silhouetted leg detail completes the stunning aesthetic.
Arlington's superior level of comfort is achieved through fixed CMHR foam cushion seats with a serpentine sprung under structure, together with a foam cushioned back. Deep-buttoning incorporating pleats pay reverence to the collection's classic design roots. To coordinate with interior décor styles, Arlington may be specified in any fabric or leather option.
With over 30 years of design and manufacturing expertise, Lyndon Design continues to take the hotel and hospitality sectors by storm with its classic and definitive handcrafted upholstered furniture solutions. As the company continues to roll out new and exciting collections, it is also placed to further expand into the retail and corporate sectors.
For more information telephone 01242 584897 or visit www.lyndon.co.uk