Twisted Classic is a new design invention inspired by oriental textiles. The designs have been crafted with a beautiful play on colour. Contemporary yet classic these rugs have been created with a forward thinking approach to design and natural materials.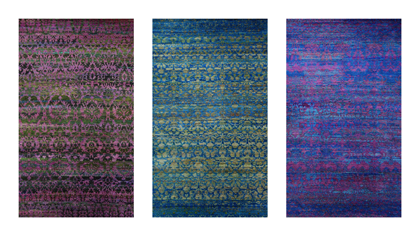 Hand knotted using hand spun vintage sari silk which varies in thickness thus creating a truly unique rug with different sized knots and an irregular weave, once woven the rugs are given a bleed wash so the colours blend into each other.
The results are amazing, colours evolve and change depending how the light reflects the surface and what position it is viewed from. Rugs retail from£990 per sq m2.
For more information telephone 020 7736 9693 or visit www.bazaarvelvet.com