SHH has completed a fast-turnaround transformation of The Media Café at the National Media Museum in Bradford for Levy Restaurants, the sports and leisure division of Compass UK & Ireland.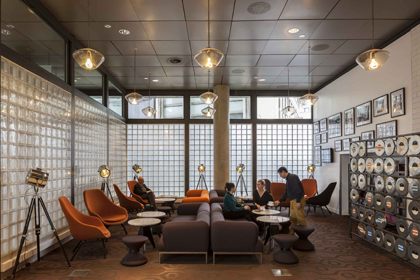 SHH has created a cool, crisp and contemporary refurbished canteen space with playful, integrated film and television references, ranging from classic black-and-white photography to a screen made of aged film canisters and a vintage TV set used to display menus.
The brief for the revamped space was to widen the scope of the dining experience, with an accent on fresh produce and freshly-prepared foods (including a new pizza and pasta offer), to help drive longer opening hours, with the café now remaining open later into the evening to service cinema-goers, in addition to the daytime museum visitor audience.
The Media Café is located next to the Museum shop and close to the main entrance. Whilst there was no increase in overall floor space from the existing café, SHH re-arranged the space plan to create newly-differentiated dining and seating zones.
Structurally, the back wall of the servery was punched through to create a new kitchen pass for the pizza and pasta offer, creating a sense of theatre and underlining the freshness of the new menu. The new servery area was then clad, floor-ceiling, in crisp white tiling for a canteen feel, with new integrated metal shelving.
For the food display, existing servery units were reconfigured and re-conditioned, with a white Corian exterior and timber butchers' block tops.
The dining area around the servery features existing loose furniture (simple, laminate-top tables and light zebrano timber veneer chairs), as well as a new wall of bespoke banquette seating, made from the same biscuit-jointed solid timber as previously-used for the servery tops. The upholstery is from Kvadrat in alternating blocks of burnt orange and chocolate brown, matching the four new sofas in the more relaxed café zone and the eight high-backed chairs from Hay (called 'About a Lounge Chair'), which sit alongside marble-topped 'Screw' tables and upholstered stools from Tom Dixon.
The café zone, demarcated by two glass block walls and new Bolon flooring, features most of the concept's film and media features, including large-scale film floor lamps; a series of welded metal and timber shelves, which are home to books on television and film; black and white photos on the walls (chosen by the museum archive team and which also line the walls of the loose furniture dining area); a 1970s TV set with menus on the top and a bespoke-designed screen, created by SHH from a metal frame and rows of film canisters, which were aged in-house with vinegar for a suitably retro look! Lighting is the same brown glass pendant 'Soren' lighting as that used over the servery counter.
Project Designer Georgia Stevenson said of the project: "Using an existing footprint and building on its strengths, we were able to create a more flexible space that enhanced the new food offer and customer experience and also subtly reflected the media and film setting."