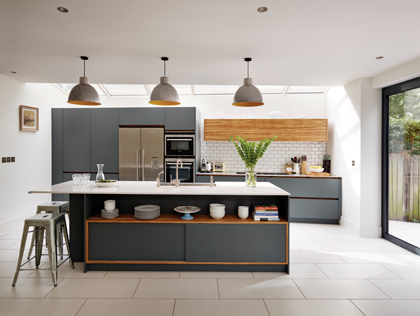 Bucks New University looks forward to recruiting its second cohort of Kitchen Design students to begin their journey to becoming qualified, creative, industry professionals.
In May 2014, Bucks New University launched its new degree course in Kitchen Design to readers of Interior Design Today. At that time the University was hopeful that the course would attract interested applicants and that the sector would support students with the running costs of the course.

By September Bucks New Uni had exceeded its student recruitment target and also received generous financial help for student fee bursaries from a number of companies. They are now looking forward to recruiting their next intake of students in the autumn.
The course had been under development for a couple of years, and was designed to reflect the requirements of the industry. The home refurbishment market contributes around £1.5bn to the economy each year, and despite this success the kitchen sector was concerned about perceptions of its image and the few routes to professional development that existed. Bucks New University was therefore ideally placed to establish the degree because of its heritage in creative courses with influential alumni who are part of the design establishment.
Last October students were welcomed to the first residential weekend induction at Missenden Abbey, Buckinghamshire. The inaugural group of students are representative of a cross-section of experience. Some had been seconded by their employers, while others had been recruited especially, so both the employer and the student had a vested interest in completing the course and adding value to the business. Some staff with a sales background were looking to move from front of house to the back office, this course provided the opportunity to do so.
The course is delivered online through a virtual learning environment, offering students the ability to access a wealth of teaching resources, study materials and video content. Assignments are submitted via the same online portal, and students are encouraged to contribute to forums and social media activities. Face to face interaction with teaching staff and fellow students is addressed via three mandatory residential weekends in the autumn, spring and summer semesters. These feature lectures, workshops and tutorials from Bucks tutors and kitchen design sector experts. The accommodation and tuition costs of these residential weekends are included in the annual course fee.
This year, thanks to the financial and strategic support of our industry partners, Bucks new Uni have been able to offer generous bursaries to the students who enrolled onto the course. So far nineteen companies have committed to support the programme in various ways. These businesses are representative in terms of size and scale. Their recognition of the course has ensured they will be able to support students as they undertake the programme. Bucks new Uni welcomes interest from additional companies who would like to be part of the industry supporter network.
Applications for 2015 are welcomed now and fees for the three year foundation degree are £5,000 per year. Students may be eligible for financial support from Student Finance England.
0800 0565 660 | advice@bucks.ac.uk | bucks.ac.uk/kitchendesign