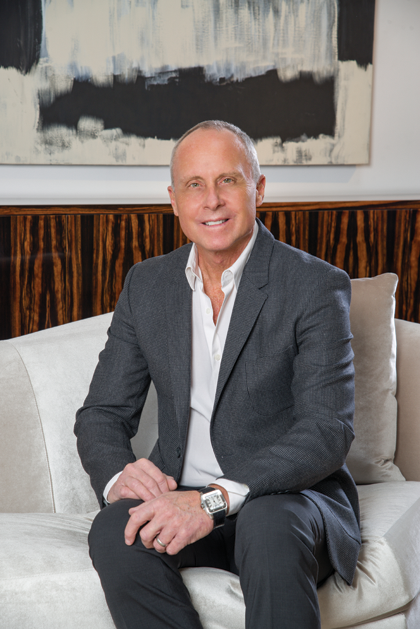 Allan Knight has spent much of his career in the public eye. Allan was an independent design consultant even before earning his degree in architecture from the University of Texas. He was co-owner of Merritt-Emanuel / Innovators, a groundbreaking acrylic furniture manufacturing venue, and has been involved heavily in design for over 35 years.?
Allan's goal has always been to create and inspire through unique design. Noteworthy excellence marks the cornerstone of his projects. Once settled in Dallas, Allan partnered with Ben Goldfarb on his next design adventure. The Goldfarb family's business in acrylic furniture manufacturing was an ideal fit for their joint need for creative output. ?
Allan Knight, the showroom and brand, was founded in 1999 and became an immediate source for specialty acrylic, lighting, accessories, and antiques. Designed to appeal to the high-end interior design trade, the business was instantly a viable competitor in the Dallas market. Mr. Knight's combination of artfully presented antiques has also become a staple of his multi-tier collection.
?How did your design story begin?
?When I began my formal career, (I had started working for designers at 13 years old) I was fresh out of Architecture school, but already a practicing interior designer with a firm of my own. I then met someone with had a small acrylic manufacturing company, and became intoxicated with the medium. I went headlong into that field for about 15 years. It was a wonderful education, learning to design in a new medium, and a very unforgiving one, which taught me patience in design.??
Describe your experience of starting out in the world of design.?
I actually progressed without taking on a great deal of design commissions, which I guess is unusual.
Through the labyrinth of manufacturing my own products in case goods, upholstery, and lighting, I found a partner for our current venue of 15 years, which enabled me to develop a brand. Ben Goldfarb is my business partner and comes from an acrylic furniture background, which is so exciting to me. Cearan Henley is my life partner and takes the helm on the design and branding end of the business. This combination of people, were and continue to be, crucial to the success of the brand and its designs.??
What inspires you??
A perennial gardener, I have always been influenced by nature, its colours, its relationship to us and our feelings, and its forms, which began to influence me more and more, especially in the field of lighting. As the world has turned faster and faster to the beat of synchronised media and communication, something I believe has changed our design world forever, I feel that the one thing missing in much that I see – the human element. Organic forms and textures add warmth and security in today's design environment. So often, designers create for 'shock value', which, as exciting as it is, can occasionally leave you feeling cold. Nature brings warmth and inspires renewal. ??
What is brand new from Allan Knight for 2015??
Our spring offerings to the design community are in sable acrylic (yes, we found a way to warm up the acrylic conversation). Wonderful drifting iron branches, gilded and adorned with brilliant lights, gemstones and flowers, together with fantasy shapes in upholstery, which at the same time create angular and jolting perspectives, but are also very comfortable. These contrasts of elements all come together in our new collections.?I love our environment and I love to work with different materials. I feel that my contribution as a designer is to bring these elements together in harmony.
ALLAN KNIGHT AND ASSOCIATES
150 Turtle Creek Blvd, Suite 101, Dallas, TX 75207
+214 741 2227
www.allan-knight.com